Sports > WSU football
So far, so good for No. 11 WSU, but now Cougars brace for brutal road stretch
UPDATED: Sun., Oct. 1, 2017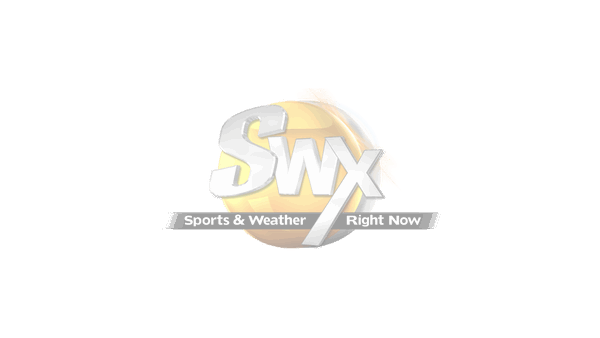 PULLMAN – For two hours on Friday afternoon, Washington State fans and patrons wishing to get their picture taken next to college football's Holy Grail could swing by Pullman's Walmart store for a unique photo op.
The College Football Playoff trophy stands more than 2 feet tall, is handcrafted with 24-karat gold, bronze and stainless steel, and will tour the country this fall, giving fans a chance to marvel at the lustrous award before it's handed off to the country's primo college football team in January.
What are the chances the trophy makes a return trip to Pullman? The Cougars have 66-1 odds of winning a national title and 18 teams are more likely to do it, according to Las Vegas sports books, but after Friday's 30-27 upset of No. 5 USC, fans of the crimson and gray can discuss the possibilities now without getting quite as many sideways looks.
The Cougars will stick to their routine of treating every game with equal significance. It's done wonders for them so far. They're 5-0 – one game shy of bowl eligibility with seven to play – they're No. 11 in the country and they're on the cusp of matching their best start to a season in the modern era. Two more wins and the Cougars will have that distinction.
And Friday's win had to provide some amount of self-assuredness for the WSU players. They've always felt as though they belong on the same piece of turf as the five-star athletes at a school like USC, but now they have validation.
"We can't go into a game thinking Heisman candidate this, they're No. 5 in the country," WSU nickel Hunter Dale said. "If you start doing that, then you're going to shock yourself."
Added inside linebacker Jahad Woods: "I didn't even know they were top-five until a few days ago."
The Cougars fielded questions all week about their big-game ability – reporters made reference to last year's Apple Cup slip-up more than once – and answered on Friday night with a statement win that transcended any other under sixth-year coach Mike Leach.
By all accounts, this odd and uncanny stretch of home games proved to be providential for the Cougars.
"Less weird than I thought it might on the front end," Leach said during a teleconference last week. "It's unusual to me for sure and I can't say that I've heard of it. I studied schedules one time and the closest I found to something like that would've been way back when. Something like Notre Dame or Ohio State. But you get into them, you lock into them one at a time."
But a good season won't be a great one if the Cougars aren't able to brave a few of the Pac-12's most hostile environments and still perform at a level the opponent can't match. Five of the final seven games on this schedule will be played outside of Pullman.
WSU's opponents have committed plenty of pre-snap infractions this season because of the crowd-generated noise at Martin Stadium, but how do the Cougars make their calls at the line of scrimmage when there's 50,000 Oregon fans howling at them?
The decibel levels at Autzen Stadium are some of the nation's highest, so even if the Ducks are depleted by injuries, even if they're a fraction as talented as the great UO teams of this last decade, Saturday's game in Eugene (5 p.m., Fox) certainly won't be a cakewalk.
The oddsmakers are counting on that, too. The Ducks are not ranked and there's a chance the two most important pieces of the vaunted Oregon attack – quarterback Justin Herbert and running back Royce Freeman – will be shelved for this Pac-12 North rivalry game. Yet, some sports books are calling the game a "pick'em."
So far, so good for the 2017 Cougars, but while this season is nearly halfway over, in another respect, it's only just started.
Subscribe to the Cougs newsletter
Get the latest Cougs headlines delivered to your inbox as they happen.
---