Sports > Idaho football
Vandals hope to play role of spoilers against New Mexico State
Fri., Nov. 24, 2017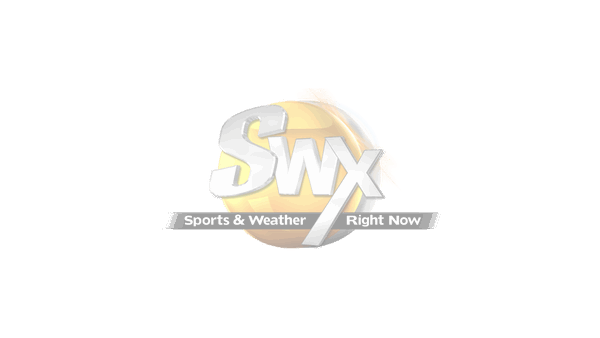 MOSCOW, Idaho – As Idaho searches for fuel to fire its efforts in the final two games of a season in which it has no hope of going to a bowl, New Mexico State is adopting a different tactic.
The Aggies could still qualify for the postseason if they win their final two games. But President Garry Carruthers said NMSU, which last played in the postseason in the 1960 Sun Bowl, won't accept a bid too far from home because it would be a financial burden for fans.
Oh, for such a problem.
If the Vandals can be a spoiler to the Aggies, they will probably do it with reserve quarterback Mason Petrino. He is likely to get his second start in relief of senior Matt Linehan, who continues to recover from a hand injury.
Vandals head coach Paul Petrino said Linehan will play if he can, but "it doesn't look good."
Mason Petrino went 18 of 26 for 177 yards with a touchdown and an interception against Coastal Carolina last week.
Offensive guard Noah Johnson said the Vandals' line will try to hold blocks and create a wide pocket for the mobile Petrino, who will be throwing to a Sun Belt Conference top target in Alfonso Onunwor (54 receptions, 693 yards, seven touchdowns).
Petrino, in addition, has a scoring threat in Kaden Elliss, one of the best two-way players in the nation. In his day job as a linebacker, Elliss has made 66 tackles, nine for losses. In Idaho's last four games, Elliss has also caught four passes for 101 yards and two touchdowns.
Johnson said the Vandals also hope to unleash their running game on the Aggies. New Mexico State has the dominant defense in the Sun Belt. It is led up front by Roy Lopez (33 tackles, three for loss) and Myles Vigne (23 tackles, 1.5 for loss). They are backed by outstanding linebackers Dalton Herrington (103 tackles, 4.5 sacks and an interception), Lui Fa'amasino (63 tackles) and Terril Hanks (77 tackles, 4.5 for loss and an interception).
If the Vandals can get them blocked, Aaron Duckworth (161 carries, 873 yards, three touchdowns) and Isaiah Saunders (106 carries, 427 yards, one touchdown) will shred the secondary, Johnson predicts.
"We know they'll make them miss and get big gains," Johnson said.
The Aggies may also have to go with a backup quarterback. Tyler Rogers has thrown for 3374 yards and 24 touchdowns but is doubtful with a shoulder injury. His relief, Nick Jeanty, has appeared in two games, in which he threw for 158 yards with a touchdown and an interception.
Scott Jaleel (56 catches, 831 yards, eight touchdowns) is the Aggies' leading receiver. Larry Rose is among the Sun Belt's best runners, with 655 yards and seven touchdowns.
"He is really quick and can change directions," Petrino said. "For his size (200 pounds), he runs with power."
One of the top tacklers in the Sun Belt will be tracking Rose. Tony Lashley, a junior linebacker, is nine tackles away from recording his second 100-tackle season. He led the Vandals last year with 107.
That puts him within sight of elite company. Only two Vandals have recorded three seasons of 100 tackles. Jason Shelt did it in the mid-1990s. Sam Merriman did it all four years he played, 1979-82. He is Idaho's all-time tackle leader with 519. Lashley has 229.
Subscribe to the sports newsletter
Get the day's top sports headlines and breaking news delivered to your inbox by subscribing here.
---