Sports > High school sports
Coeur d'Alene falls short in 5A State football title game
UPDATED: Fri., Nov. 17, 2017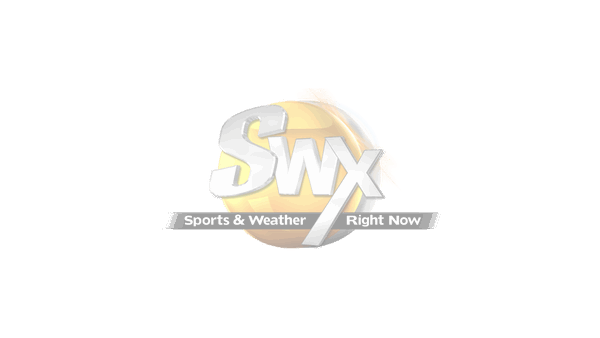 POCATELLO – It almost seemed scripted.
With the ball resting at the Coeur d'Alene 20-yard line and down by six points on Friday, Vikings quarterback Colson Yankoff trotted his troops onto the field needing to go 80 yards in 2 1/2 minutes. The only thing standing in his way was the best defense the state of Idaho had to offer.
It was a classic championship battle featuring two schools with a rich history in Idaho's 5A classification. But four Coeur d'Alene turnovers and a long punt return set up Highland with two short fields, propelling the Rams to their 11th Idaho state championship by a 14-8 final.
"It's heartbreak," Coeur d'Alene head coach Shawn Amos said. "We tell our kids that once the pain is over, you will feel pride. But the pain isn't going to be over for a little while."
CdA's final drive began with Yankoff completing a pass to himself after it got deflected back to him. The senior quarterback then scrambled for a 3-yard gain and a 15-yard personal foul push the Vikings out near midfield.
Yankoff picked up another 12 yards with his feet the following play, but a block in the back wiped it out. One CdA personal foul later, the Vikings found themselves at their 18, 2 yards farther back from where the drive started.
Facing a fourth-and-26, a raucous Holt Arena crowd rose to its feet and then erupted as Yankoff was flushed out of the pocket and brought down well short of the first down.
"It was just another Highland-Coeur d'Alene epic battle," Amos said. "The clock ran out on us."
Highland's first touchdown was set up by the game's first turnover. Caleb Beggerly, who was stopped for no gain on five of his 13 carries, fumbled the ball after the Vikings picked up 19 yards through the air.
Instead, Highland took over and found the end zone minutes later when Tyler Hall caught a short pass from quarterback Kobe Tracy, scampering 23 yards down the sideline to break the stalemate midway through the second quarter.
Following the turnover, the Vikings went three-and-out, and a long punt return by Konnor Cordingley set Highland up with a short field. This time, Landon Demuzio took a 20-yard draw play to the end zone and put Highland up 14-0.
"It was huge," Amos said. "They only scored on the short fields. That shows how tough our defense played. I'm really proud of those guys."
On the first drive of the second half, the Vikings' offense came to life as Yankoff picked up a short fourth down with his feet before ripping off a 30-yard touchdown run on the next play. One two-point conversion later, which Yankoff also picked up with his feet, and the Vikings were within six.
But this was Highland's night and CdA was playing Highland's game.
Beggerly's longest run was 6 yards, Yankoff completed one throw on his last 11 attempts and the Vikings uncharacteristically were held to a season-low eight points after averaging more than 44 points per game prior to the championship game.
"It was a defensive display tonight," Amos said. "(Highland's defense) was as good as advertised."
Subscribe to the sports newsletter
Get the day's top sports headlines and breaking news delivered to your inbox by subscribing here.
---