Sports > National sports
Draymond Green: 'Kelly Oubre got suspended for Kelly Olynyk flopping'
Mon., May 8, 2017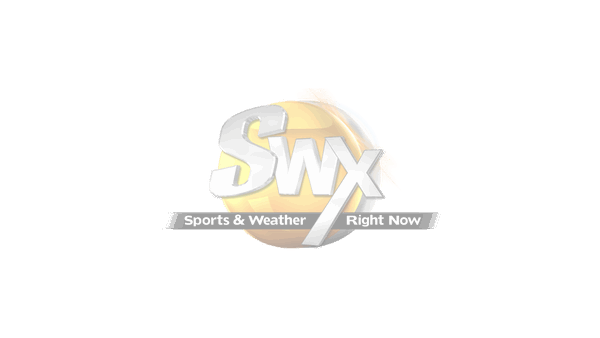 The Kelly Olynyk-Kelly Oubre Jr. battle continues to simmer, with the Wizards crowd chanting for the suspended Oubre and booing the non-suspended Olynyk throughout Sunday night's Game 4. The reverse figures to happen Wednesday night in Boston. Meanwhile, off the top rope arrived Draymond Green, the notoriously clean Golden State star, who wasn't shy about choosing sides in this cacophony of Kellyness.
"That was crazy," Green said on "Uninterrupted's Dray Day" podcast. "Kelly Oubre got suspended for Kelly Olynyk flopping."
What Green meant was that Oubre's angry sprint toward the Celtics big man sort of petered out at the end, and that his push wasn't particularly aggressive, but that Olynyk flopped his way to supplemental discipline. Oubre was kicked out of that game, and suspended for the next one.
"That man took a charge on a push," Green went on. "Like, c'mon bro. Kelly Oubre hit the official harder than he hit Olynyk. Like c'mon man, how you gonna take a charge like that?"
Then Green turned more serious.
"And, Kelly Olynyk is a dirty player," he said. "Like you do little stuff dirty, and then you want to take a charge? C'mon man. Oubre didn't hit him that hard, nor should he have been suspended. Y'all already kicked him out of the game, so essentially he's getting a game and a half suspension for that? Like KD said last night, then they wonder why they call the league soft. C'mon man, it's playoff basketball. Did he really do something to harm somebody? C'mon man, that's ridiculous. Why did he get suspended?
Green poked some fun at Oubre for pulling up at the end and just bumping Olynyk with his shoulder, saying "he looked like a linebacker trying to run through the line, then he sees the line when he gets there like uh oh." But he continued to defend the Wizards wing for being angry.
"Olynyk caught him in the face and the neck with a couple elbows, and that's what I don't understand," Green said. "You let people get away with stuff, and then finally when somebody reacts, you penalize that guy. But you're not gonna penalize Olynyk for continuing to elbow this guy in the face? I don't get that."
This went along with Oubre's explanation. The second-year player said "reoccurring events" prompted his explosion in Game 2.
"I've been hit in the head multiple times by the same person," Oubre said last week. "I've confronted him about it. The last time it happened, I felt pain in my head and my jaw, and I got up and I ran to him and I bumped him."
Green seemed to buy that explanation, and so he kept firing away at Olynyk on the podcast.
"He's dirty," he said. "A dirty player. I don't respect guys like that. I know he's not the greatest basketball player of all time, so maybe you feel like you've got to do that, but you don't. Just dirty. I don't respect that man. He's dirty. … Dude's dirty. Veteran tricks is grabbing an arm so the guy can't get there to block the shot, you know what I'm saying, or passing the ball and cutting somebody off so they can't get there to contest. You know, just stuff like that. But you ain't doing nothing to hurt nobody. Like, this dude be out there trying to hurt people. I don't rock with guys like that."
Celtics Coach Brad Stevens, predictably, defended his player on Monday.
"I'm not sure where that narrative starts," Stevens said, via MassLive. "I guess he set a screen, it was called a common foul, it was reviewed by the league and the league determined it was a common foul. Another guy rushed him and chucked him on the ground. I understand all the stories of the past and I understand they've gotta talk about something with three days in between games. But we know Kelly. I'm around Kelly every day."
Meanwhile, cynics chuckled at Green – who was suspended in last year's NBA Finals, and occasionally moves his legs in kicking-style motions – becoming an advocate of clean play.
Green, though, took issue with such interpretations of his leg-based past.
"I haven't kicked anybody," he told ESPN, in a fantastic argument. "You kick somebody with your foot, not your shin. I don't know who taught them how to kick if they're kicking with their shin. You kick with your foot. That's what I was always taught. Growing up where I grew up at, you kick somebody, you kick them with your foot. You don't kick somebody with your shin. So I wouldn't necessarily say I kicked somebody."
Green wound up in agreement with Wizards owner Ted Leonsis, who wore an Oubre jersey to Sunday's game and defended his player in an interview with CSN.
"I thought Kelly was maybe punished a little bit more than deserved," he said. "I mean, I was right there, and he did get hit pretty good in the head. And it's not like it's the first time that that player's been headhunting. But it's the playoffs, and I think it's a great way for a player like Kelly to evolve and mature and get a taste of the difference and how it amps up in terms of passion and intensity and the kind of effort that you need to put out to have a winning team."
Subscribe to the sports newsletter
Get the day's top sports headlines and breaking news delivered to your inbox by subscribing here.
---
Subscribe and login to the Spokesman-Review to read and comment on this story