Sports > National sports
NBA Capsules: Devin Booker sixth in NBA to reach 70 – but Celtics beat Suns anyway
UPDATED: Fri., March 24, 2017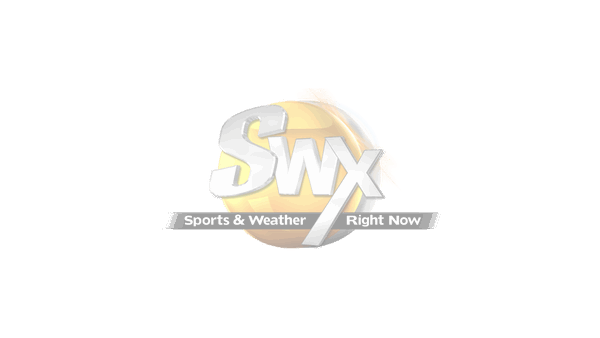 BOSTON – Devin Booker scored 70 points, becoming the sixth different player in NBA history to reach that total, but the Boston Celtics got 34 points from Isaiah Thomas and outlasted the Phoenix Suns 130-120 on Friday night.
Booker joined Wilt Chamberlain, Kobe Bryant, David Thompson, David Robinson and Elgin Baylor as the NBA's 70-point scorers. Baylor also held the previous record against the Celtics with 64 points in Minneapolis for the Lakers on Nov. 8, 1959.
The win was Boston's third straight, and avenged its buzzer-beater loss in Phoenix earlier this month.
The rematch was dominated early by the Celtics as they hit eight 3-pointers during a 37-point second quarter to grow their lead as high as 26 points.
Cavaliers 112, Hornets 105
CHARLOTTE, N.C. – LeBron James had 32 points, 11 assists and nine rebounds, and Cleveland bounced back from its worst defensive outing of the season with a win over Charlotte.
Kyrie Irving added 26 points and Kevin Love had 15 points and 12 rebounds as the Cavaliers snapped Charlotte's three-game winning streak and clinched the Central Division.
Charlotte was led by Kemba Walker, who had 28 points on five 3-pointers. Cody Zeller added 15 points and 11 rebounds.
Rockets 117, Pelicans 107
HOUSTON – James Harden scored 38 points, including eight down the stretch, and tied a career high with 17 assists to help Houston pull away from New Orleans.
The Pelicans had scored seven points in a row, capped by a 3-pointer from DeMarcus Cousins, to cut the lead to two with about two minutes left. Harden scored Houston's first points in almost 2 1/2 minutes after that on a driving layup to extend the lead. And after a bucket by Cousins on the other end, Harden made three free throws to leave the Rockets up 110-105 with about 90 seconds left.
A 3-pointer by Harden soon after that put it out of reach, and gave the MVP candidate a standing ovation from the home crowd.
Anthony Davis had 33 points and 16 rebounds and Cousins added 29 points for the Pelicans, whose three-game winning streak was snapped.
Bucks 100, Hawks 97
MILWAUKEE – Giannis Antetokounmpo picked up his second straight double-double with 34 points and 13 rebounds, and Milwaukee held on to beat Atlanta.
The Bucks, who have won 11 of 13 games, moved into a tie with Atlanta for fifth place in the Eastern Conference. The Hawks have lost six straight.
Atlanta had one last chance to tie before Ersan Ilyasova missed a contested 3 from the right wing with 0.2 seconds left with fans at the Bradley Center screaming "Fear the Deer!"
Bucks fans are hoping their team can return to the playoffs after missing the postseason last year.
Dennis Schroder had 28 points for the Hawks.
Warriors 114, Kings 100
OAKLAND, Calif. – Stephen Curry had 27 points, seven rebounds and a season-high 12 assists, and Golden State beat Sacramento.
Draymond Green added a season-best 23 points with eight assists, while Ian Clark scored 10 points to help the Warriors improve to an NBA-best 58-14. Golden State has won six straight since its season-high three-game losing streak.
Both teams struggled offensively most of the game until the Warriors hit stride and pulled away in the second half.
Curry and Klay Thompson – Golden State's Splash Brothers – went a combined 12 of 32 from the floor. Curry missed six of his first eight shots beyond the arc before making three in the final period.
Buddy Hield scored a career-high 22 points with eight rebounds and seven assists, while Ty Lawson scored 20 for Sacramento. The Kings have lost four straight.
Wizards 129, Nets 108
WASHINGTON – John Wall scored 22 points despite dealing with migraine headache symptoms earlier in the day, Bradley Beal added 19 points and the Washington cruised past Brooklyn to clinch a playoff spot.
Brandon Jennings had 18 points, one of three bench players to score in double-figures as the third-place Wizards moved a game ahead of idle Toronto in the Eastern Conference.
Wall and Jennings each had nine assists as Washington won its second straight before embarking on a five-game road trip.
Justin Hamilton scored 20 points off the bench to lead the Nets a day after Brooklyn beat Phoenix 126-98 for its second-largest win of the season.
Nuggets 125, Pacers 117
INDIANAPOLIS – Nikola Jokic had 31 points, 17 rebounds and a big 3-pointer to turn back a late Indiana rally, and Denver beat the Pacers.
Wilson Chandler scored 12 of his 24 points in the opening quarter, and Danilo Gallinari added 21 points and 11 rebounds for the Nuggets.
Jokic had 21 points and 12 rebounds by halftime, helping Denver open an 11-point lead, but Indiana staged a furious rally in the final minutes to trim a 23-point deficit to five before Jokic's 3-pointer with 1:28 remaining.
All-Star forward Paul George scored 27 points for Indiana, while Jeff Teague had 21 and Myles Turner added 20.
Denver made 40-of-43 free throws compared to Indiana's eight of 11.
Magic 115, Pistons 87
ORLANDO, Fla. – Elfrid Payton had 14 points, 11 rebounds and 10 assists in his fourth triple-double of the season, Terrence Ross scored 18 points and Orlando routed slumping Detroit.
It was another costly defeat for the Pistons, who entered the night just one game out of eighth place in the Eastern Conference and lost for the third straight time and the sixth in their last seven games.
All five Magic starters were in double figures to back Payton's seventh career triple-double. Nikola Vucevic and Aaron Gordon each scored 16 points and Evan Fournier had 15 in one of Orlando's most complete performances of the season.
Ross, who played with four fouls much of the second half, was 5 for 6 from 3-point range in a game Orlando led by as many as 33 points in the second half.
76ers 117, Bulls 107
CHICAGO – Rookies Dario Saric and Shawn Long had career highs in scoring, leading Philadelphia over desperate Chicago.
Saric scored 32 points, extending his double-digit points streak to 22 games, the longest by a rookie this season. He added 10 rebounds. Shawn Long, playing in his ninth career game, had 18 points and seven rebounds.
The 76ers were playing without injured post players Jahlil Okafor and Joel Embiid, two of their recent high draft picks. Embiid had knee surgery on Friday and is out for the season, while Okafor (knee soreness) is questionable for Sunday at Indiana.
The Bulls remained even with Detroit, which lost at Orlando, for ninth place in the Eastern Conference.
Jimmy Butler led the Bulls with 36 points, 11 assists and seven rebounds.
Lakers 130, Timberwolves 119 (OT )
LOS ANGELES – Jordan Clarkson had career highs of 35 points and eight 3-pointers, and Los Angeles rallied to beat Minnesota to snap a six-game skid.
Julius Randle added 23 points and 12 rebounds for the Lakers, who earned just their second victory since the All-Star break. They had lost 15 of 16 coming into the matchup of last-place teams in their respective divisions.
Andrew Wiggins scored 36 points before fouling out with 1:17 left in OT and Karl-Anthony Towns added 25 points and 13 rebounds for Minnesota, which dropped its fifth in a row.
The Wolves blew a 15-point lead in the third.
Subscribe to the sports newsletter
Get the day's top sports headlines and breaking news delivered to your inbox by subscribing here.
---
Subscribe and login to the Spokesman-Review to read and comment on this story