Sports > National sports
NBA Capsules: Isaiah Thomas leads Boston Celtics past Cleveland Cavaliers
Wed., March 1, 2017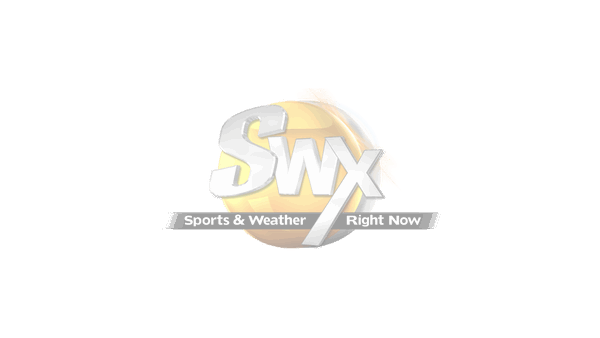 BOSTON– Isaiah Thomas scored 31 points, including the go-ahead free throws, as the Boston Celtics outlasted LeBron James and the Cleveland Cavaliers 103-99 on Wednesday night.
Boston's win overshadowed the seventh triple-double of the season for James, who finished with 28 points, 13 rebounds and 10 assists. Kyrie Irving added 28 points for the Cavaliers, who lost for the first time when leading at any point in the fourth quarter on the road.
The game marked the third meeting this season between the top two teams in the Eastern Conference, and the first win by the Celtics.
Jae Crowder had 17 points and 10 rebounds for Boston, which led by three entering the fourth before there were six ties and 10 lead changes in the final 12 minutes.
Deron Williams, signed by Cleveland earlier this week, scored four points in 24 minutes in his Cavaliers debut.
Wizards 105, Raptors 96
TORONTO– Bojan Bogdanovic had 27 points off the bench and Bradley Beal added 23 as Washington snapped an eight-game losing streak against Toronto.
John Wall had 12 points and 13 assists for his 39th double-double of the season as the third-place Wizards took the first of a home-and-home series against Toronto, moving a game up on fourth-place Toronto in the standings.
DeMar DeRozan had 24 points and Serge Ibaka added 22 more for the Raptors, who were again without All-Star Kyle Lowry following the guard's wrist surgery that will keep him out the remainder of the regular season.
Spurs 100, Pacers 99
SAN ANTONIO– Kawhi Leonard had 31 points and 10 rebounds, and San Antonio returned from an eight-game road trip to beat Indiana.
Leonard hit a turnaround, fade-away jumper from 16 feet against Paul George with 2.4 seconds left to win it. Indiana's Monta Ellis missed a pair of free throws with nine seconds remaining and George missed a 3-pointer at the buzzer.
George finished with 22 points and C.J. Miles added 19 for the Pacers.
San Antonio extended its winning streak to five games, including four straight to close its annual rodeo road trip in February.
Pau Gasol and David Lee had 18 points each off the bench for the Spurs, who played without injured point guard Tony Parker (bruised quadriceps).
The matchup of All-Star forwards was a stalemate until the final five minutes. Leonard scored San Antonio's final nine points during that stretch, including the game-winning shot, while George was limited to a pair of free throws.
Rockets 122, Clippers 103
LOS ANGELES– James Harden scored 26 points and Houston shot 20 of 52 on 3-pointers in a victory over Los Angeles.
Ryan Anderson added 23 points, including a team-high six 3s, as the Rockets won for the seventh time in nine games and extended their NBA record to nine games with 20 or more 3-pointers this season.
Nene had 16 points for Houston, which outrebounded the Clippers 62-35. In four games since the All-Star break, the Rockets, who lead the NBA in 3-pointers made and attempted, have hit 72 on 206 attempts, an average of 18 of 52 from beyond the arc.
Chris Paul had 16 points and 10 assists to lead the Clippers, who lost for the third time in four games. Blake Griffin scored 17.
Nets 109, Kings 100
SACRAMENTO, Calif.– Brook Lopez had 24 points and eight rebounds, and Brooklyn never trailed in snapping a 16-game losing streak by defeating Sacramento.
The Nets' previous win was Jan. 20 at New Orleans. They had dropped 27 of 28 games since beating Charlotte on Dec. 26. The franchise record for consecutive losses is 18 by the 2009-10 team that went 12-70, another low mark in club history.
Jeremy Lin scored 17 points, Isaiah Whitehead had 14 and Caris LeVert finished with 13 for the NBA-worst Nets (10-49). Brooklyn made 11 3-pointers and shot 46 percent.
Sacramento rookie Buddy Hield had 16 points. The Kings have lost three straight and are 1-3 since trading DeMarcus Cousins to the Pelicans.
Hawks 100, Mavericks 95
ATLANTA– Paul Millsap scored with 30.5 seconds remaining and Atlanta held off Dallas.
After Millsap's basket put the Hawks ahead 96-95, Harrison Barnes missed a chance to put the Mavericks back in front. His jumper was off the mark with Kent Bazemore in his face. Ersan Ilyasova was fouled going for the rebound and made both free throws with 11.1 seconds left.
Dallas still had a chance to force overtime, but Seth Curry slipped on the inbounds pass and Bazemore scooped up the loose ball, taking off the other way for a dunk that clinched the victory.
Millsap had 18 points and just missed a triple-double, dishing out 10 assists to go with eight rebounds. Ilyasova also finished with 18 points.
Barnes led the Mavericks with 25 points.
Heat 125, 76ers 98
MIAMI– Tyler Johnson scored 24 points off the bench, and Miami never trailed in a win over Philadelphia.
Wayne Ellington made six 3-pointers for 18 points for Miami, which has won 10 of its past 11 at home. Hassan Whiteside, Dion Waiters and Goran Dragic all scored 15 for the Heat, and Whiteside also grabbed a game-high 11 rebounds.
Robert Covington scored 19 for the 76ers, who learned earlier Wednesday that center Joel Embiid will miss the remainder of the season with a left knee injury.
Pelicans 109, Pistons 86
NEW ORLEANS– Anthony Davis had 33 points and 14 rebounds, and New Orleans snapped a three-game skid with a victory over Detroit.
Pistons 6-foot-11 center Andre Drummond was ejected for swatting at the back of 6-1 Pelicans guard Tim Frazier's head after Frazier had ripped away a rebound late in the third quarter. Drummond had 13 points and 17 rebounds to that point, but also missed nine of 10 free throws.
Jrue Holiday had 22 points for the Pelicans, who were without newly acquired All-Star DeMarcus Cousins because of Cousins' one-game suspension that was triggered when he received his 18th technical foul of this season on Sunday night.
Jon Leuer scored 22 points and Tobias Harris added 15 points for Detroit.
Nuggets 110, Bucks 98
MILWAUKEE– Nikola Jokic had his second triple-double in two nights to lead Denver over Milwaukee.
Jokic finished with 13 points, 14 rebounds and 10 assists for his fourth career triple-double – all in his last 13 games.
Danilo Gallinari scored 22 points for Denver, which built a 31-point lead despite playing without point guard Jameer Nelson (illness) for the first time this season.
The Nuggets, coming off a victory Tuesday at Chicago, have won back-to-back road games for the first time this season. They've also won consecutive games for the first time since taking three straight Jan. 24-28.
Khris Middleton had a season-high 21 points to go with five rebounds and five assists for the Bucks.
Knicks 101, Magic 90
ORLANDO, Fla.– Kristaps Porzingis had 20 points and nine rebounds, and Derrick Rose scored 19 to help New York cruise past Orlando.
Facing a Magic team adjusting to playing with a smaller lineup, the Knicks used their superior size to their advantage. Porzingis, who missed the previous two games with a sprained right ankle, presented matchup problems for Orlando all night.
Carmelo Anthony had 17 points and Justin Holiday added 14 off the bench for the Knicks.
Evan Fournier led Orlando with 22 points.
Timberwolves 107, Jazz 80
SALT LAKE CITY– Karl-Anthony Towns had 21 points and 15 rebounds to lead Minnesota over Utah.
Andrew Wiggins scored 20 points and Shabazz Muhammad added 18 for the Timberwolves, who won for the fourth time in five games. Utah was the fourth opponent in the last seven games that Minnesota held under 90 points.
Dante Exum scored 15 points and Gordon Hayward added 13 to lead the Jazz, while Derrick Favors had 10 points and 12 rebounds. The loss snapped a five-game winning streak in the series for Utah, which has lost two straight overall.
Subscribe to the sports newsletter
Get the day's top sports headlines and breaking news delivered to your inbox by subscribing here.
---
Subscribe and login to the Spokesman-Review to read and comment on this story