Sports > Gonzaga basketball
Former Zag Kevin Pangos has right approach, right attitude with NBA goal in sight
Thu., July 13, 2017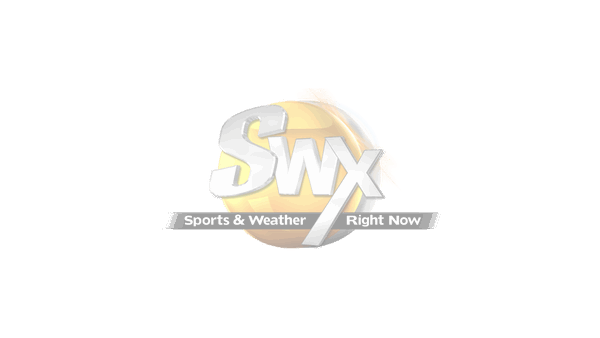 LAS VEGAS – Washington Wizards point guard John Wall has emerged as one of the best floor generals in the NBA. He's the franchise player, and there's certainly no other point guard who will supplant him in Washington anytime soon.
But that hasn't discouraged former Gonzaga standout Kevin Pangos from taking his best shot at earning an invite to Washington, D.C. when training camp opens in September.
The 6-foot-2 point guard is with the Wizards summer team – his third NBA Summer League team in as many years – and has held his own over the first week, averaging 7.3 points, 5.3 rebounds and 3.6 assists per game after starting in all three games he played.
"I've just tried to just be aggressive and do whatever I could. We still have at least one more game and I'm just going to keep trying to get better at it," said Pangos, who played with the Dallas Mavericks' 2015 summer team, and with the Atlanta Hawks last season. "I'm just hoping they can see I can play at this level. Every day I'm going to bring my best and do what I can to help the team win and make myself a better player."
The Wizards are 0-4 after an 89-88 loss to Miami on Wednesday, and will play the Minnesota Timberwolves in a consolation game Friday at 1:30 p.m., giving Pangos one more chance to display abilities Washington's senior vice president of basketball operations Tommy Sheppard said he's known about for years.
"I've always believed he has NBA skill, NBA talent, I think there's an opportunity, it's just about finding the right fit," Sheppard said. "We wanted to evaluate him as a possible backup point guard for the future, either this season or down the road, in the NBA. It's not (just) about summer league. There's a lot more room for improvement, but there is for every player who's out here for summer league. He's played at a very high level in the Euro-league, and I think that's only going to continue to help him progress. I expect him to be in the NBA, if not next season, soon."
Pangos, who went undrafted out of Gonzaga in 2015, has spent his entire professional career overseas, playing in Spain and Lithuania the past two years. It's not the exact route he was hoping to take, but he said he's appreciative of lessons learned, and the opportunities he's had to play, while looking at his first two years as a professional player as stepping stones.
"(It's) an adjustment, but it's fun being a pro," said Pangos, the West Coast Conference Player of the Year and third-team AP All-American his senior year. "You wake up every day and you get to go and get yourself better, and that's your job. I can't really complain about it, I'm having fun."
It's his positive attitude and mature approach to the game one former assistant believes will eventually guide him to the NBA.
Mike Weinar, who just led the Mavericks to a 5-0 mark and the Orlando Summer League championship, was an assistant with the Mavericks summer league coaching staff in 2015, and was extremely fond of Pangos.
"Kevin was great for us when he was with us in the summer," Weinar said. "He's a consummate professional, which is one of the first things you look at when you're trying to develop a roster. You got guys that are going to score, you got your primary options, but when you're looking toward the end of the bench, you gotta have guys that are consummate pros and consummate teammates, and that certainly was the case for him."
Weinar said if Pangos is invited to the Wizards training camp, it could end up being a blessing in competing and practicing against a guy like Wall, who led the league in total assists (268) last season.
"He's a definite pro, a definite leader on the floor," Weinar said of Pangos. "Now, does he fit on an NBA roster? That's yet to be determined, but he certainly has the hard work and dedication toward the game. It's a challenge for all these guys. There are limited spots and this is the best basketball in the world.
"It's not necessarily a bad thing they have one of the elite point guards. (Wall's) gotta go against somebody in practice and that could make that guy better, whether it's Kevin or another player."
And if he isn't invited to D.C., or any other city for that matter, Pangos said he understands it's part of the process and will continue to improve overseas.
"The NBA is not going anywhere. It's obviously the goal and everyday I'm working toward it," said Pangos, who played four seasons at Gonzaga, where he averaged 12.8 points, 3.8 assists, 2.8 rebounds and 1.2 steals. "I'm going to do whatever they want me to do, and I'm going to work hard every single day, whether that's pushing the guys in practice, whether that's when I get an opportunity to get in the game I'm going to do the best I can to win. I hope they appreciate that.
"I played in Spain my first year, Lithuania my second, each year I feel I got better in different aspects, so I can't look at (my career) as being disappointed. Everyday I'm trying to get better and better, and hopefully I have a long career ahead of me still."
Follow along with the Zags
Subscribe to our Gonzaga Basketball newsletter to stay up with the latest news.
---
Subscribe and login to the Spokesman-Review to read and comment on this story