Sports > Gonzaga basketball
Former Zags Nigel Williams-Goss, Zach Collins face off in NBA Summer League
UPDATED: Sat., July 8, 2017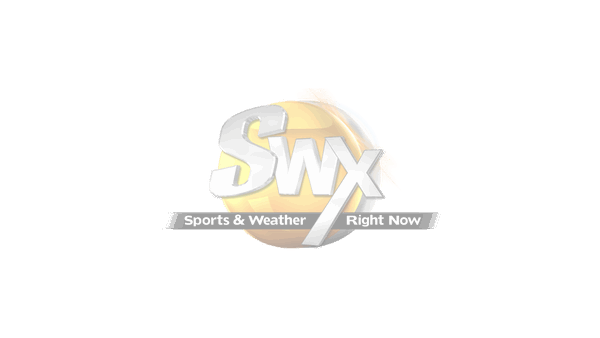 LAS VEGAS – A little more than three months ago Zach Collins and Nigel Williams-Goss were playing in the national championship game, leading Gonzaga to its furthest point in the NCAA Tournament.
Saturday the two were reunited at UNLV's Cox Pavilion in the NBA Summer League, against one another, with Collins suited up for the Portland Trail Blazers and Williams-Goss for the Utah Jazz.
Collins scored 10 points and grabbed seven rebounds in his 27-minute pro debut, while Williams-Goss was limited to two points and two assists in 20 minutes, as the Trail Blazers defeated the Jazz 72-63.
Collins 1, Williams-Goss, 0.
And while it's still just the Summer League – a far cry from the NBA's regular season – it meant something for the former Bulldogs to step on the floor across from one another.
"It was fun, just being back in the city, playing against Zach in his first Summer League game, all of it was cool, all of it was unique," Williams-Goss said. "Growing up coming to these summer leagues and now playing, it comes full circle."
Said Collins: "We're always pretty giddy when we're around each other for some reason. We were roommates all year (at Gonzaga). I wanted to win and play well individually. So, I did one of those things. Hopefully, I can do two of those things tomorrow."
Collins finished 3 of 13 from the floor, while Williams-Goss hit just 1 of 6 from the field.
"I'm disappointed in my performance, but I'm happy we got the win," Collins said. "I turned the ball over, missed some easy shots. That's probably about it for me. Just was out of sync offensively, but luckily my teammates stepped up and played great and we got the win."
Collins said while's he's his biggest critic, and wasn't pleased at all with his performance, he also knows there were plenty of nerves playing in front of close friends from high school and family in his pro debut.
"I was just more excited to kind of get out and play my first NBA game and see how it went," he said. "I was excited to go out and play, and hopefully I'll be better next game."
The two are certainly no strangers to Southern Nevada, as both played for national powerhouse programs – Collins at Las Vegas' Bishop Gorman and Williams-Goss at Henderson's Findlay Prep. So, it was no surprise the seats inside Cox were filled to the rafters, and the crowd erupted when either one made a big play.
Like when Collins' nifty backdoor pass found Jake Layman for a two-handed powerful dunk at 8:46 of the first quarter, and his spin move on the baseline resulted in a made jumper 28 seconds later.
Or when Williams-Goss checked in for the first time, at the 3:49 mark of the first quarter, and he later drained his lone bucket, at the 6:05 mark of the fourth quarter.
Looking ahead to next season, Collins will be looked upon specifically at the defensive end of the floor, as his 7-foot presence, and 230-pound build will be needed to protect the paint, adding depth to Portland at the center position. By improving his athleticism, there's also a strong possibility he'll join Jusuf Nurkic on the court at the four-spot.
"I think he's going to have to adjust a little bit to the NBA game," said Portland's Summer League coach Jim Moran, who added he was impressed with Collins' defensive effort. "One thing that we'll stress when we watch film with him – his defense. It's the little things first. He's going to get his shots, and they're going to fall. He can't judge his play off the stat sheet."
The Trail Blazers, who averaged an eighth-best 107.9 points per game last season, also allowed a seventh-worst 107.1 points per game.
And while Collins can help shore up the team's paltry scoring defense, his long-range game won't hurt, as he made 10 of 21 3-pointers in his only season with Gonzaga. That was from 20-feet, 9-inches. During Friday's practice with the Trail Blazers, however, he reportedly drained 20 of 25.
Williams-Goss,who is averaging 3.7 points per game in three Summer League games, remained encouraged after Saturday night's game, as the 6-foot-3 guard said he's willing to do whatever it takes to help a Jazz team that finished tied with the Western Conference's fourth-best record last season, at 51-31.
He said he absorbed as much information as possible during five practices before the Summer League began, constantly pulling coaches aside, asking questions, getting their input, asking for advice, and consulting with some of the older guys on the team.
"All of it is just new, I'm just taking it in stride," said Williams-Goss, who won two national titles with Findlay Prep, before heading to college. "It's a long career, it'll have its ups and downs, so I'll just continue to get better. I've just tried to go into this as open-minded as possible. I know it's a different game. I've been playing off the ball a lot, which I haven't really done, so I'm just trying to get used to (that). And obviously with teammates that we've never played with, we're still trying to jell as a team. So, it's just an adjustment and I feel that day by day I'm continuing to learn, continuing to get better."
Utah summer coach Zach Guthrie said he isn't concerned one bit about Williams-Goss' slow start, as he's right where he should be, and expects him to learn vital aspects of the system leading up to training camp.
"Here (we have) a point guard and one of the best players on a team that went to the national championship, and now (he is) coming off the bench on the Utah Jazz; it's a whole new role, it's a whole new way of playing in the pro game," Guthrie said. "With his intangibles, the things he brings to the table, the things we don't always see: it's his voice, his leadership, his command of the team – it's all there.
"He's feeling it out, he's dipped his toe in the water and he's feeling out where he can be successful, where he can find his spots and how he can succeed in this league."
That goes for both Gonzaga alumni, who come October should be ready to do more than dip their toes, but rather make a splash in the NBA pool.
Local watch
Kevin Pangos (Wizards): Former Gonzaga guard started and played 30 minutes, scoring eight points with seven rebounds, seven assists, two steals, two blocks and one turnover in 91-88 loss to the Grizzlies.
Follow along with the Zags
Subscribe to our Gonzaga Basketball newsletter to stay up with the latest news.
---
Subscribe and login to the Spokesman-Review to read and comment on this story