Sports
District wrestling: Mead, North Central, East Valley and Colville take titles
Sat., Feb. 4, 2017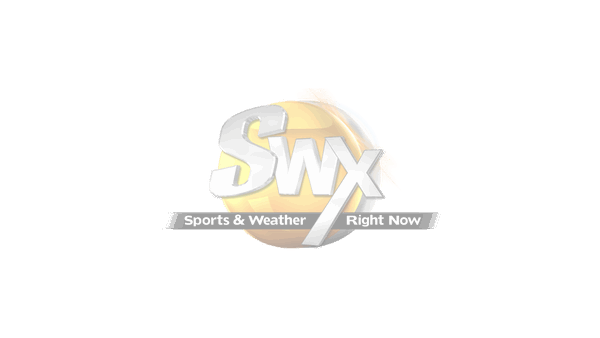 Mt. Spokane junior Jake Howerton is going to have to get by wrestling in the postseason on essentially one good knee.
Howerton tore what he believes was his meniscus in his right knee at the Dream Duals two weeks ago. He won't get an X-ray to confirm the exact injury until the season is over.
He posted a pin and a 9-0 major decision to win a district title Saturday, as District 8 3A, District 8 4A and District 7 2A teams all decided berths to regionals at Shadle Park.
Howerton had an opponent on the mat at Dream Duals Jan. 21 when the injury occurred. "He was trying to get up and my left got caught and something happened," Howerton said.
As for putting off an X-ray, Howerton said, "I've got to win a (state) title first."
Saturday was Howerton's first action since the injury. He wore a brace that stabilized the knee.
"Our trainer figured out a way to brace it up so it will bend to a point where it doesn't hurt," Howerton said. "There's pain, obviously; it's a pretty messed up knee."
With a new regional alignment for the 3A teams, berths to regionals were at a premium. Just two advance to the final step for state qualifying.
Howerton was one of four champs and nine regional qualifiers for Mt. Spokane. North Central, with seven of nine qualifiers winning titles, won with 269.5 points, just ahead of Rogers (256).
District 8 3A: NC coach Luke Leifer normally sports a sizeable grin. But the one he had Saturday was even bigger. For good reason.
Leading NC were champs Clayton Gilliam (120 pounds), Clai Quintanilla (132), Gavin Gies (138), Cameron Bowerman (145), Bryan Wais (152), Josh Johnson (160) and Garrett Mangis (170).
A defending state champ, Wais held off Dew Rogers of Shadle Park, a transfer and state champ from Alaska, 1-0. It was Rogers' first loss.
"It's probably one of the best (district) final rounds I've ever coached," Leifer said. "We were just on a roll."
Rogers was led by its upper weights. Tre Phillips (182), Jordan Sweeney (220) and heavyweight Markus Robinson won titles. In addition to Howerton, Mt. Spokane's other winners were Jarrett Sharp (106), Blake Haney (113) and Mason Miethe (195).
District 8 4A: Mead rode its depth to the title, finishing with 432.5 points.
Equally impressive was runner-up University, which finished with 349. All six U-Hi finalists - Tim Westbrook (113), Terrell Sanders (120), Max Clark (126), Hunter Greggerson (170), Caleb Thomas (195) and Clayton Fincher (hwt) - won.
"They're probably the most improved team I've ever had," said U-Hi coach Don Owen, who is in his 27th year. "I've had some great teams over the years but these kids were young and stayed the course."
Sanders reversed two earlier losses to Matt Jones of Mead with a pin in 3:34.
Two of the best matches came in wins by Bridger Beard (138) and Braedon Orrino (145) of CV.
Beard had to go to overtime to top Devante Goodman of Mead 4-3 and held off Cameron Crawford of Mead 3-1.
Mead had four champs. They were Chase Tebbets (106), Craig Hill (132), Trevor Senn (182) and Collin Grosse (220).
The other two champs were Phillip McElliott of Ferris (152) and Bryan Krych of Lewis and Clark (160). The top six in each weight advance to regionals.
District 7 2A: Behind five champs, East Valley won the title with 339.5 points. West Valley (193.5) was second.
The top two in each weight advance to regionals.
EV's champs were Ethan Smith (106), Brennon McDermott (113), Randy McDonald (132), Winston Scott (182) and Jacob Halvorsen (hwt).
WV's champs were Tanner Jones (152), Drake Ferguson (160), Quintin Stansbury (170) and Logan Reser (195); Clarkston's champs were Klayton Babino (120), Spencer Clegg (126) and Jake Freeman (138); Cheney's champ was Josh Baker (220); and Pullman's champ was Kiran Srikanth (145).
District 7 1A: Colville edged Deer Park for the team title at Freeman.
Colville finished with 320 points to Deer Park's 309. The top five in each weight advance to regionals.
The Indians had six champs - Trent Baun (120), TJ Baun (132), John Knight (152), Thailer Morrison (160), Takota Ashley (170) and Scout Walker (182).
Deer Park was led by champs Seth Hoog (132), Dean Lockwood (145), Jared Boswell (220) and Gabe Sanchez (hwt).
The other champs were Jeff Friedman (106), Hunter Nees (113) and Zach Hyta (195) of Freeman and Dalton Young (138) of Lakeside.
Subscribe to the sports newsletter
Get the day's top sports headlines and breaking news delivered to your inbox by subscribing here.
---
Subscribe and login to the Spokesman-Review to read and comment on this story