Sports > EWU basketball
San Francisco holds off Eastern Washington's men with late free throws
UPDATED: Thu., Dec. 7, 2017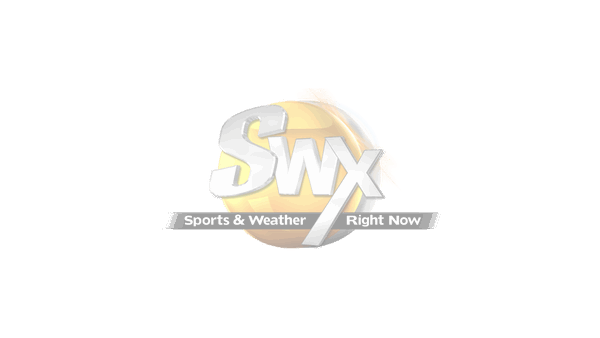 SAN FRANCISCO – Matt McCarthy scored a career-high 17 points, Souley Boum added 16 and San Francisco dominated the first half and held off Eastern Washington for an 81-71 nonconference men's basketball win on Thursday night at War Memorial Gym.
The Dons held on despite Bogdan Bliznyuk's season-high 31 points for EWU, his seventh career game with at least 30.
McCarthy tied his career high of 12 points in the first half on 5-of-7 shooting as the Dons (5-3) took a 45-24 advantage after leading by as many as 26 points.
San Francisco wasn't lighting it up in the first half, shooting 44 percent, but was 8 of 16 from 3-point range while the Eagles (3-6) were shooting 25 percent, including 1 of 7 from distance.
The Dons scored the first 11 points of the game and made their first six shots. McCarthy hit the last four after Jordan Ratinho and Jamaree Bouyea opened with 3-pointers.
Eastern Washington had a 16-6 run that cut the deficit to 11 midway through the second half. After the Dons reeled off seven consecutive points, Bliznyuk had nine points in a 12-0 run that brought the Eagles within 66-60 with 5 minutes left.
EWU couldn't get any closer. Boum made 8 of 8 free throws in the final minute and the Dons hit 10 of 10.
Eastern outscored USF 47-36 in the second half.
Sophomore Mason Peatling came off EWU's bench for 11 points and six rebounds in 20 minutes. He finished 7 of 8 from the line.
Eagles junior Ty Gibson finished 3 of 7 on 3-pointers.
The Eagles had defeated USF in each of the last three seasons, including road wins in 2014 and 2015.
Bliznyuk, who added 10 rebounds, recorded his 16th career double-double. He moved into third place on Eastern's career scoring list with 1,572 points, 231 behind former teammate Venky Jois.
The Eagles have two games remaining during a streak of 10 consecutive games away from home. They are 2-6 during the streak.
EWU hasn't played at home since defeating Walla Walla 82-61 on Nov. 10.
Subscribe to the sports newsletter
Get the day's top sports headlines and breaking news delivered to your inbox by subscribing here.
---