Sports
Boise State's Brett Rypien works to eliminate mistakes, improve in third season
Thu., Aug. 31, 2017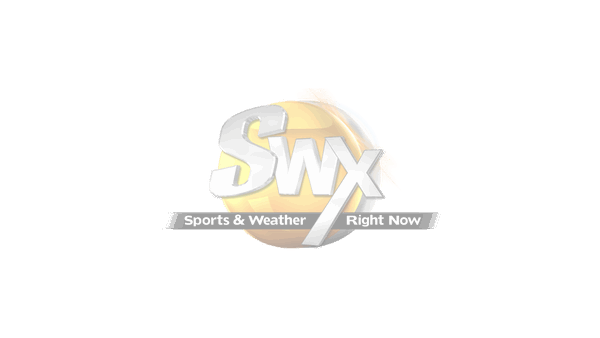 A quarterback's season that most teams would kill for might seem a little disappointing to the Boise State faithful accustomed to the likes of Kellen Moore and Ryan Dinwiddie.
That's where junior Brett Rypien – the former Shadle Park standout – finds himself this fall, coming off a sophomore campaign that in some ways was better than his debut season. But losses in three of the final six games left a sour taste.
In those games, mistakes tended to compound on Rypien, something he's focused on fixing this year.
"You don't think about those too much, but you certainly have to let them motivate you," Rypien said. "We were only nine points from being undefeated in the regular season. That's the difference of a couple plays. I think I've learned from it, ready to fix what went wrong."
Two days before the Cactus Bowl, offensive coordinator Zak Hill said of Rypien, "Things tend to build a little bit through a game if it's not going great."
Against Air Force in the regular season finale, he was 3-for-16 in the first half. He started 2-for-6 against Baylor in the bowl game, throwing two interceptions in the first half.
One part of improving in fall camp for Rypien and company is getting over those lulls, whether they're early or late in games.
"Responding to adversity is something we emphasized a lot in fall camp as well, and I feel we did a way better job with that," Rypien said.
Senior wide receiver Cedrick Wilson said of that drive to fix mistakes, "Every ball we don't connect on in practice, we do it after practice three or four times."
Rypien didn't exactly have a wide margin for error last season, with struggles on special teams and a defense that forced just nine turnovers. He completed 61.9 percent of his passes for 3,646 yards, with 24 touchdowns to eight interceptions.
His completion percentage dropped slightly but his yards per completion went up by 2.6, thanks to a focus on an improved deep ball and Wilson's addition. Rypien was 15th among FBS quarterbacks in pass efficiency (155.7) and his 49.3 attempts per interception was better than the likes of USC's Sam Darnold and Louisville's Heisman Trophy winner Lamar Jackson.
"Brett is continuing to progress," Boise State coach Bryan Harsin said. "… Brett's operating, he's leading, making decisions you want to see at this point."
Hill, the former quarterbacks coach at Eastern Washington, has some fun options in the mobile Montell Cozart, and Rypien.
A third year is often when a quarterback can show the biggest improvement. Moore's and Dinwiddie's most efficient seasons came in their junior years. Hill said he is of that belief, adding of Rypien, "I think he's in a very good position mentally."
Another focus has been improving Rypien's mobility and awareness. He took sacks that maybe could have been prevented, and a late safety at Wyoming was a game-changing play.
"The first thing I've seen this fall camp with Brett is that he's really feeling the pocket a lot better," Hill said. "Going into this offseason, he was pushing to be a little more athletic in the pocket, feeling things, creating time. He's actually taken off on a few runs here and there, too … which wasn't really in his mentality before."
Complementing Rypien this fall, and no doubt someone who has helped his mobility, is Cozart, the senior graduate transfer. Once a starter at Kansas, Cozart will be able to, as he puts it, "spice it up a bit." A former captain with the Jayhawks, he's quickly picked up the offense and been a strong leader, helping push Rypien while also earning a role as a change-of-pace quarterback.
"Me being the new guy, I can come on the field, like, 'Hey Brett, what do you think about this certain play or what should I have done here?'" Cozart said. "I came in just trying to grind and let those guys know I'm going to do whatever it takes to be able to help the team."
The Broncos lost a quarterback in camp when redshirt freshman Jake Constantine left the team. He plans to enroll at Ventura (California) College. But pushing him was true freshman Chase Cord, a 6-foot-2, 200-pound Phoenix-area native who was a 1,000-yard rusher as a junior in high school. Rypien said "he has a lot of athleticism – very, very smart player."
"Chase Cord is going to be a dude," Hill said. "… Can run and can throw it. He's going to be fun to develop. He's a little raw right now."
Though two quarterbacks – Rathen Ricedorff and Constantine – have left the team since April, Rypien's improvements have been aided by Cozart and Cord.
"That whole room has gotten better, which elevates Brett's game," Harsin said.
Subscribe to the sports newsletter
Get the day's top sports headlines and breaking news delivered to your inbox by subscribing here.
---