Sports > Spokane Indians
Brothers Ismel Lopez, Luis Lopez get rare opportunity with Spokane Indians
Tue., Aug. 22, 2017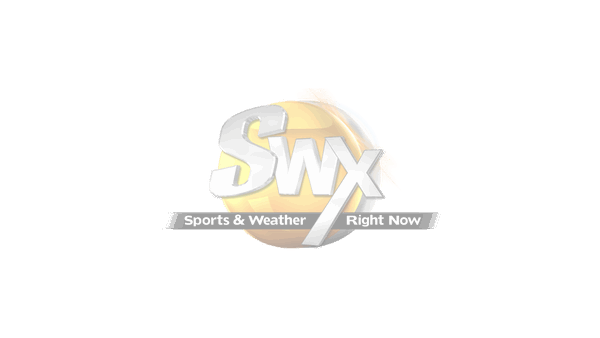 The Spokane Indians have reunited several players this season who have grown up with each other on the baseball field.
First baseman Curtis Terry and right fielder Chad Smith faced each other while playing for their high school teams in Georgia.
Infielders Kole Enright and Chris Seise, former high school teammates, also reunited in Spokane earlier this month when Seise was promoted from the Texas Rangers' rookie league in Arizona.
But the Indians have not only brought together old friends this season, they've reunited family.
Brothers Ismel and Luis Lopez found themselves in the same uniform this year, throwing alongside each other in the Indians' bullpen. This season is the first time they have played together in the U.S.
The brothers, who are less than 2 years apart, spent their childhood days side-by-side in Carupano, Venezuela, as their family of nine struggled to stay above water on one household income.
"A lot of times we didn't have food, a lot of times we didn't have clothes. It was difficult," younger brother Luis said through a translator. "It was not the easiest growing up, but we were able to make it through with the support and love of our family."
With seven kids to look after, Luis and Ismel's parents could first only afford to put Ismel on a baseball team. Eventually, the Lopez family had enough resources to get Luis on a team when he was 14 years old.
At that time, the brothers started getting noticed on the field by several teams from Major League Baseball. Eventually, the Texas Rangers expressed interest in the brothers, and in September 2013, both Luis and Ismel signed with the club. Luis was 17 years old and Ismel 18.
After signing, the brothers played in the Dominican Summer League, the Rangers' rookie league, for three years. This year, they both moved to the U.S. to start their journeys through the minor league system.
Ismel, who will be 23 years old on Thursday, was the first to get called up. The Rangers added him to the low-A affiliate Hickory Crawdads roster in April. He stayed with the Crawdads until the Indians' season started in mid-June when he reunited with his brother in Spokane after Luis, 21, was promoted from the DSL.
The brothers have worked as relief pitchers for the Indians all season, appearing in a combined 23 games.
Playing next to each other in a minor league jersey is an opportunity they both know doesn't come around often.
"There's not a lot of people who get a chance to play with their brother," Ismel said. "We know we're not going to be able to stay together and we know that maybe one of us will move up to Hickory or somewhere else, and that will be difficult, but right now we're thanking God that we're able to play together."
The promotions to minor league ball has helped Ismel and Luis bring some financial stability to their family in Venezuela.
"We're able to give back to our family and make them more comfortable and have more food and more resources and we're able to help out a lot of people in our family," Luis said.
For Luis and Ismel, the big dream is to get through the Rangers' farm system and play together at the major league level. But the brothers said that they also hope that their careers will enable them to give back to not only their family, but to the people of Carupano.
"Besides getting in the big leagues, my other goal … is to be able to help my community and help my city I grew up in because they've always been really supportive of what we've been doing," Luis said.
Subscribe to the sports newsletter
Get the day's top sports headlines and breaking news delivered to your inbox by subscribing here.
---