Sports > High school sports
Prep track notebook: Mead boys coach John Mires survived rough winter
UPDATED: Wed., April 26, 2017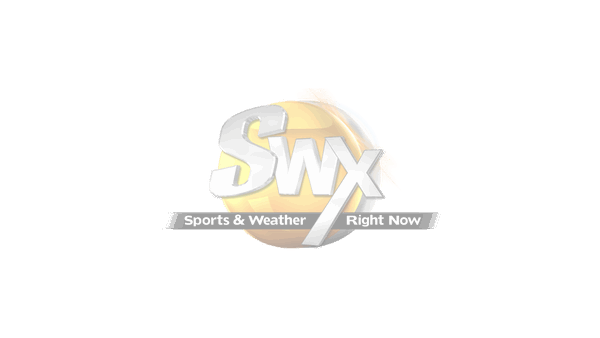 John Mires is grateful to be coaching his Mead boys track team this spring.
It's been a distraction of sorts from the injuries he sustained during the winter – although they couldn't be ignored because of casts covering separate parts of his arm the first seven weeks of the season.
Mires was hanging electrical wiring in a work shop on property he bought on Long Lake in early January when he fell about 14 feet off a ladder.
Had the cement floor broken his fall he probably would have been better off. Instead, he crashed awkwardly on a wooden bench underneath him.
Mires suffered multiple injuries to his right shoulder, arm, elbow and wrist. The injuries included a labral tear, torn triceps, a shattered bone in the arm, a dislocated elbow and a shattered and dislocated wrist.
He was thankful his son was nearby to drive him to the hospital.
Mires has had three surgeries and three casts. The final cast came off two weeks ago. There could be more surgeries.
"But I'm back doing what I love to do," Mires said. "The truth behind it is I could have broken my neck or could have cancer."
That's Mires' way of not making light of anything more tragic but the fact that the accident didn't rob him from coaching this spring.
"I was reaching to a corner (in the shop) and the ladder went out from underneath me," Mires said. "My arm hit the bench in the middle of my triceps and all my weight was on the bench. It ripped my arm to the right and my elbow went out the back of my arm."
He also could have a rotator injury.
"Something is catching in there, but they've got to get these other pieces fixed first. I'm doing therapy. It's getting better and getting stronger. I'm truly thankful my hand came back."
Athletic director John Barrington is amazed Mires didn't miss any time this season.
"It was therapy for him to get back coaching," Barrington said. "The timing (of the accident) couldn't have been worse in getting ready for the season. But it was really good medicine for him to be around the kids even though he wasn't 100 percent."
While Mead girls coach Dori Whitford didn't have an accident like Mires, she was knocked on her back, too.
Whitford came down with the flu that turned into double pneumonia. She spent spring break in the hospital.
"Dori was very, very ill for a while," Barrington said. "She missed about a week of school after she got out of the hospital."
Around the track
The West Valley boys and Cheney girls wrapped up Great Northern League championships – Cheney doing so last week and WV following suit by capturing its fourth straight Wednesday.
Both teams will be favored to capture district titles.
The North Central girls pulled off a big win over Lewis and Clark last week – the first time in 15 years, reports NC coach Kelly Harmon.
Mead's boys won a team title and Lewis and Clark's girls held off Ferris at the 54th annual Mooberry Relays last Saturday.
Joseph Heitman led Mead with wins in the 110-meter hurdles (14.80 seconds) and long jump (22 feet, 5¼ inches). His time in the hurdles shaved .04 off his career best.
Emily Greene led LC with a win in the 100 (12.58) and assisting Grace Ellis, Anna Rodgers and Maya Lebar in the 400 relay (49.31). Rodgers also took first in the long jump (18-2½) and Lebar won the triple jump (36-8½), a career best by 2¼ inches.
Central Valley's girls and boys won titles at the Blue Devils Legends Invite on Walla Walla High's new track.
Twins Anna and Erica Pecha along with Anna Fomin and Kearan Nelson posted a season-best time of 3:59.14 in the 1,600 relay – just the second team in the state to crack 4 minutes. Anna (5:22.08) and Erica (5:23.81) finished 1-2 in the 1,600 and Fomin won the 800 (2:18.41).
In the boys, CV didn't have an individual winner. The Bears were led by Erik Fitzgerald, who took second in the javelin with a throw of 192-0, nearly nine feet further than his career best.
Coeur d'Alene finished behind CV. The Vikings had a pair of double winners with Zac Magee, who took titles in the 200 (22.72) and 400 (49.23), and Grady Leonard in the shot put (60-9¾) and discus (178-9).
Other noteworthy times/marks posted last week in the area are: Dillon Lionello of Mt. Spokane, discus (176-10); Delaney Warren of Mt. Spokane, discus (132-5); Samara Nelson of CV, shot (40-1), the first GSL female athlete to crack the 40-foot mark; Jessica Harpel of Ferris, pole vault (11-0); Kayla Watt of Gonzaga Prep, pole vault (11-0); Mayyl Mahama of Pullman made a 12-foot improvement in the discus (127-2) and increased her shot (39-4); Zach Annanie of Lakeside made 12-foot improvement in the javelin (186-7) and improved a foot in the pole vault (14-0); freshman Lillian Kirry of Chewelah in the 100 hurdles (15.88) and 300 hurdles (45.60); Rodrick Fisher of East Valley, the overall state leader in the 200 (21.30); Grace Martin of Ferris, long jump (18-½); Caleb Simpson of West Valley, 300 hurdles (39.30); Isaiah Ervin of EV, 300 hurdles (39.90); Alana Keogh of Cusick, 100 (12.78) and 400 (1:00.06); Gracie StrangeOwl of Cusick, 300 hurdles (47.88); Syierra Membrere of Columbia, shot (35-3); and Mackenzie Morris of Post Falls, pole vault (11-0).
Subscribe to the sports newsletter
Get the day's top sports headlines and breaking news delivered to your inbox by subscribing here.
---
Subscribe and login to the Spokesman-Review to read and comment on this story