Sports > Outdoors
Field reports: Film event promotes wild steelhead
Sun., April 23, 2017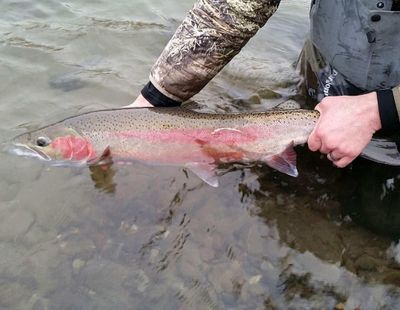 FISHING – The film "Our Two Hands," which beckons anglers to conserve wild fish, will be presented on Thursday in Spokane as a fundraiser for the Wild Steelhead Coalition.
The event, which includes raffles for guided trips, rods, reals and other items, will start at 6 p.m. at Lincoln Center, 1316 N. Lincoln. The film will screen at 7 p.m. Cost is $10.
"Fishing and hunting have always been a part of my life, but nothing has gripped me like steelhead," said local organizer Josh Mills. "Their journey is nothing short of remarkable and I want to be a part of the solution that keeps them coming back to us."
The coalition contends that anglers can't be satisfied to rely solely on hatcheries to produce Washington's state fish.
"Wild steelhead hold the greatest amount of biodiversity in their genetics to rebuild the runs," Mills said. "That is why I hope that other anglers will be a part of the solution help the recovery of wild steelhead here in our area and around their historic range."
Other outdoor nonprofits planning to attend the event include Save Our Wild Salmon, Backcountry Hunters and Anglers, Spokane Riverkeeper, Spokane River Forum, Spokane Fly Fishers, Spokane Falls Trout Unlimited and Spokane Women On the Fly.
Info: John Mills, (509) 993-3646.
Teens shooters compete in clays championship
SHOOTING – Approximately 175 youth shooters will be in the Spokane area on April 28-30 for the Washington Youth Education in Shooting Sports State Championships in Spokane.
The trap, skeet and sporting clays events will be held at Spokane Gun Club and Double Barrel Ranch.
Three divisions include shooters from grades 5 through 12. Most of the youths shoot in clubs around the state such as FFA, Boy Scouts and 4-H.
Info: wayess.org.
Parks clearing snow to open roadways
PARKS – A sweet transition for bicyclists is ending at Yellowstone National Park but just barely beginning at Glacier and North Cascades national parks as crews clear roadways that have been buried in snow for months.
Yellowstone National Park on Friday began opening select roads that have been plowed after being closed over the winter. During the plowing transition, bicyclists had access to many of the roads without the competition from tourist motorized traffic.
At Glacier Park, plowing began two weeks ago and will continue through May. At some point, bicyclists and walkers will have access to miles of the Going to the Sun Road before the entire route over Logan Pass is cleared for traffic – probably in early June.
The North Cascades Highway clearing started on April 10, nearly a month later than the typical date to start reopening State Route 20 over the North Cascades. Weather, snow slides and avalanche danger made it unsafe to begin the work any earlier, Department of Transportation officials said.
Clearing the North Cascades Highway usually takes four to six weeks, but this year it could take up to eight weeks, officials said.
During the clearing, pedestrians, skiers and bicyclists are prohibited Monday through Thursday, but allowed past the gates (west of Mazama on this side of the mountains) Friday through Sunday.
The latest reopening ever for the North Cascades Highway was June 14, 1974. This year's clearing work could extend into June as well considering the high volume of snow through the 34-mile closed section, which includes Rainy Pass in North Cascades National Park.
Subscribe to the sports newsletter
Get the day's top sports headlines and breaking news delivered to your inbox by subscribing here.
---
Subscribe and login to the Spokesman-Review to read and comment on this story