Sports > Spokane Chiefs
Spokane Chiefs season outlook: Looking forward to bantam and import drafts
Mon., April 10, 2017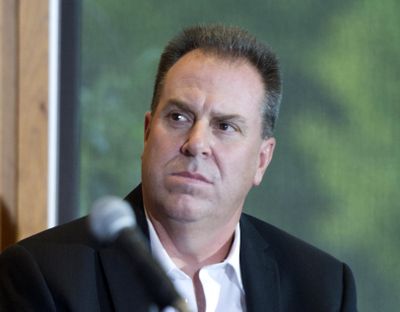 This is the last installment of an seven-part online series wrapping up the Spokane Chiefs' 2016-17 season, as well as looking forward to next year. Today: .
3/29: The 20-year-old situation.
3/31: Young leadership emerges.
4/1: The Goaltenders.
4/2: Forward depth will be key.
4/4: The defensive unit.
4/7: The prospects.
Also: All-time wins leader Don Nachbaur out as coach of the Spokane Chiefs.
—-
This past season was filled with learning experiences for first-year general manager Scott Carter.
And even with the season being over, there's only going to be more and more for Carter.
There are two drafts upcoming for Carter and his scouting staff: The Western Hockey League bantam draft on May 4 and the Canadian Hockey League Import Draft in late June.
The Chiefs will select sixth in the upcoming bantam draft, Spokane's fourth top-10 pick in three years (although before 2015, the Chiefs hadn't had one since selecting Jared Cowen No. 1 in 2006).
Prince Albert holds the No. 1-overall selection in this year's draft after winning the lottery.
Carter said they'll look for not only the best available player, but someone who fits in with the organization's culture.
"You're always wanting to find the best available player," Carter said. "But I think you want to find players that we feel fit as a Chief and meet those human characteristics and obviously, the best skills available that can come in and kids that are committed to playing in the WHL."
The bantam draft, while more arduous to prepare for, is more straight forward that the upcoming import draft.
The Chiefs had both of their allotted Import player spots filled last season with 18-year-old Pavel Kousal and 19-year-old Ondrej Najman, both from Jihlava, Czech Republic. Both can return next season, but Carter said Najman and Kousal are evaluating their options with their shared agent.
"They wanted to go back home and we'll see in a couple of weeks their feelings on whether they want to return to North America or not," Carter said. "We're still reviewing our European setup from talking to the kids. I think they found a bit of an adjustment coming over to North America the game was a bit different for them."
The Chiefs have struggled with import players in recent years. Najman scored 25 points in 65 games and Kousal recorded 10 in 49, which are decent but not gaudy numbers.
What's more, is Spokane was forced to ship away Dominic Zwerger to open up a spot for either Najman or Kousal. Zwerger finished with 75 points in 67 games while manning Everett's top line this season.
Zwerger, a 106th-overall selection in 2013, is the only import draft pick that's panned out in recent years for Spokane. Niklas Anderson was the Chiefs' first-round selection in 2015 but he only finished with 18 points in 47 games. Defenseman Tamas Laday was the Chiefs' only selection in 2014, but he only posted six points in 60 games in his lone season with the Chiefs.
Subscribe to the sports newsletter
Get the day's top sports headlines and breaking news delivered to your inbox by subscribing here.
---
Subscribe and login to the Spokesman-Review to read and comment on this story