Sports
In Brief: Clint Dempsey returns to practice for Seattle Sounders
Wed., Sept. 14, 2016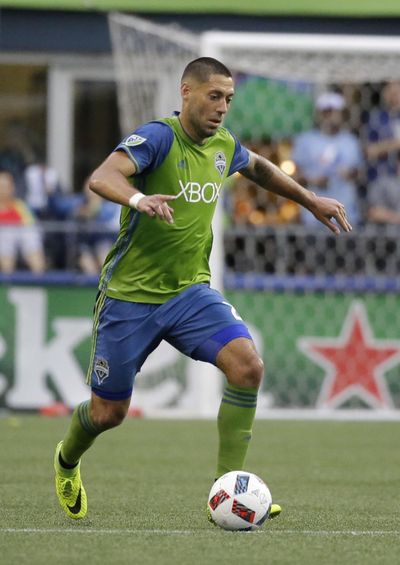 Soccer: Clint Dempsey returned to practice for the Seattle Sounders on Wednesday after missing time due to an irregular heartbeat, although it's unknown whether he will play again this season.
General manager Garth Lagerwey told reporters that Dempsey had a procedure to address some of the issues due to the irregular heartbeat, but he was not at liberty to further discuss Dempsey's medical condition. Lagerwey said he is "cautiously optimistic" Dempsey will be able to return this season.
Dempsey has been cleared to practice and exercise, but has not been cleared to play yet, Lagerwey said. When he's been cleared, the team will consider his return to games.
Dempsey has been out since late August. He has missed two league games and two U.S. national team games in World Cup qualifying.
Aguero scores hat trick, lifts City: Trailing until the 89th minute against Sporting Lisbon, Real Madrid was reminded that becoming the first club to retain the trophy in the Champions League era won't be an easy task.
The 11-time champions needed a late winner from substitute Alvaro Morata to prevail 2-1 in their opening game in Paris in the competition also marked by Premier League champion Leicester's maiden Champions League win.
Playing against his former team, Cristiano Ronaldo was on the score sheet at Santiago Bernabeu stadium as he leveled with one minute left from a free kick before Morata's winner in added time. But the Portugal star was unable to match Sergio Aguero, who netted a hat trick with Manchester City.
After a one-year absence in the tournament, Dortmund celebrated its return by putting six goals past Legia Warsaw, while French clubs Monaco and Lyon made both winning starts.
UEFA elects Ceferin president: UEFA elected Aleksander Ceferin to succeed Michel Platini as president, replacing one of the greats of soccer with a largely unknown Slovenian lawyer to lead the European game.
The 48-year-old Ceferin will complete Platini's four-year presidential term through 2019, while the former France captain serves a four-term FIFA ban over an improper payment.
Ceferin, the head of the Slovenian federation, beat UEFA vice president Michael van Praag of the Netherlands 42-13 in the vote in Athens.
Ceferin's immediate challenge is to heal the rifts in European soccer created by the secret deal to increase guaranteed Champions League places for clubs from the powerful leagues of England, Spain, Germany, and Italy.
Ceferin is the seventh president in the 62-year history of UEFA.
Accuser in Rose rape to stay anonymous
NBA: A woman who accuses NBA star Derrick Rose of raping her says not even her parents or brothers and sisters know about her claim or the lawsuit she is pursuing.
The woman, who is identified only as Jane Doe in court filings, tells The Associated Press in her first media interview that it is critical her identity remain a secret so she can maintain her relationship with her religiously conservative family.
The 30-year-old woman claims Rose and two of his friends raped her in her apartment after a night of drinking in August 2013. She had dated Rose for nearly two years, and his lawyer says the sex was consensual and her lawsuit is a money grab.
The case is scheduled to go to trial in Los Angeles on Oct. 4. The trial date coincides with Rose's 28th birthday and comes as his new team, the New York Knicks, will be underway in the preseason.
Pelicans sign Stephenson: The New Orleans Pelicans have signed veteran free-agent guard Lance Stephenson.
The 6-foot-5 Stephenson began last season with the Los Angeles Clippers and was acquired by the Memphis Grizzlies at the NBA trade deadline. In 69 games, he averaged 8.3 points, 3.2 rebounds and 1.9 assists in about 20 minutes per game.
Stephenson, who starred in college for Cincinnati, entered the NBA as a 2010 second-round draft pick by the Indiana Pacers. He has played in 340 career games with Indiana, Charlotte, the Clippers and Memphis.
His best pro season was 2013-14, his last with Indiana, when he averaged 13.8 points, 7.2 rebounds and 4.6 assists in 35.3 minutes per game with five triple-doubles.
The Pelicans have not announced contract terms.
Farmar joins Sacramento Kings: The Sacramento Kings have signed free agent point guard Jordan Farmar.
Farmar has averaged 7.7 points and 2.9 assists per game in nine NBA seasons. He won two NBA titles as a reserve on the Los Angeles Lakers in 2009 and '10.
Farmar spent last season with Maccabi Tel Aviv and the Memphis Grizzlies, where he averaged 9.2 points and 3.1 assists per game under current Kings coach Dave Joerger.
ESPN to broadcast Drone Racing League
Miscellany: In its latest foray into non-athletic sports, ESPN has reached an agreement to broadcast the Drone Racing League (DRL) season. An introduction to drone racing will air Thursday night on ESPN2 and competition begins Oct. 23.
"We see this as being an emerging sport with an emerging audience. We're excited to see how it does," Matt Volk, director, programming and acquisitions at ESPN, said.
Sky, which broadcasts to the United Kingdom and Ireland, and 7Sports, a sports business cluster in Germany, also will air 10 one-hour episodes of the five-race 2016 DRL season, including a winner-take-all world championship Nov. 20.
Drone racing is simply the latest so-called extreme sport in this digital age, and ESPN and the DRL are banking on the rising popularity of the craft worldwide.
"We don't come with a built-in audience," Drone Racing League CEO Nick Horbaczewski said. "They see a long-term opportunity here. They know how engaging the content is. It's very attractive for a younger audience."
Horbaczewski, who founded the DSL a little over a year ago, said drone racing has all the elements of auto racing and likens it to a real-life video game with a "real scientific element to it."
The tiny craft used by the DSL will be unlike the more than one million consumer drones out there buzzing around. They will be custom built by the DRL so that all are identical with the same power output. That means all pilots will be racing on a fair playing field, and they will be doing the actual flying – not some pre-programmed GPS system.
Subscribe to the sports newsletter
Get the day's top sports headlines and breaking news delivered to your inbox by subscribing here.
---
Subscribe and login to the Spokesman-Review to read and comment on this story