Sports
Famous fan: LeBron James swinging with Indians in playoffs
Thu., Oct. 6, 2016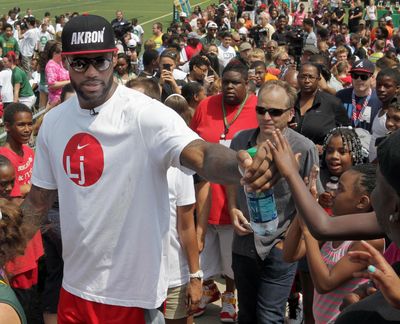 LeBron James has traded teams this October. The Cavaliers superstar, who once wore a New York Yankees cap to a playoff game in Cleveland, is swinging hard for the Indians.
James has been sending positive messages on social media toward the club, which hosts the Boston Red Sox in the American League Division Series starting Thursday night.
James posted a message to the Indians on Instagram, writing: "Light it up tonight, boys!! Tribe has us feeling some type of way in October."
The three-time champion, who helped end Cleveland's 52-year pro sports title drought in June, grew up rooting for the Yankees – and the Dallas Cowboys. He received heavy criticism in 2007 from Cleveland fans for wearing the Bronx Bombers cap to Game 1 of the ALDS that year. The Indians won that series in four games.
The 31-year-old has shifted his allegiance to the Indians and he's not a bandwagon jumper, either. He attended their game on Aug. 20, when the Indians rallied and won on a game-ending, inside-the-park homer.
"That was unbelievable," James recently told The AP. "The atmosphere that night was incredible."
Bridge named after Ortiz
Massachusetts has named a bridge in honor of retiring Red Sox slugger David Ortiz.
Republican Gov. Charlie Baker signed into law a spending bill that includes the provision designating the span over the Massachusetts Turnpike the David Ortiz "Big Papi" Bridge.
The bridge runs along Brookline Avenue, near Fenway Park.
Oriole's Wallace retires
Dave Wallace is retiring as the Baltimore Orioles pitching coach.
The 69-year-old Wallace has been in coaching for 36 years.
Orioles manager Buck Showalter made the announcement, saying that Wallace hopes to work as a part-time pitching instructor in the big leagues.
Blue Jays fan charged
The man who threw a beer at Baltimore outfielder Hyun Soo Kim during the seventh inning of Tuesday night's AL wild card game has been charged with mischief.
Ken Pagan, a 41-year-old copy editor for Postmedia, reported to a police precinct. He was later released and is due in court in late November.
Viewership up and down
Viewership was down 1.9 percent from last year for ESPN's wild-card playoff coverage but up 36 percent over the previous NL one-game knockout two years ago.
The Giant's 3-0 win over the Mets, Wednesday was seen by 7.42 million viewers. That was down from 7.6 million for Houston's victory over the Yankees in last year's AL wild-card game.
Subscribe to the sports newsletter
Get the day's top sports headlines and breaking news delivered to your inbox by subscribing here.
---
Subscribe and login to the Spokesman-Review to read and comment on this story