Sports > Seattle Mariners
Mariners notebook: Martin to disabled list; Romero recalled from Tacoma
Fri., May 27, 2016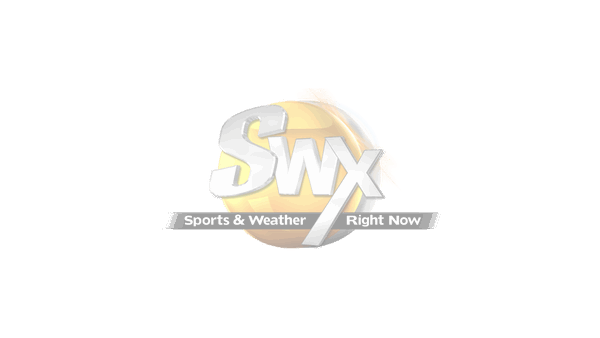 SEATTLE – This wasn't the Mariners' best-case scenario.
Center fielder Leonys Martin was placed on the 15-day disabled list roughly two hours prior to Friday's series opener against Minnesota when an examination revealed a strained left hamstring.
The Mariners filled the vacancy by recalling outfielder Stefen Romero from Triple-A Tacoma. Romero started Friday in left field against the Twins at Safeco Field.
Martin, 28, underwent a follow-up examination late Friday afternoon after leaving Wednesday's 13-3 victory over Oakland because of what club officials initially characterized as a "tweak" in his left hamstring.
The move suggests the Mariners expected Martin to be unavailable for more than a few days. Manager Scott Servais previously acknowledged a willingness to play shorthanded through the weekend.
"If it's three-four (days)," he said, "maybe you can just hold out and wait until (Martin) is feeling good. But any longer, if you start looking six-seven days, at that point, you're probably better off (to put the player on the disabled list)."
Utilityman Shawn O'Malley replaced Martin for the final six innings Wednesday, but Nori Aoki, the usual left fielder, started Friday's game in center field.
Both represent a significant defensive drop-off, particularly in spacious Safeco Field, where the Mariners, starting Friday, play their next five games.
"They're all big when Leonys isn't out there," Servais said. "That's the way I look at it. I think he's such a premier defender that anybody who you put out there who we have in our organization is going to be a step down. That's just how it is.
"You're hoping to get by in the short-term and not get too exposed."
The Mariners chose to recall Romero, who can play left or right field, rather than summon a center fielder – Boog Powell from Tacoma or Guillermo Heredia from Double-A Jackson.
Powell and Heredia, like Romero, are already on the organization's 40-man roster and, as such, would not require a corresponding space-clearing move.
Romero, 27, was batting .358 at Tacoma with seven homers and 34 RBIs in 39 games after making a strong spring push before getting optioned to the Rainiers. He has a .192 average in 85 big-league games over the last two seasons.
Martin's injury interrupts what might be the most productive stretch of his six-year career. He has hits in nine straight games and has reached base safely at least once in 19 of his last 20 games.
That surge prompted Servias to move Martin into the leadoff role over the last four games, and he responded by going 8 for 15 with a walk-off homer in Tuesday's victory over the Athletics.
Martin is .353 overall in his last 20 games (24 for 68) and has raised his average from .182 to .262 and his on-base percentage from .264 to .339. He also had five homers and 10 RBIs in that 20-game span while scoring 14 runs.
Servais said Aoki would likely reclaim the leadoff job in Martin's absence.
Marte improving
Shortstop Ketel Marte, the club's other injured starter, remains on track to test his recovery from a sprained left thumb this weekend by hitting off a tee.
Marte suffered the injury May 21 on a slide at second base while stealing a base. He was placed on the 15-day disabled list the following day, which makes him eligible to return June 6 from the disabled list.
"Once we head out on the road trip (Wednesday)," Servais said, "we'll see where he is at that point. He may go (on a rehab assignment) and play a couple of games, but I don't want to get ahead of ourselves. Let's see how it goes off the tee.
"But the swelling is out of there. Full range of motion is back. He's feeling good."
Hot start
The Mariners entered the weekend at 15-8 in May and, with five games remaining in the month, have already secured a winning April (13-10) and May for the first time since 2003, when they were 17-10 in April and 19-8 in May.
Another breakthrough is within reach.
The Mariners entered the weekend at 28-18, which put them a half-game behind Boston for the best record in the American League. They haven't had the A.L.'s best record since Aug. 13, 2003.
Mock draft
The latest mock draft from Baseball America projects the Mariners to take Boston College right-hander Justin Dunn with the 11th overall pick in the June 9-11 draft.
The magazine reported: "The Mariners have the most interest in the quick-armed former closer who's as loose, free and easy as any pitcher in the class."
Choosing Dunn might be something of an overdraft since Baseball America ranks him as the No. 24 player available in the draft. He began the season in the Boston College bullpen but has since shifted to the rotation.
"Dunn is slight in stature," the magazine reported, "with some scouts questioning his listed 6-foot-2, 184-pound frame. While he is short physically, his stuff isn't.
"He pitches consistently at 92-95 (mph) and touching as high as 97 at times with his fastball. His best secondary pitch is his slider, thrown with tight spin, vertical shape and mid-80s velocity."
The Mariners have also been linked to outfielder Blake Rutherford of Chaminade College Prep High School in Canoga Park, California. He is ranked by Baseball America as the No. 10 prospect.
Minor details
Double-A Jackson right-hander Edwin Diaz is getting closer to making an anticipated jump to the big leagues after passing his first inherited-runners jam Thursday in an 8-5 victory at Montgomery (Rays).
Diaz, 22, got a strikeout after entering the game with two on and two outs in the eighth inning. He got two more strikeouts in a scoreless ninth inning for his first professional save.
The Mariners' desire to add a power arm to their bullpen prompted a May 10 decision to convert Diaz, generally viewed as their most advanced pitching prospect, into a reliever.
Club officials recently indicated Diaz could make the jump directly from Jackson to the big leagues. He has allowed one unearned run and three hits in 8 1/3 innings over seven games as a reliever with no walks and 14 strikeouts.
Looking back
It was 18 years ago Saturday – May 28, 1998 – that Edgar Martinez became the first player ever to hit a ball off the lower catwalk at Tropicana Field in St. Petersburg, Florida.
Martinez's drive was a three-run blast in the first inning against Jason Johnson and propelled the Mariners to a 5-2 victory over Tampa Bay.
Short hops
Robinson Cano entered the weekend series leading the Mariners in all three Triple Crown categories: (14 homers, 43 RBIs and a .295 average). Stats Inc. notes only three other players led their club in all three categories: Mets outfielder Yoenis Cespedes, Giants outfielder Hunter Pence and Angels outfielder Mike Trout. … The seven-game suspension for Rangers second baseman Rougned Odor means he will miss the opener in the Mariners' June 3-5 series at Texas. … The Mariners entered the weekend with a 219-209-1 lead over Minnesota in the all-time series. The Mariners hold a series lead over only one other American League opponent: Tampa Bay (87-71).
Subscribe to the sports newsletter
Get the day's top sports headlines and breaking news delivered to your inbox by subscribing here.
---
Subscribe and login to the Spokesman-Review to read and comment on this story