Sports
MLB Notes: Not all postgame celebrations go as smoothly as Big Papi's
Sat., May 14, 2016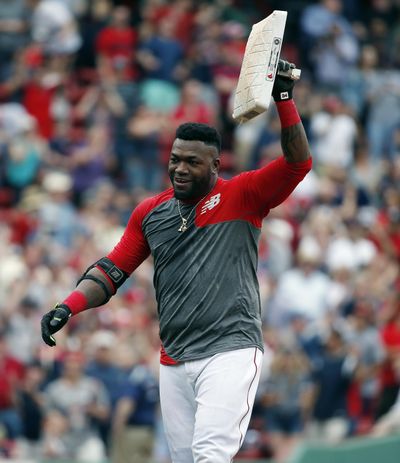 David Ortiz got off easy.
After lining a winning double with two outs in the bottom of the 11th inning to give the Boston Red Sox a victory over the Houston Astros on Saturday, Ortiz was blasted with a white powdery spray by his teammates at second base.
Big Papi later walked off the field holding second base over his head, a big smile on his face and no worse for the wear.
Hanley Ramirez was on deck when Ortiz delivered the big hit and rushed out to celebrate.
"I was trying to tackle him. But man, I couldn't do it," Ramirez said.
Probably a good thing in retrospect.
While celebrations usually don't involve much more than a dousing from a bucket of icy liquid, a dose of baby powder or perhaps a few hugs, high fives, a bouncing scrum, pile-ons – and maybe the occasional chocolate shower – too many postgame celebrations have gone awry over the years.
According to the National Institutes of Health, between 1993 and 2015, 62 athletes were injured during joyous postgame melees, and 16 of those injuries required surgery.
Professional soccer players led the way with 22, and one was fatal. An Indian soccer player died in 2014 after breaking his neck while attempting to do a back flip – a la Carl Edwards in NASCAR – after scoring a goal.
Other celebrations that went wildly wrong:
MORALES' MOMENT: After the Angels' Kendry Morales beat the Mariners with a grand slam in the bottom of the ninth in 2010, he took a big leap onto home plate and broke his leg. The bouncing scrum at home was subsequently banned by manager Mike Scioscia.
DEMPSTER'S DOWNFALL: Cubs pitcher Ryan Dempster broke his big right toe in 2009 when his foot got caught in the dugout railing while he was trying to run out with his teammates to celebrate a win over the Brewers.
HOCKING'S HURT: In 2001, Denny Hocking of the Twins broke his nose, compliments of his overzealous teammates, who kept smacking the bill of his helmet – and a few accidental face shots – after his first walk-off home run.
PEAVY PUMMELED: After the Padres clinched their division in 2005, pitcher Jake Peavy broke a rib while getting a big hug from his teammates. The injury wasn't discovered until weeks later when Peavy had an MRI following his forgettable postseason (eight hits and eight earned runs in 4 1/3 innings).
Harper drops appeal
Nationals star Bryce Harper dropped his appeal and will serve a one-game suspension in the second game of the day-night doubleheader against Miami. The team announced Harper's decision after he went 0 for 2 in Washington's 6-4 win in the opener. The team did not open the locker room in between games.
Harper was suspended and fined Wednesday by Major League Baseball for his behavior following an ejection in Monday's 5-4 win over Detroit.
During the bottom of the ninth inning of that win, Harper was in the dugout when he was ejected by plate umpire Brian Knight after Nationals batter Danny Espinosa was called out on strikes.
After the ejection, pinch hitter Clint Robinson connected for a game-winning home run. Harper, who by rule should not have been in the dugout after getting tossed, ran onto the field with his teammates to celebrate, pointed toward Knight and cursed at the umpire.
Clearing the bases
The Nationals picked up the contract option for Mike Rizzo that keeps the president of baseball operations and general manager with the organization through the 2018 season. … The Yankees called up right-handers Chad Green and Conor Mullee from Triple-A Scranton/Wilkes-Barre. Catcher Gary Sanchez was optioned back to Triple-A and righty Luis Severino was placed on the 15-day disabled list. … The Indians placed left fielder Michael Brantley on the 15-day disabled list for issues with his surgically repaired shoulder. … Rays second baseman Logan Forsythe was placed on the 15-day disabled list for a hairline fracture of his left shoulder blade. Forsythe was hit on the shoulder by a pitch from Felix Hernandez of the Seattle Mariners.
Subscribe to the sports newsletter
Get the day's top sports headlines and breaking news delivered to your inbox by subscribing here.
---
Subscribe and login to the Spokesman-Review to read and comment on this story