Sports > Seattle Mariners
Mariners notes: Joel Peralta makes opening-day roster
Tue., March 29, 2016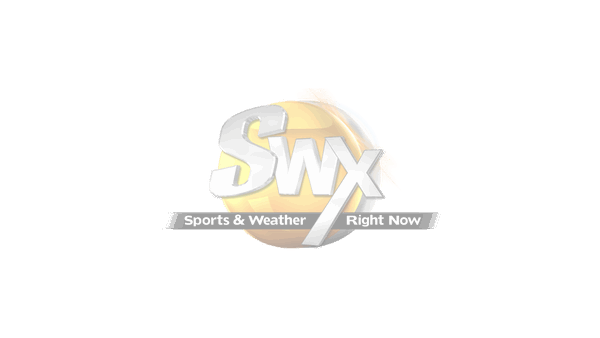 PEORIA, Ariz. – Veteran reliever Joel Peralta, once a long shot as a nonroster invite, didn't hide the sense of personal satisfaction that accompanied the recent news that he would open the season as a member of the Mariners' bullpen.
"I haven't been in this situation for a long time," he said. "It was years ago. It's been helping me to compete and go out there and do better. Now, I've made it, so I've just got to keep doing my job and try to help this team to win games."
The move should become official when the Mariners set their 25-man roster on Sunday, if not before, but club officials have already informed Peralta that he's on the club.
"He's been a nice addition in our clubhouse," manager Scott Servais said, "but you can be the greatest guy in the world – you've got to get them out. I feel very comfortable throwing him in there.
"I don't see him pitching in the back of the game. It's more sixth, seventh inning."
General manager Jerry Dipoto acknowledged the Mariners signed Peralta, in part, because they believed he would be a positive influence this spring on a bullpen in transition.
Whether he could pitch his way onto the club was a different matter.
The Mariners liked what they saw.
"He's been 90-92 (mph) the entire spring," Dipoto said. "His split-finger is a weapon. He gets the righties and the lefties out. He's kind of a reverse-splits type. That's important in a bullpen that is going to start without Charlie Furbush.
"The idea that Joel Peralta is capable of coming in and (facing) the better left-handed hitters, and having strikeout stuff, really helps."
Peralta's overall numbers this spring aren't great: seven runs and 10 hits in 10 innings over 10 outings, but they're skewed by one bad outing against Oakland – which occurred, coincidentally, on his 40th birthday.
He's had seven scoreless appearances, including a pair of 1-2-3 innings in his last two outings: Sunday against the Chicago Cubs and Monday in closing out a 6-4 victory over Kansas City.
"I'm feeling really good," he said. "Being 40, it gets tougher, but it pushed me to work harder. I'm not planning to quit now."
Two months ago, he wasn't so sure.
Peralta was coming off a season with the Los Angeles Dodgers in which he spent time on the disabled list for the first time since reaching the big leagues late in the 2005 season with the Los Angeles Angels.
A strained right shoulder sidelined him from April 26 to June 22 before a sprain on the right side of his neck put him back on the shelf from Aug. 11 to Sept. 1. After the season, L.A. chose not to exercise its 2016 option for $2.5 million.
And although Peralta averaged 74 games a year over the four previous seasons at Tampa Bay, while compiling a 3.58 ERA, he drew scant interest on the free-agent market.
"Teams were scared by me getting hurt last year," he said, "and the kind of injury it was. And I'm not a kid anymore. That counts."
A conversation with outfielder Nelson Cruz, a fellow Dominican, led to Peralta accepting a minor-league offer from the Mariners.
There were no guarantees beyond an opportunity, but the deal called for a $1.25 million salary if he made the club with the possibility of another $2.5 million in performance bonuses. He signed on Feb. 9.
"I'm glad to have him on the club," Servais said. "Coming into this camp, he needed some things to line up to get an opportunity to make the team. They did. Some other guys got hurt and weren't able to perform that well.
"He took advantage of it."
Remaining roster battles
Monday's roster moves left the Mariners with, effectively, just two openings on their 25-man roster, which doesn't have to be set until Sunday morning: backup catcher and a fifth right-handed reliever.
Steve Clevenger appears to be the choice over Rob Brantly for duty as Chris Iannetta's backup. Both players are out of options, which means the Mariners are likely to try to sneak one of them through waivers.
"Is (Clevenger) a little bit ahead?" Servais said. "He's been here all camp. We have a better feel for him. Still, we like what Rob Brantly has shown us."
The Mariners are still likely to acquire a right-handed reliever prior to the season and talked extensively to San Diego about Nick Vincent, Kevin Quackenbush and Jon Edwards.
Tellingly, perhaps, the Padres have a Rule 5 pick from the Mariners in outfielder Jabari Blash. Rule 5 selections, if they clear waivers, must be offered back to their former club for $25,000 before they can be sent to the minors.
If a trade fails to materialize, Donn Roach looms as a heavy favorite for the job. Through Monday, he had not allowed a run in 12 1/3 innings over his last five appearances.
"Obviously, Donn Roach has been the surprise of camp," Servais said. "He's thrown the ball very well. As you know, at the end of spring training, there are a lot of transactions, a lot of movement amongst clubs.
"We could have some additions yet to come in. I don't know."
Nuno likely choice
With Charlie Furbush still sidelined, Vidal Nuno is Servais' preferred choice for lefty-on-lefty match-ups in late-game situations – a loogy in the baseball vernacular (left-handed one-out guy).
"He has a track record of getting the lefties out," Servais said. "I trust him. He can throw any pitch in any count. His left-on-left breaking ball, I can see why it works for him."
Left-handers batted just .215 last season against Nuno with a .258 on-base percentage and a .304 slugging percentage. His career slash numbers are .200/.268/.315.
Subscribe to the sports newsletter
Get the day's top sports headlines and breaking news delivered to your inbox by subscribing here.
---
Subscribe and login to the Spokesman-Review to read and comment on this story