Sports > Seattle Mariners
Mariners learning to be patient with defensive shifts
Thu., March 10, 2016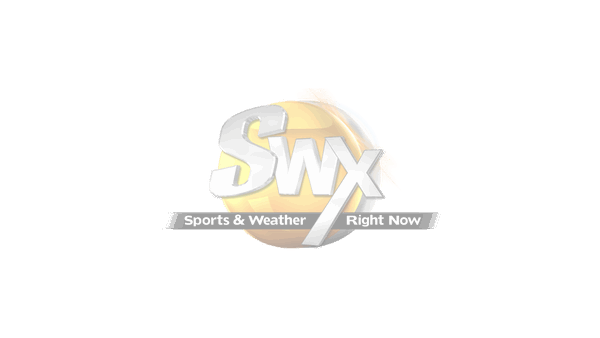 PEORIA, Ariz. – Part of the learning process this spring for the Mariners in implementing an increased reliance on defensive shifts is the reality that the maneuver is going to backfire on occasions.
That was particularly evident earlier this week when Arizona beat the shift three times in a 10-8 victory. David Peralta twice sent routine two-out grounders through the hole vacated at shortstop.
The next hitter, Welington Castillo, followed each time with a double. The first one scored two runs; the second one produced one.
"That's why you have to have the running total," manager Scott Servais said. "You just have to understand, 'OK, I got beat two or three times by it, but this is what we're looking for long-term.' "
Through the spring's first eight games, the shift stood at plus-five.
"It will work out to our advantage," Servais said. "It will be a positive. You've got to re-emphasize the positive because (pitchers) are only going to remember the times they get beat. They do not remember the hits that were turned into outs."
That's just human nature.
James Paxton surrendered the first of Peralta's cue shots and wryly noted afterward: "They said they're going to be doing a lot of shifts. I'm trying to figure that out and dealing with it.
"I felt there was definitely some adversity with ground balls getting through."
This wasn't a gripe at the strategy as much as irritation at the result, much like a pitcher might grumble after sawing off a batter with a pitch on the hands only to see him muscle a blooper beyond the infield.
"That one shift (on Peralta) probably would have ended the first inning (in a straight-up defense)," Paxton noted. "That's just part of camp, getting yourself ready to handle that adversity."
And that is precisely the point that Servais and his staff are seeking to reinforce.
"We got burned on it a couple of times (in Monday's game)," Servais said. "It's going to happen. We need to talk to our players about it, too, so they understand it.
"Now, when a player beats it twice, I'm going to make an adjustment in the middle of the game. When Peralta came up the next time, 'OK, enough. Let's slide them back over a little bit.' "
Servais said the Mariners won't implement a shift unless they believe they have a sufficient sample size to gauge probable results. But that doesn't just mean a pitcher's specific history against a particular batter.
"You're (also) looking not just for left vs. right (splits)," he said, "but pitchers who are like the guys we have pitching – whether it's velocity, breaking balls or stuff like that."
When a sufficient sample size is available, the Mariners will rely on a color-coded spray chart that divides the field into 18 zones. The hot zone is marked in red and shades toward blue, which is the location where a hitter rarely hits the ball.
From there, the Mariners position their infield.
"It's like football," Servais said. "We have four formations. For example, with a left-handed hitter, there's only four places you can be in: straight up, slight pull, heavy pull and triangle. That's it."
The triangle is an exaggerated heavy pull alignment where the second baseman plays in the outfield. It is employed only against slow runners such as Texas first baseman Prince Fielder and Boston designated hitter David Ortiz.
For the shift to work, though, the pitcher has to pitch to it.
Another example from Monday's loss to the Diamondbacks: After Peralta beat the shift in the first inning against Paxton, the Mariners again shifted their infield for Castillo – a heavy pull alignment to the left side.
"If we throw a breaking ball," Servais said, "he's going to pull it on the ground. We've got three guys over there. So there's a good chance we're going to catch it."
Instead, Paxton threw a change-up, and Castillo was able to lift it into left-center field for a two-run double.
The learning process continues.
Furbush update
The go-slow approach continues for lefty reliever Charlie Furbush, who missed the final three months last season because of biceps tendinitis and a slight tear in his rotator cuff.
The Mariners again chose a conservative approach by opting to have Furbush throw one more session of live batting practice before putting him into a Cactus League game.
Furbush threw 25 pitches Tuesday against hitters in live batting practice.
"I do want to see him in games," Servais said, "but he's coming off a pretty significant injury last year. The ball is coming out of his hand great. He's just not, maybe, bouncing back as quick yet, which is very understandable.
"Our training people are not worried about it at all."
Hultzen's options
Left-hander Danny Hultzen is weighing career options after another setback in his three-year recovery from shoulder surgery.
"Danny has met with our doctor," Servais said. "Danny is going to be down for a little while and exploring all of his options for what he wants to do."
Hultzen indicated he wants to continue his career, but club officials don't appear optimistic. Hultzen underwent surgery after the 2013 season on his labrum and rotator cuff. He didn't pitch in 2014 and logged just eight innings a year ago.
"I think he's in a tough spot," Servais said. "He's gone through so much, and I really feel for him. Knowing he's a very talented guy, it's just the cards the game deals you every once in a while are not always fair.
M's rally past Cubs
Not a bad two days for the Mariners. One day after beating reigning World Series champion Kansas City, they rallied to beat the presumptive World Series champions.
Jesus Montero's two-run single capped a three-run eighth inning Thursday that lifted the Mariners to a 10-8 victory over the Chicago Cubs at Peoria Stadium in Peoria, Arizona.
Montero's single came after the Mariners erased a one-out deficit by drawing four two-outs walks – two apiece from Cubs relievers Andury Acevedo and Felix Pena.
"The guys did a really good job of controlling the strike zone in the eighth inning," Servais said. "We worked some deep counts. We laid off some tough pitches, and we got a big hit late.
"That's what it takes some days."
The three-run burst came after the Mariners squandered leads of 3-0, 6-3 and 7-4. The Cubs rallied to an 8-7 lead by scoring twice in the seventh and eighth against minor-league relievers Emilio Pagan and Paul Fry.
Subscribe to the sports newsletter
Get the day's top sports headlines and breaking news delivered to your inbox by subscribing here.
---
Subscribe and login to the Spokesman-Review to read and comment on this story