Sports > Seattle Mariners
Rays beat Mariners on bases-loaded walk in 13th inning
Wed., June 15, 2016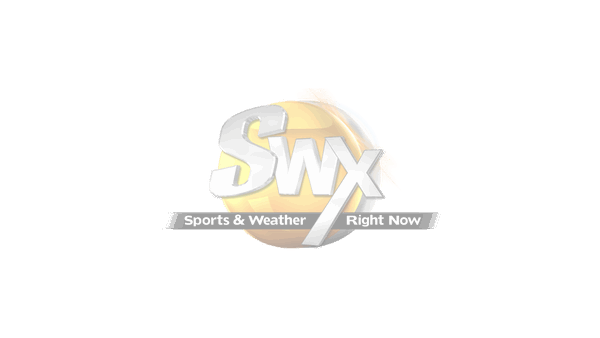 ST. PETERSBURG, Fla. – Walked off.
The Mariners' bullpen found more misery Wednesday night in a 3-2 loss to Tampa Bay in 13 innings when Mike Montgomery stumbled for a second straight game.
Montgomery forced in the the winning run by hitting a batter and issuing two walks after Logan Forsythe's one-out triple into the right-field corner. The winner was a walk to old friend Logan Morrison.
Rough.
"I thought I made some good pitches to LoMo," Montgomery said, "but the umpire (Sean Barber) didn't want to call them tonight. That's baseball, That's how it goes."
Montgomery (2-3) started the 13th by striking out the first batter before Forsythe's triple. Montgomery then hit Tim Beckham with the first pitch, which put runners at first and third.
Taylor Motter batted for Evan Longoria, who exited the game because of a sore forearm. Motter walked, which loaded the bases for Morrison. The count went to 2-2 before Montgomery missed with two 94-mph fastballs.
"It wasn't over the plate," Morrison said, "so I didn't swing."
Montgomery took the loss Tuesday after Vincent squandered a 7-4 lead in the seventh inning by giving up a three-run homer to Longoria. Montgomery replaced Vincent and gave up two walks and a go-ahead single.
"It's frustrating," Montgomery said, "but at the same time, you've got to move on. We've got a good group of guys here and a lot of confidence in ourselves. It was just one of those games when you've got to regroup."
Actually, it's hard to pin this loss on the reliever corps, which reversed a recent tough stretch by logging seven scoreless innings behind starter Nathan Karns before the unlucky 13th.
The misery here was more one of abuse.
Vincent pitched 2 2/3 innings; Vidal Nuno pitched two innings; Cishek went 1 1/3 innings. And Joaquin Benoit, whose bounce-back capacity remains iffy, pitched an inning.
"We used pretty much everybody," Mariners manager Scott Servais said. "We'll be a little thin (Thursday). We'll figure it out. We do not have a direct plan right now."
Consider that, after Thursday's series finale at Tropicana Field, the Mariners head to Boston for a three-game weekend series against the American League's top-scoring club at cozy Fenway Park.
Also consider this: The Mariners have lost 13 of their last 19.
"We showed early in the year (in a five-game losing streak) that this team can bounce back," said Nelson Cruz, whose two-run homer in the fourth inning provided the Mariners with their only runs.
"Nobody said it was going to be easy, but I think we have enough talent to come out of any (bad) stretch. We just have to pull everything together."
Tampa Bay starter Drew Smyly gave up Cruz's homer but little else while striking out a career-high 12 in 6 2/3 innings. Former starter Steve Andriese (6-0) got the victory after working 2 2/3 innings.
Mariners right-hander Nathan Karns faced his old club for the first time and battled an old adversary: a rising pitch count in the early innings. The Mariners led 2-1 when Karns exited after a leadoff double in the sixth.
The Rays pulled even later in the inning on Corey Dickerson's sacrifice fly against Nuno. After that, both clubs wasted opportunities before the Rays capitalized on Montgomery's inability to throw strikes.
"He just didn't make pitches when he needed to," Servais said. "Tough game. Tough one to lose. It happens every once in a while."
PLAY OF THE GAME: Second baseman Robinson Cano make this play so often that it almost seems routine.
Cano ranged far to the left side of second base to glove Steve Pearce's one-out grounder in the 10th inning. Cano then whipped an accurate throw across his body to first base for the out.
PLUS: Reliever Nick Vincent bounced back from a rough Tuesday, when he gave up a three-run lead, by working 2 2/3 scoreless innings. … Catcher Chris Iannetta dug out a Vidal Nuno pitch in the dirt with runners at first and third in the sixth inning. … Iannetta also had two doubles. … Leonys Martin had two singles…
MINUS: Dae-Ho Lee struck out three times and committed an error on a foul pop before getting replaced by Adam Lind, who went 0 for 2 with two strikeouts. … Mike Montgomery is the first Mariners reliever to suffer losses in three straight appearances since Danny Farquhar had a four-game run late last season. … Shortstop Ketel Marte had a sloppy throwing error on Steve Pearce's leadoff grounder in the eighth inning, but Joaquin Benoit pitched around the mistake. … Kyle Seager was hitless in five at-bats with two strikeouts.
STAT PACK: Logan Morrison's walk-off walk was the only time he reached base in seven plate appearances. It was his second career walk-off RBI. The other came May 8, 2015, while playing for the Mariners when he hit a home run against Oakland reliever Dan Otero.
QUOTABLE: "Getting the guy in from third has been an issue the last few games with less than two outs," manager Scott Servais said, "and those come back to haunt you.
"You're not going to do it every time, but the league average is about 50 percent. It seems we've been well below that recently."
The Mariners were 2 for 9 with runners in scoring position.
SHORT HOPS: Umpire Sean Barber's work behind the plate suggests the pitch f/x computer at Tropicana Field needs to be adjusted prior to Thursday afternoon's series finale. … Tampa Bay was 1 for 14 with runners in scoring position and stranded 18 runners. And still won. … Nelson Cruz has six homers in June, which already matches his total for May and doubles his total for April.
Subscribe to the sports newsletter
Get the day's top sports headlines and breaking news delivered to your inbox by subscribing here.
---
Subscribe and login to the Spokesman-Review to read and comment on this story