Sports > Seattle Mariners
Adam Lind's future with Mariners uncertain despite several big hits
Thu., July 21, 2016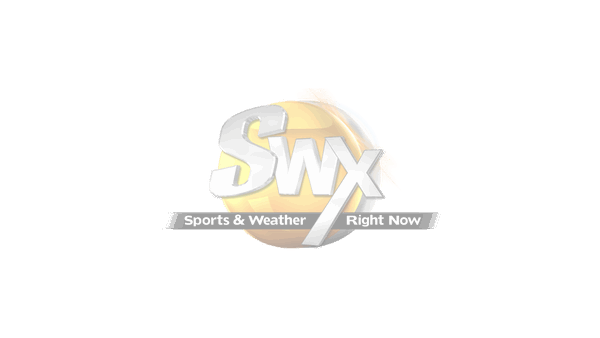 TORONTO – Asked about his first trip back to Toronto, where he spent the first nine years of his career, Mariners first baseman Adam Lind hesitated a moment before offering a correction.
It's not his first trip back.
"My wife's from there," he said, "and I own some property there. So I've been back."
I meant to the Rogers Centre.
"I was on the field last year around Christmas," Lind recalled, "for Disney on Ice."
Wait a minute. You were what?
"I was just watching," he laughed, "but I saw all the same people who work there, you know. I got to see the security guards for the clubhouse and people like that."
OK, but this will be Lind's first trip back as an opposing player. He was traded to Milwaukee after the 2014 season for right-hander Marco Estrada, whom the Mariners will face in Friday's series opener.
The Brewers didn't play last year at Toronto. So after moving on to the Mariners in a December 2015 deal, this marks his first time back as an opposing player. And, yes, for Lind, Toronto will always be special.
"It's very cosmopolitan," he said. "Very chic. Progressive. I learned a lot. I matured a lot there, you know, off the field. Being from a small town (in Indiana), there's a whole other world out there.
"I feel like I began to accept that when I was up there playing."
Lind's first season in the Northwest has been a mixed bag. While he has 15 homers and 43 RBIs in 76 games, he also is batting just .231 with a .264 on-base percentage and a .449 slugging percentage.
All three slash numbers are well below his pre-2016 career averages of .274/.332/.466.
"Well, my batting average stinks," Lind said. "My on-base percentage stinks. I'd say the other numbers are adequate."
The biggest surprise is his slash numbers aren't much different against left- and right-handed pitchers. The Mariners acquired Lind for three minor league players because he had a long history, as a left-handed hitter, of pulverizing righties.
Even so, Lind has a number of big hits, including six three-run homers. Two of were walk-off blasts that erased two-run deficits.
"It's why you play," Lind said. "Moments like that are the best part of the season."
Lind's solo homer Wednesday pulled the Mariners out of a one-run hole in the eighth inning against the White Sox. The Mariners won 6-5 in 11 innings on Leonys Martin's walk-off homer.
Club officials like to point to the combined production by Lind and Dae-Ho Lee at first base – and the two have combined for 27 homers, 80 RBIs and a .249 average.
But Lind, 33, is also about to test free agency for the first time as he winds up a seven-year deal that he signed with Toronto prior to the 2010 season. His first season with the Mariners is likely to be his only season with the Mariners.
It might not even be a full season.
The Mariners on Wednesday acquired Dan Vogelbach, a 24-year-old first baseman/designated hitter with significant power, from the Chicago Cubs in a four-player trade. Like Lind, he is a left-handed hitter.
While the Mariners optioned Vogelbach to Triple-A Tacoma, general manager Jerry Dipoto made it clear that he believes Vogelbach is ready for the majors.
"He rakes," Dipoto said. "He rakes everywhere he's ever been. He's an elite strike-zone controller with above average power. He has absolutely tormented right-handed pitching, especially this year in the (Pacific Coast League).
"He's really put himself in position to be an impact player. Whether that starts next week, next month, some time in September or 2017 is yet to be determined, but we like the long-term value."
That suggests Lind is on the trading block as a short-term rental for another club in search of a left-handed power bat. With the Aug. 1 non-waiver trading deadline fast approaching, such a deal could come at any time.
Or not at all.
The Mariners appear willing to keep Vogelbach at Tacoma until the rosters expand in September if they can't swing an acceptable deal for Lind.
If traded, Lind isn't sure how he'll react. When traded previously, the deals came in the offseason, which minimized any disruption.
"You're traded," he said. "Well, I still went to bed in my own bed. Nothing changed at that particular moment. It's not until maybe a week before spring training, you're packing, and you realize you're heading somewhere else.
"When you get traded (in the offseason), it's really like kind of in the back of your head, but it's still two months away, so you got other things going on in life that need attending to."
Players have 72 hours to report when traded in the regular season.
For now, all Lind can do is wait. But also, for now, that waiting comes in Toronto. The Mariners spent their open date in Canada after arriving Wednesday night. So Lind is back. Again.
Peterson's status
While it's hard to see how Lind and Vogelbach fit on the same roster, Dipoto envisions no difficulty in a blend between Vogelbach and D.J. Peterson at Tacoma – or perhaps in the future in the big leagues.
Peterson, 24, is enjoying a strong bounce-back year after a disappointing 2015. He is batting .315 in 18 games for the Rainiers, with five homers and 21 RBIs, after a June 29 promotion from Double-A Jackson.
The plan is for Vogelbach and Peterson, the club's first-round pick in 2013, to split time at first baseman and designated hitter. Peterson can also shift back to third base, his original position, if necessary.
"We think a lot of DJ," Dipoto said. "He's having a great year as well. The good thing for DJ is he's also multiposition versatile. He's also a right-handed hitter. The combination of players fits for us both present and long term."
Filling Monty's role
The trade that sent Mike Montgomery to the Cubs means the Mariners need a starting pitcher for Sunday's series finale against the Blue Jays. Montgomery had been the announced starter for that game.
Looking ahead, the Mariners will also need a fourth starter for their July 30 game against the Cubs in Chicago before returning to a five-man rotation in early August. Club officials expect Taijuan Walker to be ready at that point.
The likely candidates for Sunday and July 30 are left-handers Wade Miley and Wade LeBlanc, each of whom delivered quality starts in the just-completed series against the White Sox.
Manager Scott Servais hasn't yet identified a choice, although he appears to be leaning toward Miley. That would likely shift LeBlanc into a long-relief role.
If Servais chooses LeBlanc, they could put Miley in the bullpen or option him to Tacoma to allow him to remain stretched out as a starter. LeBlanc is out of options and can't be sent to the minors without clearing waivers.
Minor details
Low-A Clinton right-hander Nick Neidert delivered five more scoreless innings Wednesday in a 3-0 victory at Lansing (Blue Jays). Neidert is 7-2 with a 2.39 ERA in 11 starts since his May 24 promotion from extended spring training.
Neidert, 19, was the Mariners' top pick – No. 60 overall – in the 2015 draft.
Looking back
It was 16 years ago Friday – July 22, 2000 – that the Mariners endured their first rain delay for a home game in franchise history.
A computer malfunction prevented the roof at Safeco Field from closing as a rainstorm drenched the crowd of 44,381 and prompted a 54-minute delay in a 13-5 victory over the Texas Rangers.
On tap
The Mariners open an eight-game trip that spans three cities at 4:07 p.m. Friday with the first of three weekend games against the Toronto Blue Jays at the Rogers Centre.
Lefty James Paxton (2-4 with a 4.56 ERA) will face Toronto right-hander Marco Estrada (5-3, 2.93).
Subscribe to the sports newsletter
Get the day's top sports headlines and breaking news delivered to your inbox by subscribing here.
---
Subscribe and login to the Spokesman-Review to read and comment on this story