Sports
MLB Notes: Aroldis Chapman's 105.1 mph pitch matches fastest since 2008
Tue., July 19, 2016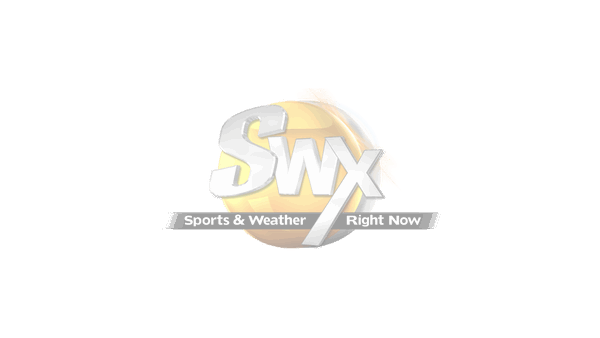 Aroldis Chapman to Baltimore's J.J. Hardy matched the fastest since Major League Baseball began tracking speeds in 2008.
Chapman also threw a 105.1 mph fastball for Cincinnati against San Diego on Sept. 24, 2010, MLB said Tuesday.
During Monday night's game, Chapman's fastest heater was taken for a ball by Hardy. The New York lefty threw five pitches that ranged from 104.0 to 105.1 mph. He has thrown a big league-high 217 pitches of 100 mph or more, and 46.1 percent of his 471 pitches have reached 100 mph.
"Every time he throws a pitch, I look up to see how hard it was," catcher Brian McCann said after Monday's 2-1 win over Baltimore. "It's incredible what he can do."
McCann has plenty of experience catching hard-throwing relievers – he saw triple digits plenty when he and closer Craig Kimbrel were with the Atlanta Braves.
"You just hope you catch it right," McCann said. "If you catch it right, you're fine. If you don't, you're in trouble."
Chapman said he felt normal Monday and only looked up at the scoreboard to check the velocity after the crowd cheered his 105.1 mph pitch.
Manager Joe Girardi joked after the game that he ducks down a step in the dugout when Chapman is pitching in fear of foul balls from hitters trying to catch up.
"His arm is so quick," Girardi said. "I can't really say I've ever seen an arm that quick. It's pretty impressive."
MLB originally installed a PITCH f/x system to track pitches and implemented a Statcast system last year that uses Doppler radar.
Kershaw out with back pain
Los Angeles Dodgers ace Clayton Kershaw won't pitch this week against Washington because of nagging back pain. Manager Dave Roberts says Kershaw will not come off the disabled list for the three-game set.
It's still uncertain when the three-time N.L. Cy Young Award winner will be activated. The left-hander has been out since June 27 because of mild disk herniation. He felt discomfort after a throwing session on Saturday.
"The next day he didn't feel great," Roberts said. "At that point in time that let us know we needed to be a little more on the cautious side. … Right now, with Clayton, I don't know if it is a step back, but we're going to let the back pain subside and see where it goes."
Kershaw is 11-2 with an NL-leading 1.79 ERA.
"We were hopeful to have something on the calendar, but obviously with the back you need to be extra sensitive," Roberts said. "As it stands right now, he is back in Los Angeles resting, flat on his back, not playing catch."
Cubs unveil new club plans
Immediately after this thrill ride of a Cubs season ends, some heavy-duty construction will commence again at Wrigley Field that will make the Friendly Confines that much more friendly – and likely more expensive – to fans with season tickets behind home plate.
As part of the 1060 Project, an overhaul to the stadium and the area surrounding the venerable ballpark, the Cubs revealed plans for the first of four "premier experiences" and launched a waiting list for those interested in paying a $500 deposit to secure their place on the priority list for the right to some exclusive amenities.
The American Airlines 1914 Club is scheduled to be in place for the beginning of the 2018 season and will be underneath the club box seating bowl running between the home and visiting dugouts.
After the last out of the 2016 season, crews will begin excavating the lower bowl behind home plate to build the shell for the club, which will not provide a view of the field but will give fans with tickets in the area a place to go before and during games for food and drink, shelter from the elements and restroom facilities. The re-done seating area will be ready for the '17 season, and construction will continue underneath.
"We've done a lot of research over the past several years – focus groups and surveys – with the fans sitting there in season tickets currently," said Colin Faulkner, senior vice president of sales and marketing for the Cubs. "They're paying up to $350 a ticket in that area, and the value that we're providing them right now is not in line with what they expect."
To accommodate the approximately 600 seats – expected to be more comfortable than the current ones, the Cubs said – and the club itself, the home and visiting dugouts will be moved slightly farther down the lines. Capacity for the park is expected to remain nearly the same, however.
Clearing the bases
Pirates rookie pitcher Jameson Taillon was struck in the head by a 105 mph line drive from Milwaukee's Hernan Perez but remained in the game after being tended to by trainers. … Baltimore OF Hyun Soo Kim (right hamstring) has been put on the 15-day DL and the team selected the contract of OF Julio Borbon from Double-A Bowie. … Angels righty Nick Tropeano tore his ulnar collateral ligament and is still deciding whether to have Tommy John surgery, which could sideline him until 2018. … The Dodgers placed pitchers Hyun-Jin Ryu and Casey Fien on the 15-day DL because of elbow tendinitis. The team also reinstated OF Joc Pederson from the 15-day DL and recalled pitcher Luis Avilan from Triple-A Oklahoma City. … The Nationals recalled pitcher Reynaldo Lopez from Triple-A Syracuse and placed left-handed reliever Sammy Solis (right knee) on the DL. … Cardinals 3B Jhonny Peralta is going back on the 15-day DL because of a strained ligament in his surgically repaired left thumb. … Reds right-handed starter Jon Moscot had surgery to repair a torn ligament in his right elbow.
Subscribe to the sports newsletter
Get the day's top sports headlines and breaking news delivered to your inbox by subscribing here.
---
Subscribe and login to the Spokesman-Review to read and comment on this story