Sports > Seattle Mariners
Mariners blow 3-0 lead, fall to Royals on Salvador Perez's two-run double in ninth
Thu., July 7, 2016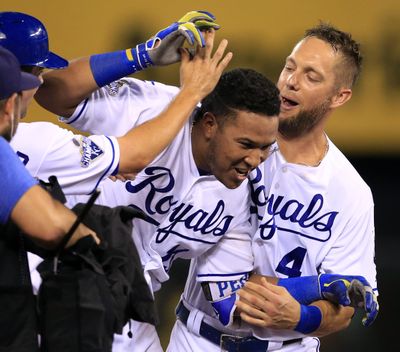 KANSAS CITY, Mo. – If this isn't rock bottom for the Mariners in their ongoing road miseries, it has to be close. Right? Because if it it gets worse than this … well, when do the Seahawks open camp?
The Mariners' road losing streak hit 10 games Thursday night in a numbing 4-3 giveaway loss to the Kansas City Royals at Kauffman Stadium.
"I don't think you can go from much more in control of the game," Mariners manager Scott Servais said, "to being on the wrong side of things in an inning and a half."
James Paxton carried a three-run lead into the eighth inning but gave up two gift runs by opting for a safe play rather than trying for a double play that would have ended the inning.
That meant closer Steve Cishek inherited a one-run lead to start the ninth and, by now, the Royals were smelling blood.
Remember last October? Ask the Astros, Blue Jays and Mets what it means when Kansas City sounds the change in the late innings.
Trouble surfaced immediately when Whit Merrifield pulled a leadoff double past third base. Cishek then hit Kendrys Morales with a pitch, which brought Jarrod Dyson into the game as a pinch-runner.
Cishek (2-5) struck out Eric Hosmer, but Salvador Perez drove a two-run double over the head of center fielder Leonys Martin. Dyson scored the winning run before Martin reached the ball
That quickly, it was over.
"I felt great with the exception of the slider I pulled off on (and hit) Morales' foot," Cishek said. "I made pretty good pitches, and they did a great job of putting the ball in play.
"The double (by Merrifield), I felt the slider came out good. He got just enough of it. The ball that Perez hit was on the black and up. It was up a little bit. I wish I could have dropped that down a little more.
"But I'm not trying to put a ball on the plate there with one strike, a runner in scoring position and a guy like that up. I'm trying to nibble as much as I can. He got his hands extended and put a good swing on it."
That's how it ended, but the game turned in the eighth after Nelson Cruz's homer against Joakim Soria extended the Mariners' lead to 3-0 in the top of the inning.
Paxton had breezed through the first five innings in 35 pitches against Kansas City's free-swinging lineup and threw just 78 in eight innings. The Mariners aided Paxton by turning a season-high four double plays.
But it was the double play that Paxton didn't even attempt that proved decisive after the Royals opened their eighth with singles by Perez and Cheslor Cuthbert.
Paxton retired Brett Eibner on a soft liner to short and had a chance to end the inning with another double play when he gloved Alcides Escobar's sharp grounder.
"I felt myself going too quick," Paxton said, "and I felt I was going to turn and throw too quick. Throw it away. So I wanted to get the sure out, and then go after the next guy."
So Paxton underhanded the ball to first for an out, which enabled the runners to move to second and third.
"It's a comebacker," Servais said. "We have liked to have seen a double play."
Paxton still had a chance to hold the three-run lead by retiring Paulo Orlando, but Orlando punched a two-run single into center field.
"It messed up a little bit," Paxton said. "I was trying to go in, and it was it up a little bit. He was on it."
Paxton held the lead by retiring Alex Gordon on a fly to center, but the lead was down to one run. And one run wasn't enough.
"What can you say?" Paxton asked. "It's tough. It's a hard way to lose a game. If I could do it again, absolutely (I'd try for the double play). That one's going to eat at me for a little bit."
Subscribe to the sports newsletter
Get the day's top sports headlines and breaking news delivered to your inbox by subscribing here.
---
Subscribe and login to the Spokesman-Review to read and comment on this story