Sports
Locally: First girls basketball coaches hall will honor Linda Sheridan, Jeanne Helfer
Sat., Feb. 20, 2016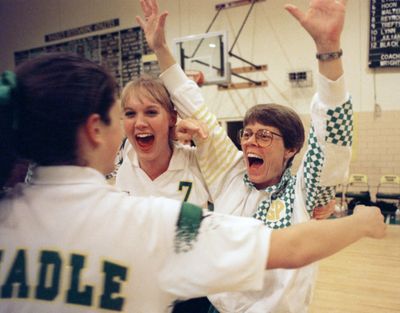 The late Linda Sheridan and Jeanne Helfer, one a pioneer in girls sports the other a leading advocate, have been selected for induction in the inaugural class of the Washington State Girls Basketball Coaches Association Hall of Fame.
Sheridan set the standard for excellence by which her female counterparts are measured while coaching basketball and volleyball at Shadle Park. During a 24-year career, her Highlanders teams won more than 800 games and seven state championships, two in basketball and five in volleyball. Shadle's gymnasium is named Linda Sheridan Court.
The first girls state high school basketball championships in Washington were held in 1974. Two years later, Sheridan took Shadle to its first tournament. Between 1976 and 1995 her basketball teams made a dozen state appearances and won State 4A titles in 1988 and 1989. They reached the semifinals in 1981.
She also made 16 state trips in volleyball, placing numerous times, including state titles in 1985, '86, '88, '89 and '94. The 1988-89 basketball and volleyball teams with many of the same players won those titles in succession. She's a member of the state volleyball coaches association hall of fame.
Helfer followed a standout athletic career at Walla Walla High School and Washington State University with successful basketball and track coaching stints at Mead and Mt. Spokane high schools while championing girls sports.
At Mead, her Panthers basketball teams compiled a 268-93 record, went to the State 4A tournament seven straight years, placing in each, and winning state titles in 1990, '92 and '96, and finishing second in '91. She compiled a 25-3 overall tourney record.
A four-sport star at Wa-Hi from 1975-77, where she was a Parade Magazine All-American in basketball, Helfer was one of WSU's all-time greats in basketball and track. She remains the school's all-time leading basketball scorer and just missed making the 1980 Olympic team in the javelin.
She's a member of five other halls of fame: Wa-Hi, WSU, WIAA, National Federation (high School) and Inland Northwest Sports Hall of Fame. As a Cougar, she was a Wade Trophy finalist, the female basketball equivalent of football's Heisman Trophy.
Joining them in the first class are Al Aldridge, Battle Ground and Prairie; Curt De Haan, Lynden Christian; Sandy Schneider, Lakeside of Seattle; Al Smeenk, Sunnyside Christian; and Delores Sutherland, Everett. Ceremonies will be March 18 at King's High School in Seattle.
Bowling
Toby Mertens proved to be a party crasher when the 2015-16 Junior Bowlers Tour wound up last Sunday at Deer Park Lanes.
Mertens stormed from sixth into the No. 3 spot going into the five-person finals thanks to a 1,075 five-game series in the match-play portion of qualifying, then had to survive a two-frame roll-off against No. 2 qualifier Noah Torres to get a shot at leading qualifier Clint Norlen in the finals. Mertens prevailed 237-215 for his first win of the season that kept Norlen from adding another title to his accomplishments.
When season honors were handed out, Norlen led the JBT All-Star team with 175 points, barely nosing out John Hilden with 172. Mertens finished third with 154, followed by Mathew Shears, 148, and Wyatt Rosenau, 111. Norlen had the season's high average, a 211. Grace Martin led the girls with a 182.
Torres, who lost 47-39 in a two-frame roll-off with Mertens, finished third Sunday. Alex Hollenbeck, who had prevailed 39-38 over Anthony Huck in a roll-off to get the playoffs going, was fourth and Huck fifth. Huck had the day's high game, a 263. Martin led the girls with a 235.
Others with 200-plus averages in the five-game-series format were: Norlen, 1,083; Torres, 1,053; Hollenback, 1,039; Garrett Boyce, 1,039; Hilden,1,026; Huck, 1,010; and Martin, 1,008.
The JBT season winds up with a fun tournament at Valley Bowl next Sunday.
College scene
Erin Legel of Coeur d'Alene High will wind up a record-setting career for the University of Great Falls women's basketball team on her home court this coming weekend.
The 5-foot-5 guard, a two-time All-Frontier Conference first-team selection and NAIA Division I preseason All-American after earning All-America honorable mention the last two seasons, holds seven school records in scoring and assists categories.
"Erin is a team captain and while she doesn't lead the team in scoring (this season), she is the primary scoring threat who opposing teams look to stop," said Josh Wetmore, the Argos' sports information director. "She is such a weapon, particularly from 3-point range, that many teams have run a box-and-1 defense to try and contain her."
Legel, who started her career as Frontier Conference Freshman of the Year, broke the school career scoring record on Dec. 19, 2015. She has scored more than 2,000 career points and is averaging 16 points a game this season for the nationally 24th-ranked 18-8 Argos. That's second on the team, third in the Frontier and 26th nationally. She has 60 3-pointers, tied for 16th nationally.
She also holds school records for single-season scoring (603, 2014-15), single-season average (18.7, 2013-14), career free-throw percentage (84.9), single-season assists (184, 2012-13) and career assists (534). Her 3.88 assists average this season ranks fifth in the Frontier. Despite her size, she is second on the team in rebounding, averaging 6.1 per game.
Great Falls, one of four nationally ranked teams in the Frontier, is tied for second as the Argos try to get back to the NAIA national tournament for a second straight season after making it for the first time in school history last season.
Kayla Bernsen, a Western Washington fifth-year year senior center from Moses Lake, collected her first Great Northwest Athletic Conference Women's Basketball Player of the Week award after averaging 16.5 points and 8.0 rebounds in two wins last weekend.
Combined in the two games, she shot 65.5 percent (15 of 24) and added seven blocked shots. In the last nine games, Bernsen has averaged 14.8 points and 8.8 rebounds to boost her season averages to 12.4 points, 7.8 rebounds and 3.0 blocks. She has seven double-doubles.
Zach Frye, a sophomore defenseman on the University of Alaska men's hockey team from West Valley, has been named a Western Collegiate Hockey Association Scholar-Athlete. To be eligible, recipients must have a grade-point average of at least 3.50. Frye, an alternate captain for the Nanooks, is majoring in business administration.
Four area athletes, two at Gonzaga, have been named to the West Coast Conference Women's Basketball All-Academic team for 2015-16.
Shelby Cheslek, a Gonzaga senior from Pullman with a 3.62 cumulative grade-point average in the masters of business administration program, was a first-team selection. Shaniqua Nilles, a senior from West Valley with a 3.63 GPA working toward her masters of communication of leadership, received honorable mention for a second straight season.
Sydney Williams, a San Diego sophomore from Coeur d'Alene High with a 3.45 GPA in behavioral neuroscience, was a first-team selection. Brooke Galloway, a Santa Clara senior communications major from Central Valley, received honorable mention for a second straight season. To be eligible, student-athletes must have a GPA of 3.20 or higher.
Eight area cross country teams and 10 individuals have received All-Academic honors from the United States Track & Field and Cross Country Coaches Association.
Gonzaga and Washington State had both its men's and women's teams on the Division I list while the Eastern Washington (3.55 GPA) and Idaho (3.61) women's teams were honored. The GU men had a 3.25 GPA and the women 3.59. WSU's men had 3.10 and the women 3.51.
Individuals with a 3.25 GPA or higher to be selected were Katie Knight (North Central), Washington; Sarah Reiter, EWU; Jessica Mildes (Riverside/CCS), GU; Shelby Mills, GU; Matthew Crichlow, GU.
Division III honorees include both the Whitworth men (3.38) and women (3.7) and five individuals – Christopher MacMurray, Killyn Roiko, Katie McKay, Kendall Chin and Kenna Valentich.
A senior basketball player, George Valle, and sophomore track athlete, Kayla Leland, have been named the Whitworth Student-Athletes of the Month for January.
Valle, a forward from Sammamish of Bellevue, led the Pirates to an 8-0 record in January by averaging 18.6 points and 7.8 rebounds per game and making more than 59 percent of his shots from the field, including 67 percent on 3-pointers. He had two double-doubles.
Leland, from Gonzaga Prep, began the season by breaking the school indoor record in the 800 with a time of 2 minutes, 17.60 seconds at the Vandal Indoor Invitational. She also helped the Pirates' 4x100 relay team to a second-place finish and had a strong showing in the WSU Indoor, including placing fifth in the 800 in a field of 26.
Senior thrower Corey Burt (men's track and field), sophomore Rachel Olson (women's swimming), senior Wes Walton (men's swimming) and senior guard KC McConnell (women's basketball) were recognized as student-athletes of the month within their sports.
Letter of intent
Monmouth (Illinois) football – Joey Biel, K, Northwest Christian.
Officials
Thirty-one area officials have been selected to work state high school basketball, wrestling and gymnastics championships in Washington and Idaho.
The group includes Tracy Duncan, the University coach, and Laurie Chadwick, the Mead coach, who were judges at the Washington 4A and 3A gymnastics championship, respectively, that ended Saturday in Tacoma.
And Bill Bopp and Dave Oakes, two of the four Panhandle officials who worked Idaho state girls basketball tournaments this weekend, work championship games. They were joined in the girls state tournaments by Neal Pederson and Paul Manzardo. Neil Bishop was an alternate.
Other area selections by sport:
Basketball: Spokane – John Love and Nic Mitch, 4A/3A boys; Geoff Asan and John Urquhart, 4A/3A girls; Jim Jacobson, 2A/1A boys; Tim Peterson, 2A/1A girls; Nick Harmon, 2B/1B boys; Matt Newman, 2B/1B girls. Southeast Washington – Josh Davis, boys; Phillip Hinrichs, girls. Colville Valley – Jeff Hawley, boys; Charlene Jumper, girls. Idaho District 1 boys – Todd Bitterman, Mike Floch, John Posnick and Mike Martin.
Wrestling: Inland Empire – Pat Girtz, Kevin Davis and Derek Houk. Whitman County – Terry Cochran and Dan Lejamyer. Idaho District 1 – Ryan Wood, Troy Schueller, Bryce Olberding and Lloyd Moe.
Shooting
The Spokane Junior Rifle Club Gold team placed eighth out of 11 teams at the U.S. Army National Junior Air Rifle Championships Jan. 29-Feb. 1 in Fort Benning, Georgia.
SJRC Gold, which had placed fourth nationally out of 59 teams during sectional qualifying, compiled a 4,503 score out of a possible 4,800. The winning score was 4,600.
SJRC scores and individual places: Cassidy Wilson, 15, home schooled, 1,150, 18th; Aidan Maddox, 16, Riverpoint Academy, 1,138, 29th; Maliya Hillman, 17, Lewis and Clark, 1,131, 39th; and Mike Cooper, 18, Mt. Spokane, 1,084, 58th. The winning score was 1,181. There were 60 competitors.
Subscribe to the sports newsletter
Get the day's top sports headlines and breaking news delivered to your inbox by subscribing here.
---
Subscribe and login to the Spokesman-Review to read and comment on this story