Sports
Eastern Washington handles adversity just fine in FCS playoffs
Sun., Dec. 11, 2016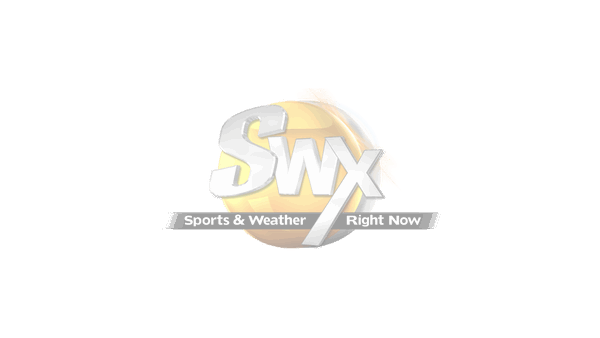 For the last two weeks of Eastern Washington's football postseason, most the talk has been about how the other guys have handled adversity.
Injuries, weather, travel – all have been backdrops in the Eagles' FCS playoff games against Central Arkansas and Richmond.
But as EWU coach Beau Baldwin said after a 38-0 win over the Spiders, the only thing that matters is what condition your mental condition is in. That it's only tough sledding if you make it so.
"It's who handles any situation better," Baldwin said after a chilly day that included enough snow to turn Eastern's signature red turf into a gigantic pink snow cone.
But when it was over, Eastern punter Jordan Dascalo was still sleeveless as he walked off the field.
"I'm not cold. I'm too focused," Dascalo said.
Addressing the weather, Baldwin said, "It will never be something where I'll come back and say the weather cost us a game.
"If we lose, I'll say they handled the weather better than us. We need to decide who is going to handle it better and not make it a factor."
In contrast, Richmond coach Danny Rocco mentioned the word "conditions" at least three times after the Spiders lost four fumbles and managed just 202 yards of total offense.
"They (Eastern) recognized in these conditions that the opponent will not execute at a real, real high level," Rocco said.
Good thing the Spiders aren't coming to Cheney for Saturday's semifinals, when the temperatures could drop below zero when the game kicks off at 3:30 p.m.
Instead, Eastern (12-1) will host the Youngstown State Penguins, who should feel right at home in what promises to be one of the coldest games in Eastern history. Meanwhile, the other semifinal will be contested Friday night inside the Fargodome, where five-time national champ North Dakota State will host James Madison.
The winners will play for the national title Jan. 7 in Frisco, Texas.
The Eagles are one win away from the national title game mostly because they've overcome more than a few obstacles this year.
They've had more than the usual incidence of injuries, especially at linebacker and offensive line, and hostile crowds at Washington State and NDSU and four Big Sky Conference venues.
Winning those games means home-field advantage for one more week – no complaints there.
"One more game on the red – I can't wait for the next one," running back Antoine Custer Jr. said.
Youngstown State's road to Cheney was a bit rocky.
Trevor McCaster scored on a 2-yard run and the Penguins (11-3) made two defensive stands in overtime Saturday to defeat Wofford 30-23 in double overtime at Youngstown, Ohio.
Wofford turned the ball over on downs on the first overtime possession, failing twice to gain 1 yard from the 2-yard line. The Penguins then missed a 37-yard field goal before McCaster capped their second possession.
On the final possession for the Terriers (10-4), the Youngstown defense stuffed two running play before two pass attempts that weren't close to being completed. Wofford only attempted three passes in the game.
The Penguins finished 8-0 at home.
Subscribe to the sports newsletter
Get the day's top sports headlines and breaking news delivered to your inbox by subscribing here.
---
Subscribe and login to the Spokesman-Review to read and comment on this story