Sports > Seattle Mariners
Hamels, Rangers win with 1 hit, beat Hernandez, Mariners
Mon., April 4, 2016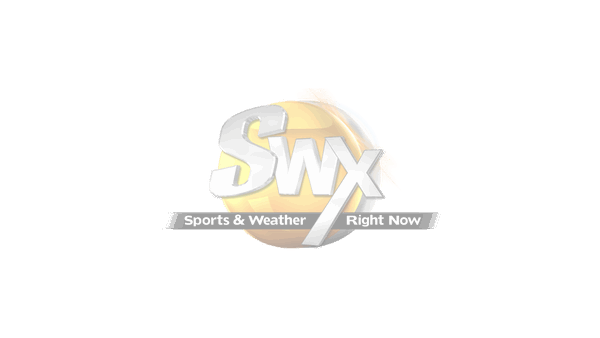 ARLINGTON, Texas – The impressive season-opener streaks for Felix Hernandez and the Seattle Mariners ended Monday in a fifth-inning blur of walks and infield errors.
The result was a 3-2 loss to the Texas Rangers at Globe Life Park.
So ends the Mariners' streak of nine straight victories on opening day, which matches the American League record set by the St. Louis Browns from 1937-45.
It also marked Hernandez's first loss in nine season-opening starts, even though he permitted just one hit – a bloop single by Prince Fielder in the Texas' decisive three-run fifth inning.
"Felix gave up one hit," said third baseman Kyle Seager, who had one of the two crucial errors. "Felix is pitching, and he gives up one hit, we should win that game. He was fine. We just needed to make plays behind him."
All-in-all, a sour start for the Jerry Dipoto/Scott Servais era.
"That's a tough one to start with," Servais acknowledged. "No doubt. We just had the one bad inning. Felix lost command a little bit, and we didn't make all of the plays behind him. It happens."
Not since before the Wright Brothers zoomed off at Kitty Hawk.
The Mariners are the first team since at least 1900 to lose despite giving up one or no hits on opening day. Research is ongoing by the Elias Sports Bureau. But 1900, at minimum, spans the history of the American League.
It started well.
Robinson Cano staked Hernandez to a 1-0 lead by lining an 0-1 fastball from Rangers starter Cole Hamels (1-0) into the right-field seats for a two-out homer in the first inning.
It was Cano's 240th career homer, but his first in a season opener.
The Mariners extended their lead to 2-0 when Seager led off the second inning with a homer. It stayed that way until the Texas fifth, which Rougned Odor led off with a walk and stole second.
Seager then booted Elvis Andrus' routine grounder to third by turning his head and body too early in an attempt to make the catch and tag Odor.
A bunt by Robinson Chirinos put runners at second and third with one out for the top of the lineup. A walk to Delino DeShields loaded the bases. At this point, the Rangers still didn't have a hit.
Another walk, to Shin-Soo Choo, forced in a run. Texas finally got a hit when Fielder blooped a single into left, and the game was tied 2-2.
Hernandez (0-1) should have been out of the inning when Adrian Beltre hit a hard grounder to short, but Ketel Marte botched it for the second infield error of the inning on a routine play.
Texas had the lead. The bases were still loaded with one out, but Hernandez avoided further damage by striking out the next two hitters. Three runs, including two unearned runs.
Hernandez rolled through a brisk sixth inning before departing with a line that showed six innings, one hit, three runs (two earned), five walks and six strikeouts.
"Five walks," he said. "It's not good. It's on me. I was opening my front side. That's why I was missing a lot of pitches. All game. I don't remember the last time I had five walks."
Hernandez is now 6-1 with a 1.49 ERA in nine openers.
The Mariners mounted a threat in the seventh by putting runners at first and second with one out, but Hamels struck out Dae-Ho Lee and retired Nori Aoki on a grounder to second.
That was it for Hamels, who gave up two runs and four hits while striking out eight and walking three. Jake Diekman and Shawn Tolleson closed out the victory.
PLAY OF THE GAME: Shin-Soo Choo appeared to steal second base in the first inning on a pitch in the dirt, but umpire Jim Joyce ruled the batter, Prince Fielder, interfered with catcher Chris Iannetta's ability to throw.
The result was Fielder was declared out, and Choo was sent back to first. The scoring was 2-unassisted (putout to catcher).
PLUS: Robinson Cano has an unofficial hitting streak going back to last year. Unofficial because baseball does not recognize streaks that carry-over from one year to the next. … Chris Iannetta reached base three times (two singles and a walk). Last year, a Mariners catcher only reached base three times in six games. … Mike Montgomery started his career as a reliever by striking out the side in the seventh inning. He then added a scoreless eighth inning.
MINUS: Start with the errors by third baseman Kyle Seager and shortstop Ketel Marte in the Rangers' three-run fifth inning. … Dae-Ho Lee made his major-league debut as a pinch-hitter in the seventh inning with two on and one out. He struck out against Cole Hamels. … The Mariners were 0-for-4 with runners in scoring position.
STAT PACK: Felix Hernandez became the all-time innings leader for a Venezuelan by reaching 2,268 1/3. The record formerly belonged to one-time Mariner Freddy Garcia at 2,264 innings from 2002-13.
QUOTABLE: "We're going to be fine," M's manager Scott Servias said. "There were a lot of good things in that ballgame."
SHORT HOPS: First baseman Adam Lind won't start many games against left-handers, but the Mariners anticipate seeing four lefties in their first six games. Dae-Ho Lee is expected to start Tuesday when the Mariners face another lefty. … Facing back-to-back lefties is why Franklin Gutierrez served Monday as the designated hitter, but he and Nelson Cruz will likely swap positions in Tuesday's game. Cruz will return to DH, and Gutierrez will play right field.
Subscribe to the sports newsletter
Get the day's top sports headlines and breaking news delivered to your inbox by subscribing here.
---
Subscribe and login to the Spokesman-Review to read and comment on this story