Sports > High school sports
Mt. Spokane senior Megan Nilsson swaps soccer for basketball in pursuit of scholarship
Wed., Oct. 7, 2015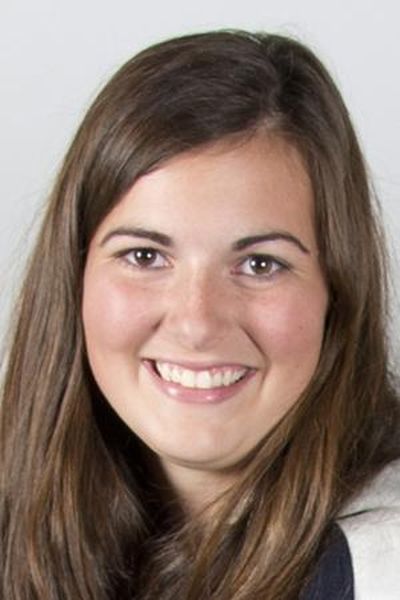 Less than a year ago, Mt. Spokane senior Megan Nilsson thought soccer would foot the bill for most of her college education.
When Nilsson learned that she could get − at best − a partial scholarship, she had to look elsewhere.
That's when she turned all of her attention to basketball, a sport she earned a varsity letter in as a freshman and started as a sophomore. But she didn't play her junior year because she didn't have enough time to balance a heavy academic load with playing on four soccer teams.
Disillusioned by the soccer recruiting process, Nilsson called her club basketball coach, Northwest Blazers director Steve Klees, asking if he could put together workouts for her. He started working with her last December.
By early April, she had her basketball legs under her and was ready to start playing again. Colleges showed immediate interest.
The 6-foot-2 Nilsson was contacted in early August by Fresno State coaches. A visit was set up for early September. She received an offer and not long thereafter gave an oral commitment.
"They probably would have called sooner, but they thought I'd committed to another school," Nilsson said.
It's all been a delightful whirlwind.
"She wasn't on the radar," Klees said. "But she was a big, strong kid, and she could run. It finally dawned on her soccer probably wasn't going to be the optimum thing."
Nilsson, the goalkeeper of the year last fall in the Greater Spokane League, has a wing span seemingly as wide as she is tall. That was attractive to college soccer coaches.
She said Washington State and Virginia Tech were recruiting her. But when Nilsson discovered she'd have to pay as much as $30,000 per year out of her pocket, she had to find another way.
"For a while I was pretty conflicted," said Nilsson, who has a 3.96 grade-point average.
Nilsson started workouts at 6 in the morning in late December, spending about 90 minutes with Klees until school started.
"I was still committed to my club soccer teams and I didn't have time to play basketball (at Mt. Spokane)," she said. "When I started workouts with Steve, he told me he was going to get me a (NCAA) Division I scholarship. He told me not to worry about anything. He said just play."
Klees was right.
"It just blew me away that he had so much confidence in me," Nilsson said.
As a sophomore, Nilsson averaged 3.9 points per game for Mt. Spokane.
When David Pratt was hired last spring as Mt. Spokane's girls basketball coach, he got an immediate welcome present when he learned Nilsson would be returning this year to basketball.
She played with Mt. Spokane during the summer league in June and at a couple tournaments.
"She looked very good," Pratt said. "She's very fit, works hard and has developed a nice game. She's a great kid and has good leadership skills. I'm excited to see her compete this year."
With a good nucleus returning, Mt. Spokane will be heavily favored among the 3A teams.
Nilsson is the best returning post that few have even heard of in the GSL.
She will be a forward at Fresno.
"She's going to need some work," Klees said. "She's athletic and can rebound. There aren't many 195-pound kids that can run like Megan."
Nilsson considers herself a decent mid-range to short-range shooter. But she knows what her primary role will be this winter.
"For my high school team I'll play with my back to the basket," she said. "My offensive game has come a long way since my sophomore season. I worked a lot with coach Pratt this summer. We did a lot of post work."
In her final soccer season, Nilsson has had six shutouts and allowed just two goals through nine matches.
She hopes to have as big an impact in basketball in a couple months.
Subscribe to the sports newsletter
Get the day's top sports headlines and breaking news delivered to your inbox by subscribing here.
---
Subscribe and login to the Spokesman-Review to read and comment on this story