Sports > Outdoors
Young hunters: Cancer-stricken 18-year-old receives special opportunity to bag moose
Wed., Nov. 25, 2015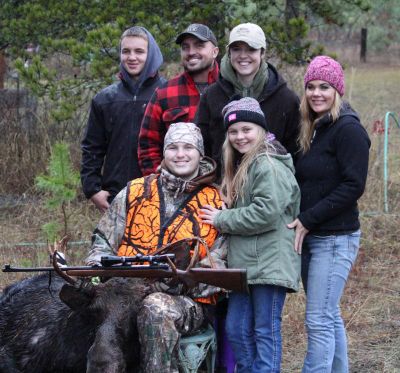 A once-in-a-lifetime moose tag is among the most coveted hunting privileges in Washington – and a dream come true for a teen who's running out of time.
"It's been on my bucket list," Jace Malek said Monday. "It was something I knew I'd do before I died, but I figured I'd do it in my 70s when I had the time and money to do a hunt in Alaska.
"I knew I'd never get the chance in Washington because of the odds against drawing a tag."
Little did the 18-year-old Spokane Valley man know …
Just a year ago, the West Valley athlete completed a high school football career that earned him a scholarship with the Idaho Vandals. But shortly before signing a letter of intent with Idaho in February to play fullback, Malek was diagnosed with osteosarcoma, a form of cancer.
Idaho coach Paul Petrino, moved by Malek's personality and misfortune, honored the school's scholarship offer and signed him as a student-coach.
The university stood by Malek during his cancer treatments – a battle that took his right leg in July.
The effort against the stubborn tumor has fallen short. This fall, after doctors informed Malek the cancer would take his life in a few months, family, friends and a youth organization rallied to a cause that would have been impossible just a few years ago.
They got him a moose tag and a support group to make it happen.
The tag was obtained through a special Washington Department of Fish and Wildlife program for terminally ill sportsmen.
Arrangements were made by Cindy Carpenter of Youth Outdoors Unlimited (youthoutdoorsu.org), a Moses Lake-based nonprofit that facilitates hunting, fishing and other outdoor adventures for youths with life-threatening illnesses.
"It all got pulled together in a couple of days," said Dan Malek, Jace's dad. "These people were fantastic.
"Jace has always loved to hunt. He got out for deer during high school. But he was so big into football and wrestling, he couldn't put in for the special tags because he knew he couldn't devote the time during the seasons."
Jerry Woods, a longtime sportsman's advocate and YOU supporter volunteered his property in Mount Spokane Unit 124 as a base camp and several other sportsmen and a taxidermist jumped aboard.
"I told Cindy, 'Hell yes, we can get him close to a moose,'" Woods said.
"We got special permission from a private timber company to use their closed roads. I was just pumped about that. We put 200 miles on the four-wheeler in three days of scouting. Jace said he wanted to take a bull if possible, but we were seeing only cows and calves.
"We were a little puckered when the family showed up on that Friday night.
"But all it took was five minutes with Jace and you'd think every problem you have in the world is gone."
The weather was windy, wet and nasty, but Malek's family, from his younger sister to his grandpa and a couple of cousins, joined the encampment and brought the hunt alive.
"The people who put this on are what I'll remember more than anything," Jace said. "They are magnificent, crazy good people. Sitting around the campfire hearing the guys tell hunting stories and the hunt – it was a blast."
"The excitement built up for days," Dan Malek said. "When you're sick like he is, it was something to take your mind off not feeling good, something to look forward to."
The hunters headed out the next morning with two scouts ahead in a sport utility vehicle followed by Jace and supporters in a Jeep.
"After some looking around, we came around a corner and one of the guys spotted an antler," Jace said. "All we could see was a paddle moving in the brush."
The Jeep was eased into position as Jace prepared himself at the window and waited about 10 minutes for a clear shot.
"I could prop my one leg up into a steady position with the rifle resting out the window," he said.
He made the shot as he had on deer in his previous years as a hunter, but this time he used his grandpa's .35 Whelen Remington 700 Classic rifle. "That was special," Jace said. "I used a 250-grain bullet."
The hunters brought the moose back to camp and took care of the carcass before gathering around the campfire again.
"We ate a big dinner and watched a video they made of the hunt," Jace said.
"They even did slow-mo, just like in the TV hunting shows. It was great."
The day had taken a toll on Jace's weakened condition, so some of his family escorted him back home that evening while his dad and cousins camped out another night with the sportsmen.
"This is a big deal for Jace and for our entire family," Dan Malek said. "Just as it took his mind off his cancer before the hunt, he has that smile on his face every time he tells the story after the hunt.
"The hunters made it like any other hunting camp. They were serious during the hunting part, but at camp they joked around and told stories. Really fun."
A taxidermist is mounting the small bull as a big memento that will generate Malek family stories for years to come.
"We're on borrowed time from God, but doing our best to enjoy every minute of it," Dan said.
"I've already had moose burgers and they were great," Jace said.
"Now I'm looking forward to this week. We're having moose steaks. Sweet."
Subscribe to the sports newsletter
Get the day's top sports headlines and breaking news delivered to your inbox by subscribing here.
---
Subscribe and login to the Spokesman-Review to read and comment on this story