Sports > Gonzaga basketball
Battle 4 Atlantis: Gonzaga slides back into action against Washington
Tue., Nov. 24, 2015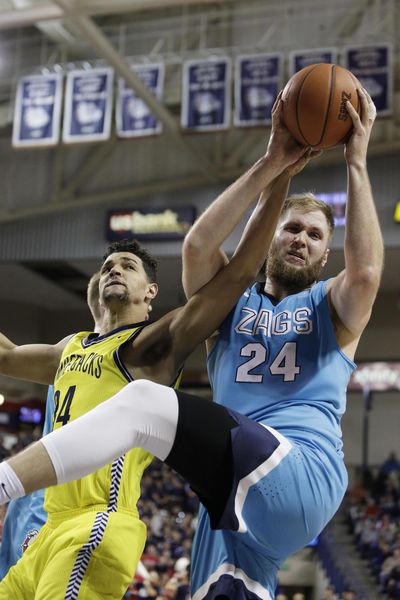 PARADISE ISLAND, Bahamas – If the topic was 7-foot-1, 287-pound Przemek Karnowski's ride on the Leap of Faith water slide encased in a clear tube through shark infested waters, the play-by-play was on point.
Coach Mark Few: "I was there to witnesses the end result."
Forward Kyle Wiltjer: "He probably had the biggest wave, like a tsunami."
Few: "A mini tsunami; it was a lesson in physics."
Karnowski: "I didn't see any sharks. I was just going through as fast as I could."
Wiltjer: "The sharks were licking their chops, they just let me go through."
Few: "They were banging against the tube."
If the topic shifted to the nine-year gap in the Gonzaga-Washington series, well, neither coach seemed anxious to revisit the interruption of the heated state rivalry.
"Out of the one billion times people have asked me when we were going to resume the series, I've said all along we would resume it," UW coach Lorenzo Romar said. "When we first broke off we were in the Pac-12/Big 12 Challenge. We were sometimes playing home and home games with them so our schedule began to change and that's when we broke it up. Now it's opened up a lot more."
The 10th-ranked Zags and Huskies agreed to resume the series – UW has dominated overall 29-14, but GU has won eight of the last nine – beginning next season. Meanwhile, both teams were invited to play in the Battle 4 Atlantis on this aptly named island and found themselves in a first-round matchup. They're not alone as rivals Texas and Texas A&M sit on the other side of the GU-UW bracket.
Few couldn't recall exactly how discussions resumed and even needed a reminder that the last meeting occurred in 2006. Asked about the meaning for fans state-wide, he offered: "I would assume (it's a big deal), you hear a lot of comments about it when you're travelling around the state."
Both coaches preferred to focus on the job at hand in this eight-team event that Few considers "the best field of all the preseason tournaments."
Few noted that the Huskies (3-0) are really young, but "crazy athletic and pretty darn talented." UW, tied for the fifth youngest roster of 345 Division I teams, starts four freshmen with senior guard Andrew Andrews, the team's leading scorer 19.7 points per game.
Freshman Marquese Chriss, a 6-foot-9 forward averaging 18.7 points, "is as athletic as any guy in all of college basketball" and the experienced Andrews is a proven scorer in big games, Few said.
Romar has led the Huskies to 12 straight winning seasons and six NCAA tournament berths, but they are just 51-46 overall, 23-31 in conference, the last three seasons. The arrival of a talented freshmen class has Husky fans hoping it'll be a quick turnaround.
"You don't just take them out with every mistake because you know the good outweighs the bad, that's how I feel about the new guys," said Romar, whose team opened the season with a win over Texas in China. "People joke with me, 'If you had hair you'd probably be pulling it all out.' I say, 'No, not at all, because of their attitudes.' This is a fun, fun group to coach."
The Zags obviously want to utilize their inside trio of Karnowski, Wiltjer and Domantas Sabonis, whose family will be in attendance, but they'll have to deal with the fast-paced, pressing Huskies.
"Lorenzo has them playing the way they did when they were made all their runs," Few said. "Their defense is creating offense. They're playing loose and confident … and I think playing with a little edge because they were picked 10th or 11th in the league.
"It's going to be an interesting challenge."
For both teams.
"I just look at it as another opponent, although it's Gonzaga (and) I know it's a big rivalry," Andrews said. "But if I look at it bigger than what is you can kind of get carried away and come out not playing how we're supposed to play."
Follow along with the Zags
Subscribe to our Gonzaga Basketball newsletter to stay up with the latest news.
---
Subscribe and login to the Spokesman-Review to read and comment on this story