Sports
In brief: Indiana signs former EWU star Stuckey
Tue., July 22, 2014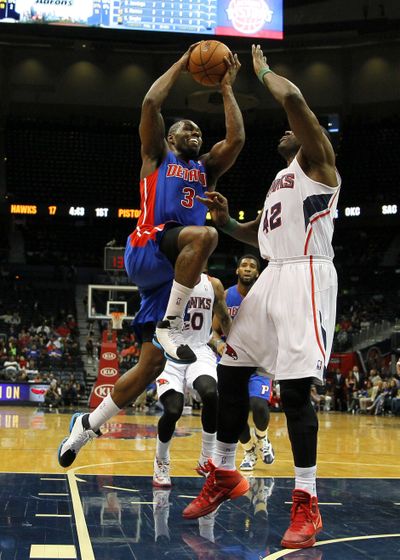 NBA: Last week, the Indiana Pacers lost Lance Stephenson.
On Monday, they replaced one of the NBA's best young players with shooting guard Rodney Stuckey.
It's a swap that will make it a challenge for Indiana to win a third straight title in a division that might be the toughest in basketball.
"We just have to come out and play hard and play with each other," Stuckey said of the vastly improved Central Division. "I'm glad LeBron went back to Cleveland; I thought that was good for him and the city of Cleveland. Chicago got better, but I think we still have a pretty good chance to make some noise."
With no first round pick and little cap space, the Pacers have done little to add to their roster so far this offseason.
But the team was forced into action when Stephenson bolted for Charlotte to sign a three-year, $27 million contract with the Hornets.
So the Pacers went to Plan B, signing Stuckey, who might benefit from a change of scenery.
"I've got to come in and earn everyone's respect, first and foremost, just play hard with them and compete with them," said Stuckey, who played two seasons at Eastern Washington from 2005-2007. "I hate losing. It's never fun when you're losing. I knew that Indiana was always a great organization and they win. That's what I'm all about. At the end of the day, winning is what I want to do."
Along with Stuckey, 28, who averaged 13.9 points with Detroit last season, the Pacers signed 6-foot-10 European forward Damjan Rudez and former Cavaliers swingman C.J. Miles in an attempt to solve their shooting woes. The 27-year-old Miles, 27, averaged 9.9 points last season with Cleveland.
Indiana still has one of the league's most talented young players in All-Star Paul George to go with Hibbert, West, veteran George Hill and potentially the strongest bench in the division.
Dream's Cooper has tongue cancer
WNBA: Atlanta Dream coach Michael Cooper has early stage tongue cancer and has taken a leave from the WNBA team.
Cooper, who won five NBA titles with the Los Angeles Lakers from 1978-90, will have surgery this week and is expected to miss about two weeks, with assistant coach Karleen Thompson filling in.
Tour de France rests before final push
Cycling: The Tour de France paused for a day in Carcassonne, France, just north of the Pyrenees mountains to give the 170 remaining riders a chance to rest up for the race's final 567 miles beginning today.
Riders relaxed and recovered from the 1,710 miles that they've raced so far. The last six stages include three heavy days of climbing in the Pyrenees and take in four lung-busting summits that are rated "beyond category" – the hardest they come.
Sterling might be forced to sell assets
Miscellany: Darren Schield, the chief financial officer of Donald Sterling's properties, said that the billionaire may be forced to sell a large portion of his real estate empire to cover $500 million in loans if he persists in refusing to sell the Los Angeles Clippers for $2 billion.
Schield testified in court that three banks are ready to recall their loans to Sterling because of his decision to dissolve the trust. His move was designed to rescind his signed agreement for the sale of the Clippers, a team he bought for $12 million. The trial to determine whether the $2 billion agreement his wife has with Steve Ballmer to sell the team is ongoing.
• Woman to officiate Big 12 game: The Big 12 Conference has assigned a female official to work one of its games for the first time in league history.
Commissioner Bob Bowlsby said that Catherine "Cat" Conti will be on the crew for Kansas' season opener at home Sept. 6 against Southeast Missouri State.
• Dareus to return to Bills camp: Bills defensive tackle Marcell Dareus can start refocusing on football now that he's set to return to the team's training camp facility in suburban Rochester, New York.
Dareus had been excused from camp to deal with personal matters in what became the latest twist in the player's troubled offseason.
Dareus reported to camp on Friday, but was placed on the active/non-football injury list after failing a conditioning test on Saturday.
He also faces drug possession charges in Alabama after being arrested in May. Four weeks later, Dareus was charged with reckless endangerment after crashing his 2012 Jaguar during an alleged car race outside Buffalo, New York.
Subscribe to the sports newsletter
Get the day's top sports headlines and breaking news delivered to your inbox by subscribing here.
---
Subscribe and login to the Spokesman-Review to read and comment on this story