Sports
Former Gonzaga standout Kelly Olynyk scores career-high 30 to lead Boston Celtics past 76ers
Tue., Dec. 16, 2014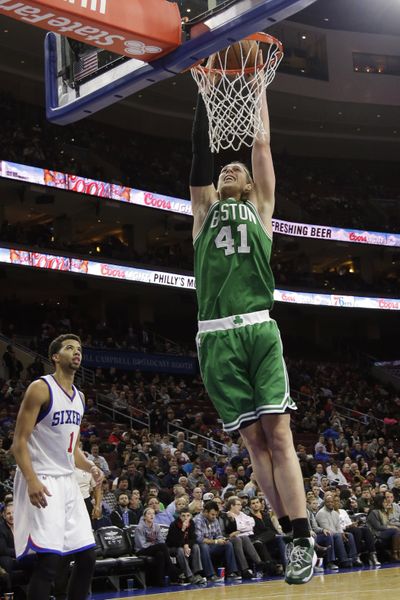 NBA: Kelly Olynyk scored a career-high 30 points, leading the visiting Boston Celtics to a 105-87 victory over the Philadelphia 76ers on Monday night.
Avery Bradley had 15 points, and Brandon Bass and Jeff Green added 14 apiece for Boston, which snapped a three-game skid.
Rookie Nerlens Noel had a career-high 19 points for the 76ers, who dropped to 0-13 at home this season. Philadelphia moved closer to the NBA mark for worst home start to a season, set in the 1993-94 season when the Mavericks began 0-19.
Olynyk, the former Gonzaga standout, had 18 points on 7-of-9 shooting, including 3 of 4 from behind the arc, at the half. He finished 12 of 17 from the field, including 3 of 5 from 3-point range.
• Stuckey paces Pacers: Former Eastern Washington star Rodney Stuckey got his second consecutive double-double, scoring 20 points and grabbing 10 rebounds to lead Indiana over the Los Angeles Lakers 110-91 in Indianapolis.
Los Angeles shot 33 percent from the floor and trailed by as many as 39 points. Kobe Bryant led all Lakers in scoring with 21 points, shooting 8 of 26 from the floor.
• Blazers slip past Spurs: Damian Lillard had 23 points and a career-high 10 rebounds, and the host Portland Trail Blazers downed the short-handed San Antonio Spurs 108-95.
LaMarcus Aldridge added 23 points and 14 rebounds for the Blazers, who have won seven of their last nine games. Kawhi Leonard had 21 points and nine rebounds for the Spurs, who had just 10 players available.
• Kings fire Malone: The Sacramento Kings fired coach Michael Malone just 24 games into his second season over philosophical differences over the team's style of play.
General manager Pete D'Alessandro said Monday that he decided to make the change because he wants the Kings to play a more free-wheeling offense, which was so successful for the franchise in the early 2000s.
D'Alessandro called Malone a "great defensive coach" and said this was the right time to make a change to bring in a coach who can take the team to the next level.
Lead assistant Tyrone Corbin will take over as interim coach. D'Alessandro will not commit to Corbin lasting the rest of the season.
• Buzzer-beater bolsters Bucks: Khris Middleton hit a 3-pointer at the buzzer, giving the visiting Milwaukee Bucks a 96-94 win over the Phoenix Suns. Markieff Morris led the Suns with 25 points, including two buckets in the last 24 seconds of a back-and-forth final five minutes.
Oilers fire Eakins; Nelson interim coach
NHL: Dallas Eakins was fired as coach of the Edmonton Oilers, who have lost 15 of 16 games and are well on the way to missing the playoffs for the ninth consecutive season.
General manager Craig MacTavish will coach the team until the job is given to Todd Nelson, who is being promoted to interim head coach from Edmonton's American Hockey League affiliate in Oklahoma City. MacTavish did not say when he would return to the front office.
MacTavish called Eakins an "excellent coach" but said something had to be done after the losses piled up. The general manager acknowledged his share of the blame, saying there was "blood all over my hands" because he "put the lineup together."
"I'm not here to absolve myself of accountability," MacTavish said at a news conference.
• Sabres extend streaks: Matt Moulson scored the only goal of the shootout to lift Buffalo to a 5-4 victory over the Ottawa Senators for the Sabres' sixth straight home win. Buffalo has won a season-high four straight overall.
Miles tells LSU he's not going anywhere
College football: Les Miles has informed LSU athletic officials that he hasn't been contacted by Michigan about the Wolverines' coaching vacancy and has no intention of leaving the Tigers.
LSU spokesman Michael Bonnette says Miles sought to make his status with LSU clear Monday following reports by news outlets in Michigan that Miles had been contacted about the Michigan job.
• Alleged shooter of Auburn player was on probation: An east Alabama man was already on probation for separate crimes when he was charged with killing an Auburn University football player in a shooting early Sunday morning.
Markale Hart, 22, of Camp Hill, was arrested on burglary and theft charges in 2010 and pleaded guilty to a reduced burglary charge in 2012, records show. He also pleaded guilty to a marijuana charge that year.
Hart, jailed on a murder charge in the killing of 18-year-old Jakell Lenard Mitchell, remains on probation for the burglary, for which he was sentenced to six months in jail, Tallapoosa County District Attorney Paul Jones said.
Subscribe to the sports newsletter
Get the day's top sports headlines and breaking news delivered to your inbox by subscribing here.
---
Subscribe and login to the Spokesman-Review to read and comment on this story