Sports
In brief: Bruins hand Sharks first regulation loss
Fri., Oct. 25, 2013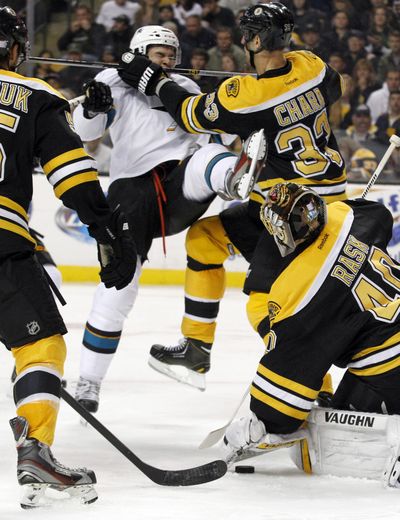 NHL: David Krejci tipped in a shot with eight-tenths of a second left in the third period to lift the Boston Bruins to a 2-1 win over visiting San Jose on Thursday night, sending the Sharks to their first regulation loss of the season.
Jarome Iginla scored his first goal with the Bruins and goaltender Tuukka Rask was outstanding, making 38 saves.
The Sharks (8-1-1) tied the game at 1-all on the opening shift of the third period when Patrick Marleau swooped in from the left wing, slipping a rebound past Rask 18 seconds into the period.
• Santorelli lifts Canucks over Devils: Mike Santorelli scored the only goal in the shootout, and the Vancouver Canucks edged the New Jersey Devils 3-2 in Newark, N.J.
• Predators slip past Jets in overtime: Craig Smith scored at 4:43 of overtime to lift the Predators 3-2 over the Winnipeg Jets in Nashville, Tenn.
Shea Weber and Patric Hornqvist also scored for Nashville.
• Lightning edge Hawks in OT: Martin St. Louis scored at 1:16 in overtime and the Tampa Bay Lightning beat the Chicago Blackhawks 6-5 in Tampa, Fla.
St. Louis also had an assist.
• Rielly to stick with Maple Leafs: Toronto coach Randy Carlyle said 19-year-old defenseman Morgan Rielly won't be returned to the Moose Jaw Warriors of the Western Hockey League after he plays his ninth game with the Leafs.
A junior-eligible player is allowed to play up to nine games without his NHL team burning a year of his entry-level contract.
• Penguins to keep rookie Maatta: Pittsburgh Penguins general manager Ray Shero has decided to keep rookie Olli Maatta and not send the 19-year-old defenseman back to his junior team.
• Predators lose Rinne for four weeks: Nashville goalie Pekka Rinne will miss at least four weeks after he has arthroscopic surgery on his hip.
NASCAR considering qualifying overhaul
Auto racing: NASCAR announced it is considering eliminating single-car qualifying next season in an overhaul that would likely implement road course-style qualifying at all but two tracks, Daytona and Talladega.
Drivers from all three national series met with top NASCAR officials for almost two hours at the R&D Center in Concord, N.C., to discuss several different ideas under consideration for 2014. The only thing officially made by NASCAR was that it will mandate baseline concussion testing for drivers next season.
The baseline will be used to measure against test results after a driver has crashed when diagnosing a concussion.
• India court to hear petition of F1 race: India's Supreme Court has agreed to hear a petition seeking the cancellation of this weekend's Formula One race in New Delhi after a public interest litigation pleaded the race should not be held since the organizers had not paid entertainment tax for last year's event.
Entertainment tax, which is generally levied on huge revenue-generating entertainment shows, had been waived before the first edition in 2011 before a court ordered last week that the organizers would have to pay the tax amounting to about $4 million per year.
The Indian Grand Prix is already in trouble with the race taken off the 2014 calendar in a bid to adjust the races for 2015.
Williams reaches WTA semifinals
Tennis: Top-ranked Serena Williams advanced to the semifinals of the WTA Championships in Istanbul by beating Petra Kvitova 6-2, 6-3.
Williams, the defending champion, is bidding for her fourth title in the eight-women, season-ending tournament.
Earlier, Li Na outlasted Jelena Jankovic 6-3, 2-6, 6-3 for her second victory and eight-seeded Angelique Kerber upset No. 3 Agnieszka Radwanska 6-2, 6-2 to remain in contention for the semifinals. Radwanska was eliminated.
Kerber will play Kvitova today for a spot in the last four.
Americans start hot at BMW Masters
Golf: Luke Guthrie took only 19 putts in his round of 7-under 65, giving Americans the top three spots on the leaderboard at the BMW Masters.
Only three Americans are in Shanghai for the European Tour event. And one of them is John Daly, playing for the first time in nearly four months since surgery to repair a torn tendon in his right elbow.
Only 13 players broke par as winds reached 30 mph.
Daly relied on knockdown shots to cope with the wind and kept bogeys off his card for a 68. American Peter Uihlein, a European Tour member who already has one win this year and is 10th on the money list, was a shot behind Daly.
• Moore climbs to lead at CIMB Classic: Ryan Moore had 10 birdies in a 9-under 63 to take a two-stroke lead after the first round of the PGA Tour's CIMB Classic.
Keegan Bradley opened with a 65 on Kuala Lumpur (Malaysia) Golf & Country Club's West Course.
The tournament is an official PGA Tour event for the first time. The winner will receive a two-year PGA Tour exemption and a spot in the Masters.
• Pettersen takes lead in Taiwan: Defending champion Suzann Pettersen shot a 4-under 68 for a three-stroke lead after one round of the LPGA Taiwan Championship in Yangmei.
Americans Alison Walshe and Irene Cho were tied for second with France's Karine Icher and Sweden's Caroline Hedwall.
Defendant admitted to shooting Taylor
Miscellany: Eric Rivera Jr., the man on trial in the slaying of Washington Redskins star safety Sean Taylor, admitted to breaking into the NFL player's home, kicking down the bedroom door and shooting Taylor, and drew a detailed diagram of the house, labeling himself as the shooter, according to a videotaped confession played for the jury in Miami.
Because Rivera was 17 at the time of the crime, his maximum possible sentence if convicted is life in prison rather than the death penalty.
• Cousin of Hernandez granted bail: A judge in Fall River, Mass., has set a $15,000 cash bail for Tanya Singleton, the cousin of former NFL player Aaron Hernandez, as she faces charges in connection with the his ongoing murder case. She has been held without bail since pleading not guilty to criminal contempt and conspiracy to commit accessory after the fact.
Prosecutors say Singleton helped Hernandez's "right-hand man" Ernest Wallace travel to Florida after Odin Lloyd's killing and discussed helping Hernandez associate Carlos Ortiz flee to Puerto Rico. Wallace and Ortiz have pleaded not guilty to accessory after the fact charges.
Singleton also refused to testify before the grand jury despite immunity.
Subscribe to the sports newsletter
Get the day's top sports headlines and breaking news delivered to your inbox by subscribing here.
---
Subscribe and login to the Spokesman-Review to read and comment on this story