Sports
End of era as Celtics rebuild
Sat., June 29, 2013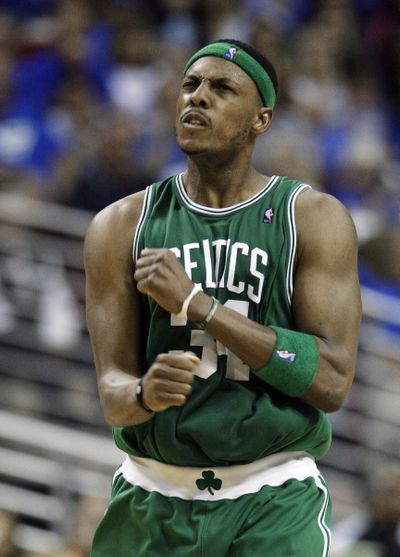 BOSTON – Letting Doc Rivers go to the Los Angeles Clippers was the first sign. Getting rid of Paul Pierce and Kevin Garnett clinched it.
The Boston Celtics are rebuilding.
The Celtics have agreed to the terms of a deal that would send the two remaining members of the Big Three that won the 2008 NBA title to the Brooklyn Nets for a package of draft picks and players. Garnett is a future Hall of Famer, but it's Pierce's departure that signals the end of an era for the league's most-decorated franchise.
"It's sad to see everybody leave Boston. You just want them to go someplace where they have a chance to win, and they have," Rivers said at Clippers draft headquarters late Thursday night, the same evening Boston made a trade for first-round pick Kelly Olynyk, the former Gonzaga University star. "It's a great trade for Boston, too; not now, later. Danny (Ainge) wanted to rebuild, and that's what he's doing."
The longest-tenured member of the Celtics, Pierce is the team's captain, a 10-time All-Star and a likely Hall of Famer. He is the second-leading scorer in the history of the NBA's most-decorated franchise.
Pierce, who was chosen 10th in the 1998 draft and has been a Celtic ever since, had a chance to spend his entire career with the franchise and add his name to a list that includes Hall of Famers Larry Bird, Bill Russell and John Havlicek.
"(It's) sort of sad. You hate to see it," said Chicago Bulls coach Tom Thibodeau, who was an assistant on the Celtics 2008 championship team. "But that's the NBA. It's constant change, and you have to be ready to adapt."Pierce was drafted in the Rick Pitino era when the Celtics, in the midst of the longest championship drought in franchise history, were a year removed from the second-worst record in the NBA.
He helped the team reach the Eastern Conference finals in 2002. But, convinced that they were not likely to go further, Ainge was brought in the next year to tear things apart again.
Boston plummeted back into the NBA lottery and again bad luck prevented them from landing a franchise player like Kevin Durant. Instead, Ainge swung deals for Garnett and Allen that earned the Celtics their NBA-record 17th championship in the very first year.
But Garnett was injured the next year, and Kendrick Perkins went down in Game 6 of the finals in 2010, when the Celtics lost to the Los Angeles Lakers in seven games. Then came two eliminations by Miami and, after five straight division titles, a third-place finish and first-round loss to the New York Knicks.
Ainge was convinced that the time had come to start over.
Subscribe to the sports newsletter
Get the day's top sports headlines and breaking news delivered to your inbox by subscribing here.
---
Subscribe and login to the Spokesman-Review to read and comment on this story