Sports
Blanchette: Sweeney kept perspective and humor
Sun., Feb. 10, 2013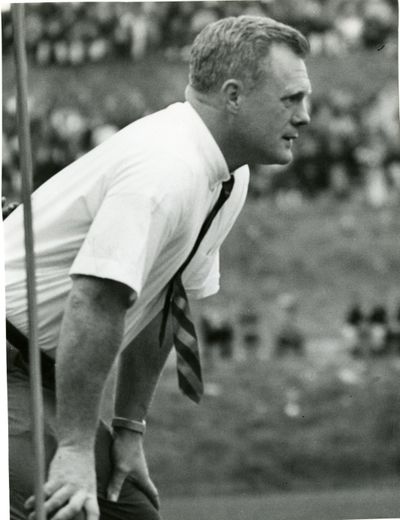 In his retirement, Jim Sweeney gazed out over the landscape of college football and saw it dotted with his coaching children. Dennis Erickson, Mike Price, Joe Tiller, Jeff Tedford – former players, former assistants, all sending four and five receivers out and chucking the ball with abandon, the horse Sweeney himself had changed to in the midstream of his career.
"I've got all these disciples out there," he noted, shifting into a faux regal air. "Wait, maybe you'd better call them apostles."
Because?
"Disciples sounds less successful."
Then came the laugh – a dirt pile being sifted through a thin screen, but conspiratorial, as if he'd just sneaked one past the Sisters of Charity back at his Catholic grade school in Butte.
Jim Sweeney died Friday at the age of 83, perhaps not knowing just how many disciples he truly had. He may have all but invented the game of football at Fresno State, where he took the Bulldogs to seven bowl games, and had his first college success at Montana State, but nowhere was he a better fit or more beloved than at Washington State.
Where he won 26 games in eight seasons.
Price went to multiple Rose Bowls, Lone Star Dietz is in the Hall of Fame, Jim Walden brought the Apple Cup back to campus and Babe Hollingbery is, well, the winningest of all. But none of them were quite as Coug as Jim Sweeney, in every sense.
This will make no sense to the zero-sum androids whose lives are college football these days, who if the coach wins just five games in three years doesn't just want him fired but filleted. Who would be pounding his keyboard in all caps with a message-board blast upon hearing Sweeney's opener after losing 70-33 to USC in 1970.
"When was the last time," he cracked, "anybody put 33 on USC?"
Sometimes toughness is pretending it doesn't hurt. Doing it with humor and perspective was Sweeney's special gift.
He knew all about Wazzu's warts and limitations, that he'd inherited barely a dozen real players from Bert Clark's death march, that unlimited scholarships were letting USC recruit fifth-stringers just so they wouldn't play for somebody else, that home games would be played in Spokane for three years because the stadium on campus burned down.
Somehow, he'd pull a player or two out of California and someone would ask him how.
"You ever seen a picture of Los Angeles on a Christmas card?" he'd reply.
OK. But really, how?
"It wasn't a 'selling' job," insisted linebacker Tom Poe, who rejected Washington simply to play for Sweeney. "He wasn't a salesman. He just drew you in. You wanted what he wanted."
Ask any of the students or townies wedged into Bohler Gym for a UCLA game when Sweeney whipped off his sport jacket for a "Cougars" spellout. Ask Cougar athletic director Bill Moos, whose memory of his recruitment moves him to laughter more than four decades later.
He was at basketball practice at Olympia High School when Jim Owens and the entire Husky staff strode into the gym and offered him one of two Tyee scholarships, which carried the distinction of not having to go through the motions of a 20-hour a week job.
A few days later, Sweeney blew into town and took Moos and his mother to dinner, where both adults were into their third scotch and fifth cigarette when Sweeney asked what he planned to study.
"I think Bill would be an excellent teacher and coach," his mother chimed in.
"Bull!" roared Sweeney as dinner forks all over the restaurant screeched to a halt. "He's not going to be a goddamn coach! He's going to be governor of the state of Washington."
That fall, Moos was getting "tossed around like a rag doll" by Greg Craighead in practice when Sweeney halted the action and grabbed Moos by the facemask and growled, "Let him through one more time and I'll be breaking your frapping leg."
And Moos thought, "I wonder if he remembers he's talking to the future governor of Washington?"
But Poe's favorite memory is a tender one, Sweeney stowing the bitter taste of blowing a 17-0 lead at Cal to stop on his way to the bus to chat up the linebacker's grandfather, who had never had much use for football but came away thinking, "That coach of yours is something."
He toggled between the tough side and his twinkle, authority figure and friend. He was Oz, but invited you behind the curtain.
"I remember senior year having a picture taken with him," said Steve Ostermann, his three-time all-conference guard, "and how proud I was. It was like we'd reached this mutual mature friendship, and like I'd finally – in his eyes – accomplished what he wanted a Cougar to live up to."
What passes for charisma now in college coaching is a sad substitute, but Jim Sweeney was a coach for his time – and Wazzu was very much his place.
Subscribe to the sports newsletter
Get the day's top sports headlines and breaking news delivered to your inbox by subscribing here.
---
Subscribe and login to the Spokesman-Review to read and comment on this story