Sports
Shock DB coach Franks relieved by recovery
Wed., May 2, 2012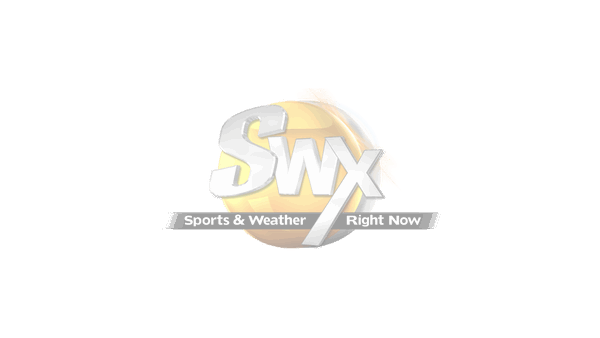 Spokane Shock defensive backs coach Stanley Franks put his players through drill after drill Tuesday, firing passes and offering pointers to improve their technique. As the team session began, he jogged from one side of the field to the other.
The only indication of an issue with his left knee was a black neoprene brace. Franks said the brace really isn't necessary any more but its presence is a good thing. It means his left leg is still functioning.
That wasn't a given last July. Franks, a standout defensive back at the University of Idaho and with the Shock in 2009, was early in his second season with the CFL B.C. Lions. He'll never forget the date – July 8, 2011 – the day after his 25th birthday.
Franks was running full speed in trail position on a Calgary receiver.
"I landed on his foot and it just hyperextended my knee backward," Franks said. "I was on the ground and I looked up and my knee was down where my shin was. I knew it was pretty serious."
Every knee ligament was torn except one, his hamstring was detached from the bone and a major artery was ruptured. That night, Doctors at Royal Columbian Hospital repaired the artery during emergency surgery.
In the recovery room after the lengthy, delicate operation, Franks was still groggy when he reached down to check his left leg. It was a natural reaction because he'd signed papers several hours earlier warning him that amputation was a possibility.
"It's not about football at that point," Franks said. "It's about living a normal life. My uncle was by my side. He just chuckled and told me my leg was still there."
Less than a month later, a second surgery repaired the ligaments and essentially reconstructed and stabilized his knee. Football was obviously out of the question so he was receptive when Shock general manager Ryan Rigmaiden called with a coaching offer.
"He was a very aggressive player and I was hoping he'd be the same way as a coach – and he has been," said head coach Andy Olson, a former Shock receiver who went against Franks in 2009 practices. "He understands the (arena) game very well, for only playing one year, and he brings such great attitude and character. They're clicking so well right now and it's a big compliment to Stanley's coaching ability."
Defensive back Terrance Sanders, who played against Franks in arenafootball2, had doubts before the season but they didn't last long.
"Now that I know he knows what he's talking about I'm very comfortable working with him," said Sanders, who had two interceptions in Saturday's win over Jacksonville.
Franks isn't new to coaching. He's helped at his alma mater, Downey (Calif.) High, and at Ferris High.
"It's just a little different," Franks said. "You can only coach guys up so much, but come game time it's all about what the players do. The toughest part is not having control on game day with what happens."
Franks continues to rehab his knee. He can jog and back pedal. His range of motion is improving and he's regaining strength. Recent X-rays were encouraging.
He doesn't rule out returning to football, but he knows it's a long shot. He's OK either way.
"Some days I feel like I can (come back) and some days I feel like I'm reaching," he said. "I'm competitive at heart and everyone that supported me through my surgeries would like to see me come back.
"I think it's at least worth trying so I don't get stuck wondering what if, but I'm not going to put myself at risk on the field. I won't be out there unless I'm 100 percent."
Notes
The Spokane-Utah game in Salt Lake City will be played Friday. It was moved up one day to accommodate the Utah-San Antonio NBA playoff series. … Friday's game will be televised live on SWX. … Receiver Adron Tennell and linebacker Beau Bell sat out Tuesday's practice, but both are expected to play against Utah. … Utah signed former Shock receiver Shaun Kauleinamoku on Tuesday and is expected to add former Shock linebacker Antwan Marsh.
Subscribe to the sports newsletter
Get the day's top sports headlines and breaking news delivered to your inbox by subscribing here.
---
Subscribe and login to the Spokesman-Review to read and comment on this story