Sports
Risk-reward
Eastern star Taiwan Jones opts for NFL draft Jury's out on whether running back can make a splash in pros
Sat., Jan. 15, 2011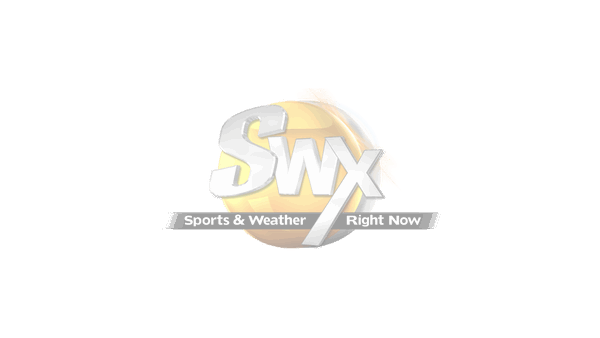 Eastern Washington junior running back Taiwan Jones, who was the Big Sky Conference co-Offensive Most Valuable Player, plans to enter the National Football League draft, but he is likely a late-round pick.
"It all depends on the foot," Rob Rang of NFL Draft Scout said of Jones' pro prospects. "If his ankle is healthy, he's a fourth- or fifth-round pick. He's not an elite prospect at this time, because he just doesn't have the size teams are looking for.
"He has that speed. This draft has a lot of small running backs, but they don't have his speed. He has a chance to sneak up, maybe to that third- or fourth-round range."
Jones, who rushed for 1,742 yards for the FCS national champions despite missing the last two playoff games with an injury, could not be contacted.
Jones was injured in EWU's quarterfinal win over North Dakota after rushing for 230 yards.
Several sources confirmed Jones' intentions, but he had not signed with an agent as of Friday afternoon.
Jones was expected to arrive at Josh Arnold's office in Southern California late Friday night to sign a contract.
"He's coming into town," said Arnold, an agent for Synergy Sports International in Redondo Beach, Calif. "I never say it's a done deal until we get the signature. He has submitted the paperwork."
"When was the last time Eastern Washington won a national title and had a player go early into the draft as a junior?" EWU coach Beau Baldwin asked. "I knew he was thinking about it, but in fairness to Taiwan, he never wanted to be selfish. Until the season was over, he didn't even want it mentioned."
The 6-foot-1, 200-pounder from Antioch, Calif., missed a Big Sky Conference game in early October with an abdominal bruise.
He broke a bone in his left foot in the playoffs. That kept him out of the semifinal win over Villanova in December and the Jan. 7 come-from-behind 20-19 win over Delaware in the title game in Frisco, Texas.
Jones also played with a sports hernia his sophomore season and missed the start of his freshman season, when he was a defensive back, because of a broken leg suffered the first week of practice.
"I think there was some fear for him, he didn't want to come back and sustain another injury in college," Baldwin said. "Your life expectancy in the NFL at running back is not very long. There were other factors I think a lot of it had to do with it."
Rang pointed out that Jones is the 12th underclassman running back to declare for the draft and there were only 12 running backs drafted in 2010.
"This is a weak senior class of running backs," he said. "I understand why they're coming out, but they're all coming out. Some will get left in the dust. Coming from Eastern Washington is a little tough, especially coming off an injury. Fortunately, he has some very spectacular tape."
Jones, a two-time All-Conference selection and All-American, averaged 145.2 yards rushing and 201.8 all-purpose yards a game, both second in FCS. He averaged 7.1 yards a carry and scored 17 touchdowns.
He finished his career with seven straight 100-yard games and 15 in 24 games. He had five plays in his career of at least 80 yards, 10 of 70 yards or more and 16 of at least 60, including two in his last game.
He was expected to be one of 16 starters to return next season for the Eagles, who finished the season 13-2 with an 11-game winning streak and the team's first No. 1 ranking.
"It's a challenge for us," Baldwin said. "It was a challenge in those games when he was injured this year. It was a challenge for those players who replaced him to step up. … At some point he wasn't going to be back, it just happened a year early.
"I'm nothing but thankful for Taiwan Jones for what he did for the program and Eastern Washington University. I'm just happy to have been around for three years."
Subscribe to the sports newsletter
Get the day's top sports headlines and breaking news delivered to your inbox by subscribing here.
---
Subscribe and login to the Spokesman-Review to read and comment on this story