Sports
Blanchette: Eagles scaled heights with gratitude attitude
Fri., Jan. 7, 2011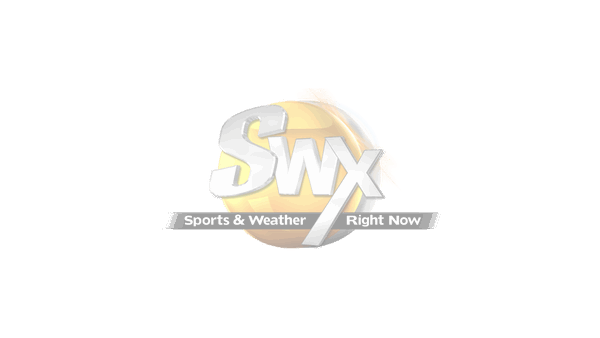 FRISCO, Texas – As in any college locker room, posted on the wall just inside Eastern Washington's football sanctum is the usual paper blizzard of schedules, rules compliance cautions, academic urgings and non-sequitur best-wishes from local grade schoolers ("I ran on the red turf! I (heart) money!").
Prominently apart, and yet tying it all together, is a simple, single-spaced letter, the words now a year old and the pages wrinkled by the months and moisture.
"2010 is the start of a new decade," it reads. "It is a year we will do something special that will propel EWU football to heights the program has not reached before."
Sixty minutes this evening against the sturdy sons of Delaware will establish the ceiling – whether the Eagles leave here as national champions, or just as the best football team in the school's history.
And if this football coaching thing ultimately doesn't work out for Beau Baldwin, who authored the document, there's always touting stocks on TV or fortune telling at the Spokane Interstate Fair, right?
Beau, exactly what did you know and when did you know it?
"Well, it's one of those things that you say to try to inspire kids," Eastern's coach demurred. "But I truly did believe this team had a chance to do something extraordinary."
It did. It also has something extraordinary.
Gratitude.
You don't find a lot of it in college athletics here in the Age of Entitlement. But there is an unmistakable air about the Eagles that their achievement this season is tied to appreciation, and that they are playing for more than just themselves.
In some respects, that belief has been nearly 30 years in the making, born – as the program itself was – of skepticism, struggle and sacrifice.
It is almost forgotten now, but the Eagles were pretty much an instant success in what the NCAA used to call Division I-AA football. Under Dick Zornes, they finished 7-2-1 in 1984, and the next season lasted two rounds in the playoffs thanks to a thrilling upset of neighboring Idaho.
It should have been a springboard. Instead there came a ghastly budget hit at a school scuffling for mere survival. That Zornes held the program together during the end of the 1980s was in its own way as impressive as reaching tonight's zenith, and the interim has been marked by incremental gains, playoff building blocks and a crystallizing notion of purpose and place.
What there has too rarely been is a sense that it resonated with people, a vibe picked up on by the players. Then something happened.
No, not the red turf. OK, that, too – but something else.
Eastern got banned from the FCS playoffs last year for rules violations by the previous coaching regime. And the school went to bat for its players to get it overturned.
"We got a feeling that there was some ownership," said tight end Matt Martin, "and that people cared about the program."
When the NCAA metes out penalties, there is an appeal process. But often athletic programs without clout – and deep pockets – simply swallow the punishment, even if excessive or out of proportion, hoping not to incur further noogies by an organization which has a history of grudge holding.
In this case - EWU's administration dug deep for some lawyerly advice and prepared a passionate case - the ban was lifted.
"It just showed they were willing to step up for us," Martin said, "that they saw the hard work we put in and would do the same for us. It's amazing what somebody caring can do for you."
And, yes, then a former player showed the depths of his devotion and EWU had a new turf, and a new identity.
"Even then they went through some criticism for it being red," said linebacker J.C. Sherritt, "and then we go out and don't lose a game on it. It was awesome to line up out there and win games for people who stuck their necks out."
How tangible is all this? Well, it's not. It's just a feeling.
You still need to block and tackle, to have game-breakers and game-savers. The Eagles have the nation's best defender in Sherritt and probably its most spectacular running back in Taiwan Jones who, alas, remains on crutches. They have a drop-down quarterback who bailed them out at the position most needed, and the usual army of Washington kids who will always be the red corpuscles of the program. Baldwin challenged them all to improve an already estimable program, to give it a national profile, to care even more.
Now they'll find out if it's all enough to make them national champions tonight.
But we have guys who see the big picture," Baldwin insisted, "and respect each other and see what's going on around them."
Easier to see, from these new heights.
Subscribe to the sports newsletter
Get the day's top sports headlines and breaking news delivered to your inbox by subscribing here.
---
Subscribe and login to the Spokesman-Review to read and comment on this story