Sports
Johnson twins sharpen EWU defense
Thu., Jan. 6, 2011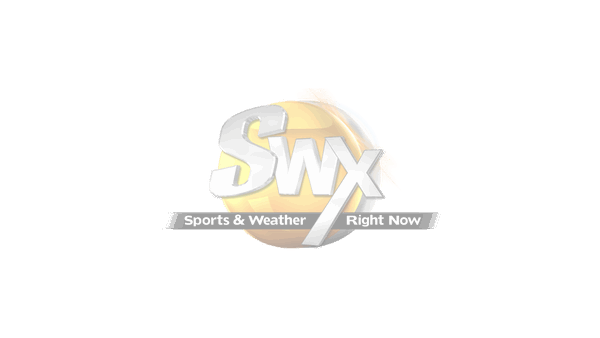 FRISCO, Texas – A package deal? No way.
At least that's the stand Matt and Zach Johnson took during the early stages of the football recruiting process that played out during their senior year at Tumwater (Wash.) High School.
But then the identical twin brothers, who were both three-sport prep standouts, made a campus visit to Oregon State University, where they met Beavers defensive back Bryan Payton, whose twin brother, Jeremy, was playing for Arizona State at the time.
"He saw we were twins," Zach Johnson said, "and he told us, straight up, not to even think about going to different colleges, just because of how bad he missed his twin brother."
So a package deal it was.
And when the Johnsons finally settled on a college, Eastern Washington University ended up with a pair of remarkably gifted and dedicated young football players who have since developed into two of the best defenders in the country at their respective positions.
"What impresses me most about them on the field is their unique combination of size, speed, toughness and intelligence," EWU head coach Beau Baldwin said of the Johnson twins, who both became starters as redshirt freshmen and, as juniors, have played key roles in the success of the No. 1-ranked Eagles this fall. "I mean, it's hard to find players with all of those different aspects at any level, let alone this one.
"But those two are both the total package."
Matt, a 6-foot-2, 220-pounder and the oldest of the twins by a minute, will start at one of the safety spots for Eastern on Friday, when the fifth-seeded Eagles (12-2) take on third-seeded Delaware (12-2) in the NCAA Division I Championship game at Pizza Hut Park in Frisco, Texas. Zach, a 6-1, 225-pounder will start at weakside linebacker.
The twins rank 2-3 on the team in tackles. Zach has 119, second only to senior linebacker J.C. Sherritt. Matt, who leads the team with five interceptions, has had a hand in 96.
It was Baldwin, who was EWU's offensive coordinator and quarterbacks coach at the time, who was most involved in the recruitment of the Johnsons. But shortly after they committed, he left to become the head coach at his alma mater, Central Washington University.
"They decided to come here right before I went to Central," said Baldwin, who spent just one season at CWU before returning to Cheney to take over the Eagles' program from his former mentor, Paul Wulff. "But I was still really excited for Eastern, because I knew they were getting a couple of very special players.
"I didn't anticipate getting to coach them back then, because you never know that the future holds. But I knew they were two quality young men who were going to be great for Eastern throughout their careers."
Sherritt, who shares an apartment with the Johnsons, knew the Eagles had a 2-for-1 steal the first day the twins arrived on campus.
"Just seeing them walk down the hallway, you could see they were physical specimens," he said. "Then we get on the basketball courts, and they can both dunk it from a standstill. And they were freaks in the weight room, too.
"They are probably two of the most athletic guys I've played with on the defensive side of the ball, and honestly, they've made me a better player just because of how good they are. Zach's on my left, making every play, and I've never had a safety who can get downhill and clean up tackles as fast as Matt can.
"Everything is easier with them around."
Of course, Sherritt said, there are some issues that arise when you live with them.
"They definitely have every twins' cliché you've ever heard of down – from finishing each other's sentences to repeating what each other says," Sherritt said. "It's kind of weird when you walk in the door and Matt will say something to you, and then when you walk into the next room, and Zach will say the exact same thing."
That comes despite the considerable efforts of their parents, Shawn and Carrie Johnson, to make sure their twins grew up to be unique.
"But they had those twins things going on from when they were little," their mother, Carrie, said. "They still fought like siblings, though, all the way through high school. But they probably made up a little quicker than most brothers might."
Today, the fights between Matt and Zach Johnson are as infrequent as they are insignificant.
"We did fight some in high school," Matt said, "and that first year in the dorms here was pretty rough, because we were always together in that little room.
"But now, we actually get along really well and support each other, which I think has a lot to do with maturing."
Matt was particularly supportive of his younger twin last fall, when Zach missed the entire season because of blood clots that developed in his leg following offseason knee surgery.
After learning that his brother was not going to be allowed to play for precautionary reasons, Matt discarded the No. 5 jersey he had been wearing and wore Zach's No. 10 the rest of the year.
The two still talk about last season as one of the most difficult they've had to endure.
"We'd both been injured before," Matt said, "but when we were, the other one was always at least there on the sidelines. That Sacramento State game last year, Zach didn't travel, and that was first time we weren't together at a game.
"I actually called him right before the game, just to talk, because that's what we've always done."
Carrie Johnson went to the Sacramento State game last year and recalled the strange feeling of not seeing both of her sons down on the field.
"It was different for me, and I know it was even more weird for Matt," she said. "I kept in contact with Zach, too, during the game, because I knew it was a really rough period for him. He had those blood clots, but felt like he could play.
"Of course, I had no problem with the decision to not let him, because he was on blood thinners at the time. And in the end, it worked out OK, because Matt had a really good game down there and the realization he could do that without Zach around probably made him a stronger person."
According to Carrie Johnson, her twin sons did a lot of the normal "twins tricks" in high school, pretending to be each other and confusing their teachers and even a girlfriend or two.
But these days, there are few cases of mistaken identity, thanks to Zach's decision to grow his hair out.
"I've always claimed I can tell them apart, even though some of the other coaches can't," Baldwin said. "I might have gotten fooled once or twice when they had the exact same haircuts, but now you can definitely see the difference.
"That's a pretty bad look Zach's got going on."
Zach said the long hair is his response to checking EWU's athletic website last year and seeing his photo with a game story extolling the play of his brother.
"My mug shot was on there for having a good game, and I hadn't even played in the game," he said. "After that, I told (sports information director) Dave Cook I was going to grow my hair a little longer for my mug shot, so he could tell who was who."
And now the long hair has taken on a whole new life, thanks to a bet Zach has with teammates Jeff Minnerly and Ronnie Hamlin to see who can go the longest between haircuts.
"Coach Baldwin gives me a bad time about it, but I'm kind of doing it just for pride now, because I don't want to be the first one to cut it," Zach said. "But both those other two like their hair long, so I don't know if I'm going to be able to outlast them."
No matter how hairy thing gets for, however, look for Zach and Matt Johnson to remain comfortable with their decision to become part of Eastern Washington University – and as a package deal, at that.
"It was the right thing that we stayed together, and it was the right thing that we came to Eastern," Zach said. "It's been the perfect fit for both of us.
"And getting the chance to play for a national title makes it even better."
Subscribe to the sports newsletter
Get the day's top sports headlines and breaking news delivered to your inbox by subscribing here.
---
Subscribe and login to the Spokesman-Review to read and comment on this story