Sports
Late score denies Vandals another bowl trip
Sun., Nov. 28, 2010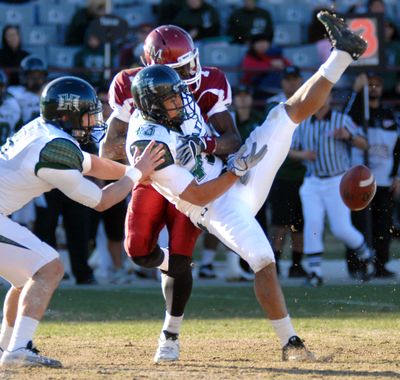 FRESNO, Calif. – Just when it looked like Idaho's postseason hopes had been dashed, the Vandals responded with their biggest play of the season – an 86-yard touchdown on a kickoff return from Justin Veltung.
The late fourth-quarter score gave Idaho new life against Fresno State, and the Vandals followed it up with a masterful 71-yard drive to take a momentary lead with 2 minutes left.
But the Bulldogs, aided by a kickoff out of bounds and a missed tackle on a key pass play, managed their first offensive touchdown with 14 seconds left to nip UI 23-20 at Bulldog Stadium.
The last-minute loss ends the Vandals' quest for a second straight trip to a bowl – something the program has never done. Idaho (5-7, 2-5) will wrap up the season next week by hosting San Jose State.
After trailing 13-0 early in the third quarter and 16-6 in the fourth, the Vandals stormed back with Veltung's untouched return up the middle and Deonte Jackson's 4-yard TD plunge with 2:01 left.
But Fresno State (7-4, 5-3) went 60 yards for the game-winning score – a 1-yard leap over the goal-line pile from A.J. Ellis. The TD was set up by a catch and run during which UI safety Gary Walker missed a tackle that would have kept FSU around the 10-yard line in the waning seconds instead of the 1.
"We had a chance to get a guy tackled," coach Robb Akey said. "I'm sick to my stomach for this group of seniors. We had every expectation to get back to another bowl game."
The Vandals recovered four Fresno State fumbles – three in the first half – but each time their subsequent drives ended with no points. Playing on a slippery field at Bulldog Stadium, UI botched a field-goal attempt in the first half and went into halftime with minus-5 yards of offense.
But the Vandals finally started to click in the fourth quarter.
Early in the period, a face mask penalty and two Eric Greenwood receptions moved the Vandals inside the 5-yard line. Yet quarterback Nate Enderle, under pressure like he was much of the night, was taken down twice and threw an incompletion in the back of the end zone.
Idaho settled for a field goal to cut FSU's lead to 13-6.
After Fresno State went back up by 10, Veltung breezed through a gaping hole in the Bulldogs coverage to give the Vandals the shot of momentum they needed.
The Idaho defense responded by forcing a three-and-out. But it couldn't get a stop on fourth down around midfield on the final drive before Fresno State wrapped up its dramatic rally.
"They fought their tails off," Akey said of his players. "It was a playoff game. … We didn't close it out. Fresno State did a fantastic job. They finished the final drive."
Fresno State snapped a two-game losing streak and guaranteed itself a winning record with the comeback. It figures to be one of at least four WAC teams in bowl games.
"We needed to get our seventh win, and that's what we did," coach Pat Hill said. "The last two weeks were very hard."
Subscribe to the sports newsletter
Get the day's top sports headlines and breaking news delivered to your inbox by subscribing here.
---
Subscribe and login to the Spokesman-Review to read and comment on this story