Sports
EWU's late push too much for Southern Utah
Sun., Nov. 14, 2010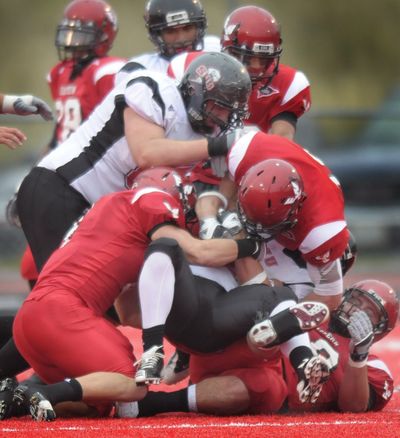 The downside to breaking a 62-yard touchdown run on the game's first play from scrimmage is the stark realization that there is a good chance that's as good as your day is going to get.
For the better part of more than 3½ quarters, that seemed to be the indignant fate awaiting Eastern Washington University's resourceful and resilient football team Saturday afternoon.
But after nearly 54 minutes of being dominated on both sides of the football in their nonconference matchup against Southern Utah, the fifth-ranked Eagles came up with a series of late-game plays that trumped Taiwan Jones' long game-opening touchdown run and turned back the visiting Thunderbirds 31-24 at Roos Field.
The victory, witnessed by an announced crowd of 5,357 that braved drizzles and near-freezing temperatures, kept Eastern (8-2 overall, 6-1 in the Big Sky Conference) in line for a high seed in the upcoming Football Championship Subdivision playoffs and provided some additional momentum heading into next Saturday's regular-season finale against BSC cellar-dweller Idaho State that will also play out at Roos Field.
"I love our guys and how they just find a way at the end," Eagles head coach Beau Baldwin said, after watching Bo Levi Mitchell connect with Brandon Kaufman on a 24-yard game-winning touchdown pass with just 2 minutes, 22 seconds left in the game to stretch Eastern's late-season winning streak to six.
"They are never afraid of the situation and that moment. They seem to keep attacking. And whenever there is that time when it seems a little bleak and things aren't going right, they find a way to flush everything else that happened and come back and make plays late."
Most of those late-game plays on this day were made by EWU's defense, which had been gashed for over 430 passing yards by SUU (6-6, 4-0 in the Great West Conference) prior to Jesse Hoffman's interception with just over 6 minutes left that set up the Mitchell-to-Kaufman game-winner.
After letting Thunderbirds quarterback Brad Sorensen pick them apart for 434 yards and two touchdowns, the Eagles finally found a way to force the 6-foot-5 sophomore out of his comfort zone.
This development produced a pair of late-game picks by Hoffman, the second of which, along with a fake field-goal attempt that resulted in a first-down run by sophomore safety and placekick holder Jeff Minnerly with just over 2 minutes left, allowed the Eagles to run out the clock.
Southern Utah, which came in riding a five-game winning streak of its own and nursing an outside chance of earning an at-large berth in the FCS playoffs, outgained EWU 484 yards to 366 and amassed a time-of-possession advantage of over 9 minutes, despite having the ball for only 4:22 in the final quarter.
"It's really disappointing," said Sorensen, who was poised and accurate in completing 34 of 53 passes. "In the first half, and even a long way into the second, we were moving the ball at will. But this is one of the best defenses we've played all year, and they made plays at the end of the game, which is when it counted."
SUU, after tying the game at 7 on its first possession, drove to Eastern's 1-yard line on its second, before turning the ball over for the first time in five games on an Austin Minefee fumble that was recovered in the end zone by the Eagles' Paul Ena.
And the Thunderbirds, who converted 8 of 16 third-down tries – including several third-and-longs – also missed a 22-yard field-goal attempt early in the second quarter before fumbling the ball away in EWU's territory on their next possession.
"It definitely seemed like they converted every third down," said J.C. Sherritt, the Eagles senior strong-side linebacker, who had a hand in 11 tackles. "We knew they were a great team, and great offense, from watching film, but our plan was to keep chopping wood and trying to confuse them.
"It took us 3½ quarters, but it finally paid off when we were able to pressure them into a couple of bad throws."
| | | | | | | |
| --- | --- | --- | --- | --- | --- | --- |
| S. Utah | 7 | 7 | 10 | 0 | — | 24 |
| E. Washington | 10 | 7 | 7 | 7 | — | 31 |
 EWU—Jones 62 run (Jarrett kick), 14:42.
SUU—Gray 1 run (Miller kick), 11:56.
EWU—FG Jarrett 31, 8:44.
EWU—Kaufman 25 pass from B.Mitchell (Jarrett kick), 5:50.
SUU—Poots 8 pass from Sorensen (Miller kick), 3:04.
SUU—FG Miller 33, 11:23.
EWU—Hoffman 82 kickoff return (Jarrett kick), 11:11.
SUU—Sitake 4 pass from Sorensen (Miller kick), 4:59.
EWU—Kaufman 24 pass from B.Mitchell (Jarrett kick), 3:39.
| | | |
| --- | --- | --- |
| | SUU | EWU |
| First downs | 28 | 19 |
| Rushes-yards | 30-50 | 32-155 |
| Passing | 434 | 211 |
| Comp-Att-Int | 34-53-2 | 21-34-1 |
| Return Yards | 11 | 12 |
| Punts-Avg. | 1-39.0 | 5-41.6 |
| Fumbles-Lost | 2-2 | 0-0 |
| Penalties-Yards | 4-40 | 8-81 |
| Time of Possession | 34:20 | 25:40 |
INDIVIDUAL STATISTICS
 RUSHING—S. Utah, Minefee 16-48, H.Brown 2-10, Alexander 1-5, Gray 3-5, Team 1-0, Sorensen 7-(minus 18). E. Washington, Jones 25-158, Minnerly 1-7, Beaumonte 1-2, B.Mitchell 5-(minus 12).
PASSING—S. Utah, Sorensen 34-53-2-434. E. Washington, B.Mitchell 21-34-1-211.
RECEIVING—S. Utah, Sitake 14-174, Poots 8-109, Minefee 5-29, Ah Sue 3-85, Alexander 1-23, D.Brown 1-7, J.Ursua 1-4, H.Brown 1-3. E. Washington, Kaufman 9-129, Edwards 3-39, Martin 2-17, Gant 2-9, Herd 1-14, Hart 1-6, Gehring 1-2, Beaumonte 1-(minus 2), Jones 1-(minus 3).
Subscribe to the sports newsletter
Get the day's top sports headlines and breaking news delivered to your inbox by subscribing here.
---
Subscribe and login to the Spokesman-Review to read and comment on this story