Sports
Transfer Mitchell has guided Eagles toward new heights
Fri., Nov. 12, 2010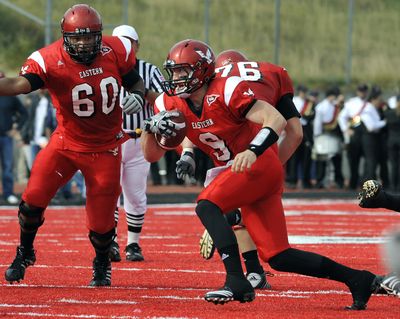 As Eastern Washington University headed into winter workouts following a highly successful 2009 football season in which the Eagles advanced to the FCS playoffs for the fourth time in six years all, not all was as right with the program as it might have seemed.
In fact, a perfect storm was brewing at the quarterback position.
Matt Nichols, a four-year starter and the Big Sky Conference's career leader in passing yards, total offense and touchdowns passes, had used up his eligibility and was preparing to graduate in the spring.
The two players considered the leading candidates to replace him – redshirt freshmen Jeff Minnerly and Scott Burgett – had combined to complete just six out of 10 pass attempts in 2009, and were the only quarterbacks on coach Beau Baldwin's roster to have taken a snap at the Division I level.
Baldwin, and even Nichols, were saying all the right things at the time, insisting the starting quarterback job would be in good hands, no matter who stepped in to fill it.
Nonetheless, the lack of experience at the position had to be perplexing.
But later that winter, one of those valuable gap recruits that nearly every program must find at some point to sustain success found his way to Cheney after starting 19 games under center for June Jones at Southern Methodist University the previous two seasons.
And since then, Bo Levi Mitchell – who emerged as the starter during an unprecedented six-player battle for the quarterback job last spring – has proven himself to be perhaps the most important recruiting "get" in Baldwin's three-year tenure as the Eagles' head coach.
No one knows how Eastern would have competed this fall had Mitchell not decided to transfer after throwing for 4,590 yards and 36 touchdowns at SMU before losing his starting job because of an injury late last fall. But even Baldwin admits that life with the 6-foot-2, 210-pound junior running the Eagles' no-huddle offense is much better than it would have been had that perfect quarterback storm that was brewing back in December been allowed to reach shore.
With Mitchell as the trigger man, Eastern has put together a five-game winning streak and an impressive 7-2 record that includes a 6-1 Big Sky mark good for a share of the conference lead heading into Saturday's 1:05 p.m. nonconference matchup against Southern Utah at Roos Field. In addition, the Eagles have moved up to No. 5 – their highest regular-season ranking – in both The Sports Network/ Fathead.com Top 25 and FCS Coaches' Poll and put themselves in position to potentially secure a high seed in this year's FCS playoffs.
And while Mitchell has made his share of mistakes while trying to win over his new teammates and learn a new offense, his contributions have been considerable.
"We haven't necessarily asked him to do exactly the same things that Matt did," Baldwin said of Mitchell, who has thrown for 2,116 yards and 19 touchdowns, while completing 57 percent (163 of 286) of his passes. "But we have asked him to take on a lot of responsibility – just like there's going to be on a quarterback in a lot of situations. That's never easy for anyone, let alone someone who just got here this spring, and, to Bo's credit, he's handled it very well.
"That doesn't mean, in any way, he's been perfect. But the bottom line is: He's been the starting quarterback on a team that is 7-2 and 6-1 in conference. And that's a situation we haven't been in here at Eastern since 1997."
Mitchell, who threw for 231 yards and two touchdowns in the Eagles' 50-17 rout of Portland State two weekends back, made a recruiting visit to Eastern during his senior year at Katy (Texas) High School, where he led his team to a state championship and unbeaten season.
And even though he originally signed with SMU, he kept tabs on what Nichols and Eagles were doing in the Pacific Northwest.
"So I knew there would be some pressure on whoever ended up replacing Matt," Mitchell said. "But I welcomed it with open arms, really, because that's something that defines a person, and truly defines a quarterback.
"If you don't like it, and you can't handle it, you're never going to succeed."
Still, Mitchell refuses to think of himself as some kind of savior saddled with the responsibility of making sure Eastern's program didn't take the kind of big step back it might have taken.
"I never approached it like that when I got here, mainly because I didn't know what other quarterbacks would be back," he said. "I knew a great player was leaving, in Matt, and I knew the offense needed to keep moving forward with whoever replaced him.
"I didn't know if I could be that guy, but I knew I sure as heck wanted to be that guy."
And now that he is, he is becoming more comfortable with his role each week.
"In my opinion, he just gets better and better as the season goes along," Baldwin said of Mitchell, "and I think that showed again last (game) against Portland State.
"At such a key position, Bo Levi has been able to step in for an all-American – the best-ever quarterback in our conference – and help us get to 7-2. And I look at that as the most important figure of all."
Subscribe to the sports newsletter
Get the day's top sports headlines and breaking news delivered to your inbox by subscribing here.
---
Subscribe and login to the Spokesman-Review to read and comment on this story