Sports > Spokane Indians
Shot with Indians put Kudlock's long-term plans on hold
Tue., July 13, 2010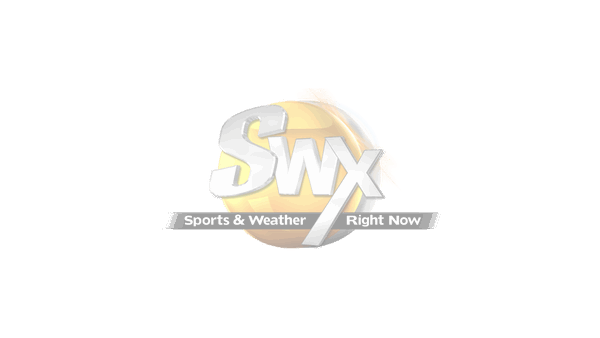 Give Jason Kudlock some credit.
The Spokane Indians' 23-year-old outfielder seems to have formulated a solid Plan B, just in case this baseball gig he's got going heads south.
But when his teammates first learn of Kudlock's desire to become a sex therapist, they tend to be as skeptical as they are amused.
"Most of them get a laugh out it," admitted Kudlock, who was selected by the Texas Rangers in the 36th round of this year's Major League Draft after batting .364 and hitting eight home runs as a senior at Cal State Bakerfield this spring. "My teammates back in Bakersfield – and even my own parents, for that matter – were, like, 'Wow, sex therapy? That's kind of random.'
"But I know there are a lot of problems with bad relationships in America, so I figured I could help some people out, make some money doing it, and enjoy life a little bit."
Kudlock, a 6-foot-3, 205-pounder from Chandler, Ariz., graduated from CSUB this spring with a major in psychology and a minor in history. He applied, and was accepted, to graduate school at Arizona State, where he planned to get his Master of Advance Studies degree in marriage and family therapy.
Then the Rangers forced Kudlock to put that plan on hold by making him the 1,096th pick in this year's draft.
"I actually didn't plan on getting drafted," Kudlock said. "I just wanted to enjoy my senior year and get my school stuff together. But then the draft came around and I got a call from the Rangers, so here I am.
"You just can't turn a chance like this down."
Still, Kudlock realizes that few players drafted as late as he was end up making baseball a career.
"I'm kind of playing my low draft number two ways," he explained. "The first way is treating it like a chip on my shoulder that motivates me to come out each day and prove myself. And the other way I'm looking at it, too, is that I have less pressure on myself than those guys who were drafted higher.
"They're the ones getting paid the big money and who are expected to go somewhere. I know I'm a longshot to make it, so there's no pressure on me – or less pressure, at least."
Adding to Kudlock's modest stress load these days is the strained quad muscle that has kept him out of the lineup since July 2 and has him listed as questionable for tonight's 6:30 opener of the Indians' five-game homestand against the Vancouver Canadians.
"It's been really frustrating," Kudlock said of his injury. "I actually played through it for awhile, not knowing it was that bad, and that just made it worse. It's one of those things you eventually learn as a player – that if you get an injury, you just need to accept it, be smart about it and let it heal, because you're no good to the team if you're hurt."
Kudlock, who put up decent power numbers in high school and at both the junior college and NCAA Division I levels, had played in only eight games prior to Monday night's matchup against the Everett AquaSox in Everett. He was hitting .258 (8-for-31) with four doubles a home run and just two RBIs.
The injury has put everything else – including the setting of a personal timetable for his minor league baseball experiment – on the back burner.
"Getting healthy again is the main thing on my mind right now," Kudlock said, when asked how long he might stay around the game.
"I know I don't want to be one of those guys who spends five or six years in the minors getting nowhere.
"If I don't stick, I probably have four or five years of school to take care of, and I eventually want to start a family. But at the same time, it's hard to let go of baseball. When you're playing, you feel like you never really have to grow up."
Plus, the game of baseball has given Kudlock a chance to salt away a little money he hopes will eventually help pay for his not-so-random Plan B.
Subscribe to the sports newsletter
Get the day's top sports headlines and breaking news delivered to your inbox by subscribing here.
---
Subscribe and login to the Spokesman-Review to read and comment on this story