Sports
Eagles' Williams overcomes an inauspicious start
Sun., Dec. 26, 2010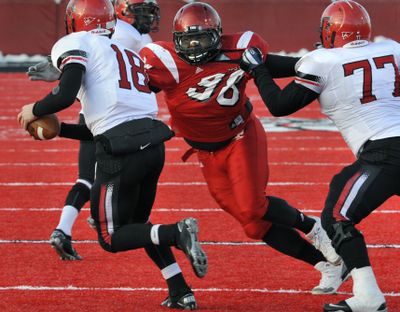 At the snap of the football, Renard Williams explodes from his three-point stance, bull-rushes the startled offensive lineman directly across from him, scores a one-handed takedown on the opposing quarterback and immediately launches into one of his uniquely unrestrained post-sack celebrations as his teammates rush in to join the one-man party.
It's a scene that has played out often this fall for Eastern Washington University's junior defensive tackle, making it difficult to imagine the personable and demonstrative Williams as the lonely, confused freshman he was back in the fall of 2007.
Yet, the 6-foot-2, 290-pounder and former prep standout at Port Orchard's South Kitsap High School, is still haunted by the memories of arriving in Cheney as an academic non-qualifier who was not allowed to play or practice with the team – and who was more or less ignored by his future teammates.
"To be honest, I didn't have any connection with the team my first year here," Williams explained. "I was pretty much just going to class and working out by myself. There was a lot of alone time, just sitting in my dorm room and thinking about whether I really wanted to be here.
"My freshman year, the players on the team didn't really communicate with me. Neither did the coaches, so I was pretty much on my own."
And when Williams finally did join Eastern's football program the following year, he did not make the best of initial impressions.
"A lot of guys still remind me of that," he said. "I don't know what it was, because it had never happened to me before, but as soon as we started bag drills that first practice, I started throwing up. And I threw up the whole practice."
"I don't know if it was a lack of condition. I guess it was, because I had had pretty much been working out on my own and didn't really know what it was going to take, conditioning-wise, at the college level. But I've learned a lot since then."
He has also earned the respect of his teammates and coaches by developing into a two-time All-Big Sky Conference first-team defender, who will attempt to add to his team-high total of six sacks on Jan. 7, when the No. 1-ranked and fifth-seeded Eagles (12-2) take on second-seeded Delaware (12-2) in the Football Championship Subdivision title game that will be played in Frisco, Texas.
"The transformation Renard has made since his freshman year has been remarkable," said EWU's defensive line coach Ryan Sawyer. "He's always known he's good, and he has all the confidence in the world. But now he's understanding just how big of an effect he can have on this football team, and how he can change an entire game from his position.
"I don't think it's a stretch, at all, to say that without him, we're not in the national championship game."
So far this year, Williams has had a hand in 49 tackles, including 11 1/2 for losses. He leads the Eagles with six sacks and four forced fumbles, and has recovered two fumbles, one of which he returned 34 yards for a touchdown on the final play of Eastern's 36-27 win over perennial BSC and national power Montana.
And while Williams takes pride in such numbers, they only begin to tell the story of his overall contributions.
"It's unbelievable how much attention he gets from opposing offensive lines," said J.C. Sherritt, the Eagles' two-time senior All-America linebacker. "We played one team, and they called Renard's name and pointed out where he was lined up on every play, just so they could double-team him.
"That's something, as a linebacker, you've got to be grateful for, because having guys like that in front of you takes all the pressure off and frees you up to make tackles."
When asked to pinpoint what it is that makes Williams so special, Sawyer tactfully touched on all of the big guy's physical assests.
"Speed, quickness, strength – all of the above," he said, adding that Williams has run a 4.7-second 40 and squats more than 600 pounds. "He's not overly huge, but his first step is incredibly fast, and his agility is phenomenal.
"Plus, he can flat out run. He's as fast as a lot of our linebackers."
Sherritt saw the raw talent Williams possessed early on, and still marvels at how far he has come as a person and football player.
"His work ethic has taken him to another level," Sherritt explained. "Every player can grow and get better, but what Renard has done this year has been awesome.
"He's one of our biggest personalities and one of our vocal leaders. And when he gets in the backfield – which he does a lot – and gets his hands on someone and makes a play, and then starts one of his celebrations, it gets our whole defense going."
Still, it wasn't until Eastern's 38-31 overtime win over North Dakotas State in the quarterfinal of the FCS playoffs back on Dec. 11 that William made, perhaps, his most lasting impression on his position coach – and it had nothing to do with his two sacks, or the fumble he forced.
With teammate and fifth-year senior defensive tackle Tyler Jolley hobbled by an ankle sprain he had suffered a week earlier, Williams played every single defensive snap on an Eagles defense built on the philosophy of keeping players fresh by rotating them in and out of the lineup.
"At one point in the game, I tried to take Renard off the field," Sawyer recalled, "but he just waved me off."
And, according to Sawyer, when Williams came off the field on the ensuing change of possession, "He walked up to me, gave me this dead stare and said, 'I'm in the zone. Do NOT take me off that field.'
"For me, that was one of my proudest moments," Sawyer added, "because this was the same guy who used to be tapping his helmet to come out of the game every four or five plays. And now he's out there playing every single down.
"It's another example of how far he has come since his freshman year. And if he improves as much as he did this season, he could be downright scary next year."
Subscribe to the sports newsletter
Get the day's top sports headlines and breaking news delivered to your inbox by subscribing here.
---
Subscribe and login to the Spokesman-Review to read and comment on this story