Sports
Playoff workouts benefit younger Eastern players
Tue., Dec. 21, 2010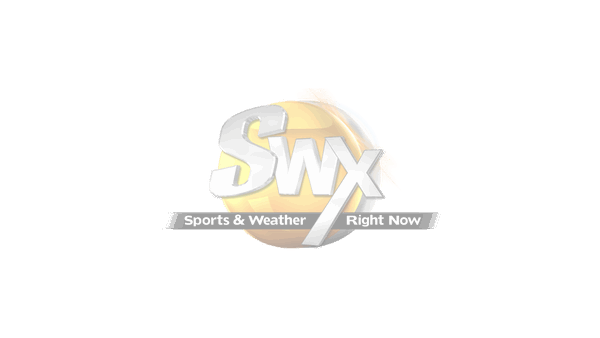 Beau Baldwin has formulated at least the outline of a plan to deal with the long layoff and holiday break his Eastern Washington University football team is facing prior to its Jan.7 date with Delaware in the NCAA Division I championship game at Pizza Hut Park in Frisco, Texas.
That plan, however, remains highly fluid.
"We're working it out as we go along a little bit," Baldwin, the Eagles' third-year head coach, said Monday, just three days after No. 1-ranked and fifth-seeded Eastern (12-2) earned its spot in the championship game with a 41-31 semifinal-round win over defending national champion Villanova at Roos Field.
"A lot of our practice schedule, and what we do, will depend on how our guys' bodies are responding."
The Eagles, according to Baldwin, will practice this afternoon and Wednesday morning, before scattering for a short holiday break. Players will be due back on campus on Monday, Dec. 27, with daily practices scheduled to resume the next day.
The team will fly to Texas on Tuesday, Jan. 4, to begin final preparations for Friday's 4 p.m. title game that will be televised live on ESPN2.
And while the long layoff does present some problems, as far as the feeding and housing of players during Eastern's quarter break, Baldwin welcomes the extra time to not only prepare for the trip to Frisco, but to continue developing some of the younger players on his team, as well.
By qualifying for the Football Championship Subdivision playoffs, and advancing to the championship game, the Eagles will get almost six more weeks of practice than they would have if their season ended on Nov. 20 following their regular-season finale against Idaho State.
"It's huge," Baldwin said of the bonus practice time. "It's like having an extra spring ball, really. That's what it comes down too. And I've already seen, in just the last three weeks, the growth of some of our younger players at those extra practices – especially those on our scout teams, who are going against our starters.
"Now there are certain things, of course, you're not going to work on at this time that you normally would during spring ball – like full-out tackling. But we're definitely going to get a lot of extra work in."
When asked about Delaware (12-2), which put away Georgia Southern 27-10 in Saturday's other FCS semifinal, Baldwin said:
"They will be the most complete team we've played, yet, in the playoffs. They can both run and pass extremely well on offense. And on defense, there's a reason they're only giving up 12 points a game.
"They're an experienced team with a lot of talented guys who have played a lot of football."
Subscribe to the sports newsletter
Get the day's top sports headlines and breaking news delivered to your inbox by subscribing here.
---
Subscribe and login to the Spokesman-Review to read and comment on this story