Sports
True freshman replaces EWU's injured Jones
Wed., Dec. 15, 2010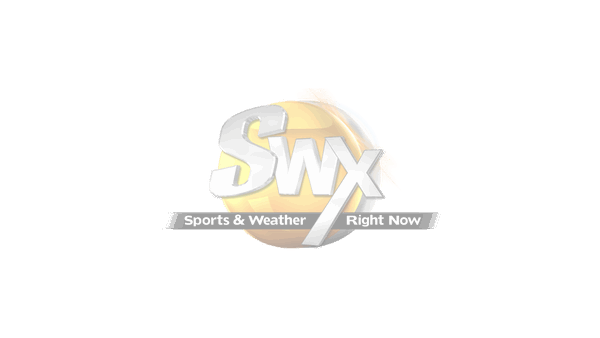 Beau Baldwin insists the absence of All-America running back Taiwan Jones won't alter Eastern Washington University's offensive approach – to any major degree, at least – heading into Friday's Football Championship Subdivision playoffs semifinal against Villanova.
"Your game plan isn't a whole lot different," Eastern's head coach said when asked about the loss of one of the nation's premier runners at the FCS level. "The biggest change is that we probably can't expect to have as many 60- and 70-yard plays as we might with Taiwan in there."
There will be a slightly different mindset when Baldwin's No. 1-ranked and fifth-seeded Eagles (11-2) kick things off against the defending national champion Wildcats (9-4) at 5 p.m. at Roos Field.
But Baldwin quickly adds that any change in the thought process is, "in no way a knock of Mario Brown," the 5-foot-9, 175-pound true freshman who is expected to start in place of the injured Jones.
"You're still going to run the same stuff you normally run," Baldwin said. "All it means is that we'll have to be a little more efficient at times and go on some 10- or 12-play drives, instead of the one-play drives you sometimes get with Taiwan.
"And Mario, even though he's just a freshman, is capable of helping us do that."
Brown, a two-time second-team All-East Bay League selection at Bishop O'Dowd High School in Oakland, Calif., has played in all 13 of Eastern's games and has rushed for 214 yards on 61 carries, while also catching 11 passes for 77 yards.
But he admitted to feeling a variety of emotions after learning on Sunday that Jones, who broke a bone in his left foot in last Saturday's 38-31 overtime quarterfinals win over North Dakota State, would not be available on Friday.
"I played in big games in high school, but this is a whole different level, so I'm really excited," Brown said. "I'm not afraid of (the challenge), but I am a little nervous, which I think is natural. And I'm also disappointed for Taiwan. His loss hurts us a lot."
Still, the Eagles have played – and won – without Jones this year. One of their most balanced offensive performances came on Oct. 2, when they went on the road and beat Weber State 35-24 with Jones watching from the sidelines with an abdominal contusion.
Brown and junior Darriell Beaumonte, who has been slowed lately by an ankle injury, shared the ball-carrying chores in that game. Brown rushed for just 36 yards on 13 carries, but caught three passes for 21 additional yards and his first college touchdown.
"He's been one of those guys who has battled all year," Baldwin said of Brown, who played a key role near the end of Eastern's second-round playoff win over Southeast Missouri State, when he carried on six consecutive plays during a 61-yard scoring drive – capped by his 9-yard touchdown run – that provided the final 37-17 margin of victory.
"At times he's had to carry just two or three times, and at times he's been asked to step up and take 12 or 13 carries, and he's done a great job with that," Baldwin said. "He's only a freshman, but he plays much older than that. And in that SEMO game, he did a great job of finishing the game for us.
"We expect him to step right in against Villanova."
Bo Levi Mitchell, Eastern's junior quarterback, considers Brown's performance against SEMO his coming-out party.
"That's where he really stepped out of his shell," Mitchell said. "He played great at Weber and during some other games, but against Southeast Missouri, he just grabbed the ball and ran. He didn't look like some high school kid who didn't know where he was.
"He looked like a college running back with a lot of confidence, who knew what to do and where to go."
Brown said he was only doing what he has been taught to do since arriving in Cheney.
"Our coaches prepare us well," he said. "So when our number is called, each and every one of us is ready. Taiwan is a big part of the offense, but it's not totally built around him. We've got other weapons.
"And now I've got the opportunity to step in for Mr. Jones and show what I can do, and help the team get this win."
Subscribe to the sports newsletter
Get the day's top sports headlines and breaking news delivered to your inbox by subscribing here.
---
Subscribe and login to the Spokesman-Review to read and comment on this story