Sports
Matt Szczur a big challenge for EWU defense
Wed., Dec. 15, 2010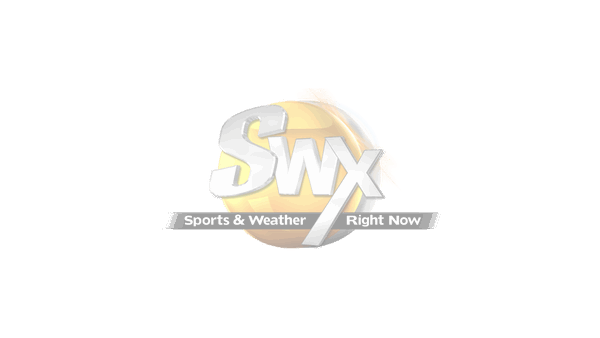 Eastern Washington'a defensive coordinator John Graham has never met Matt Szczur. But just from watching video of Villanova's all-American wide receiver, kick-return specialist and "Wildcat" quarterback, Graham figures Szczur must be every bit as good a person as he is a football player. "Even on film, you can tell he's one of those guys who just rubs people the right way," Graham said of Szczur (see-zur), who will draw much of EWU's defensive attention on Friday, when the No. 1-ranked Eagles (11-2) take on the defending national champion Wildcats (9-4) in a FCS semfinal-round playoff showdown that kicks off at 5 p.m. at Roos Field. "I think their kids play harder when he's in the game." Szczur, a 5-foot-11, 195-pound senior from Erma, N.J., missed six games this fall – three of which the Wildcats lost – after suffering a high ankle sprain back in late-September. And Graham's read on his character is based on how much harder Villanova's offensive line seems to play with Szczur on the field. "In the games he missed, their offensive line blocked kind of just okay," Graham explained. "But once he returned, it was like everybody realized he was back there, and they didn't want to let him down. "And suddenly, their O-line was like, 'Hey, we're going to go kill people.'" Which is pretty much what the 'Cats offensive front did in last Saturday's 42-24 quarterfinal win over top-seeded Appalachian State, as Szczur caught a 31-yard touchdown pass, threw a 54-yard scoring pass and ran for three more TDs as part of a perfect offensive storm that Villanova head coach Andy Talley attributed, in part, to Szczur's early season injury. "A lot of players who are still playing at his point in the playoffs are a little banged up and hurting," Talley said. "But Matt, because he missed most or all of eight games, is actually pretty fresh. And last Saturday was just one of those explosion kind of days for him." In last year's 23-21 win over Montana in the FCS championship game, Szczur burned the Grizzlies for 159 yards and two touchdowns on the ground, while also catching four passes for 68 additional yards, and was named the title game's most valuable player. "He's just a tremendous football player and gifted, gifted athlete," Graham said of Szczur, who was also a baseball standout for the Wildcats before signing a professional baseball contract with the Chicago Cubs and batting .347 in 25 game in the Cubs' minor league organization this summer. "He's very fast – probably deceptively fast on film, because the game seems to come so easy for him. And he is really strong, especially in the hips and legs, which makes him tough to bring down." Szczur was recruited by Talley as an athlete, because he had played several different positions in high school. "We thought he could play wide receiver for us," Talley explained. "But while we were developing him as a receiver, we realized he was, maybe, the best runner we had ever had as a receiver." Villanova was one of the first teams to utilize the Wildcat offense back in 2002 when current San Francisco 49ers running back Brian Westbrook would occasionally be shifted to the quarterback position, so it seemed only natural to try the same thing with Szczur. "Since we knew a little bit about the offense, we eventually looked at Matt and thought, 'Wow, this kid could be a perfect Wildcat guy," Talley said. "And with him at quarterback, we've been a lot more inventive and creative with it than we were when Westbrook ran it for us." As Villanova's "Wildcat' quarterback this fall, Szczur has completed seven of eight passes for 171 yards and two touchdowns and has a nearly unthinkable efficiency rating of 349.55. "My only goal when I came to Villanova was to get on the field some way," Szczur said, when asked about his versatility. "I was willing to do anything to get playing time. Playing the Wildcat quarterback role came about when Chris Whitney was the only true quarterback we had due to injuries, so they put me in that role to give him a break and limit the hits he would take. "We had some success with it, so we kind of built on it from there." And now, having played in three games since coming back from his ankle injury, Szczur is starting to feel comfortable once again doing a little bit of everything for the Wildcats. Just ask John Graham.
Subscribe to the sports newsletter
Get the day's top sports headlines and breaking news delivered to your inbox by subscribing here.
---
Subscribe and login to the Spokesman-Review to read and comment on this story