Sports
EWU's Baldwin uses life's experiences to create success
Fri., Dec. 10, 2010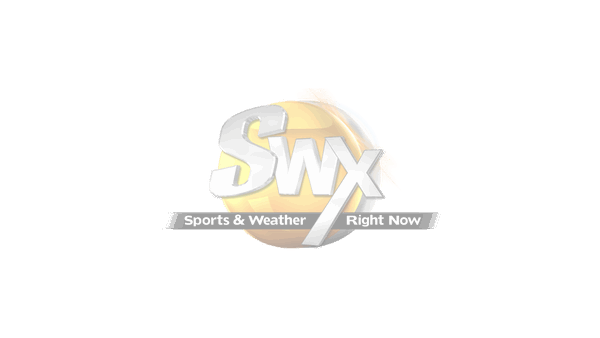 Beau Baldwin was only 11 years old at the time, but still vividly remembers that gray March day in 1984 and the eerie feeling that came over him when his saw his mother pull up in the family car just he was leaving his Tacoma-area elementary school.
"I wasn't expecting her, because I usually walked home after school and I knew she should have been at work," said Eastern Washington University's head football coach. "It seemed really strange at the time."
That odd feeling Baldwin had while watching his mother turn into the school parking lot and summon him with a wave turned to utter dismay once he climbed into the car and learned that his father had collapsed and died earlier in the day from a massive heart attack.
"Being in the sixth grade and having your mom tell you that your dad will never be coming home again is a tough thing," Baldwin recalled. "I was shocked when I first heard, and then the next few days it was just like being in a daze or something. There was a lot of grieving that went on."
Ken Baldwin, a pipe fitter and "sports nut" who had introduced the oldest of his two sons to baseball, basketball and football, was only 37-year-old when he died. And his death left his young wife to raise Baldwin and his 4-year-old brother, Joe, on her own.
"It was a confusing situation, but my mother was a rock," Baldwin said of Pat Helland, who remarried when Baldwin was in college. "She did a tremendous job of raising us, and she's still the strongest woman I know.
"My dad's death made me grow up, too, because I tried to do a lot of things with my brother that my dad did with me – get him involved with sports and get him on the right track, because I knew how important that was to my dad. But, ultimately, the biggest hero in my life is my mom, because of what she was able to do in such a difficult situation."
Still, the 38-year-old Baldwin can't let go of the fond memories he has of his father.
"I still talk to my dad before every game," he said, "because I know how into sports he was and how he believed sports could help keep kids out of trouble and on the right path.
"I know how excited he is about what my brother and I have been able to do."
Baldwin was a three-year letterwinner in football and baseball at Curtis High School in Tacoma, where he quarterbacked the Vikings to a State AAA championship as a senior on a team that also included Torey Hunter, who currently coaches defensive backs at EWU.
Following high school, Baldwin played football at Central Washington University, where he reluctantly labored in the shadow of 16-year NFL veteran Jon Kitna his final two seasons. His first college coaching assignment came in 1994 when he returned from a year of playing football in Sweden to serve as quarterbacks coach under Jeff Zenisek at his alma mater in Ellensburg.
Baldwin spent nine seasons as an assistant under Zenisek and John Zamberlin at CWU before hiring on to coordinate the offense and coach quarterbacks for Paul Wulff at Eastern, where he assisted for four years before returning to Central in 2007 to replace Zamberlin as the Wildcats' head coach.
In his first year as a college head coach, Baldwin guided CWU to a 10-3 record and the third round of the NCAA Division II playoffs before losing to Grand Valley State. The following year, he was hired back by Eastern to replace Wulff – who had left to take over the Washington State program – as the Eagles' head coach.
And now, after slogging through a disappointing 6-5 season in 2008, Baldwin finds himself in charge of the No. 1-ranked Football Championship Subdivision team in the country and just one win from advancing to the Final Four of the FCS playoffs.
The Eagles (10-2), who are making their second straight postseason appearance under Baldwin, face North Dakota State (9-4) at 12:30 Saturday afternoon at Roos Field to determine one of the spots in the semifinals.
Learning to coach
Unlike many of his peers, Baldwin was not bitten by the coaching bug at an early age.
It wasn't until he left Central Washington and spent a season playing in Sweden – where each team was limited to just two American players – that he first became interested in drawing up his own plays.
According to Baldwin, the two American players on his team also acted as assistant coaches with him coordinating the offense and the other coordinating the defense.
"As a quarterback, I had always changed plays at the line of scrimmage and stuff," Baldwin said, "but here I was in Sweden, literally scripting plays during the week at practice, putting together a game plan and then calling the plays I had scripted and executing them during the game.
"I learned a lot about organization and motivating players from that. And I realized that even when I wasn't playing a game, I was having a blast organizing practices and game planning. That was the first time I felt like coaching was something I might really like to do."
Once the season ended in Sweden, Baldwin returned to Central as an assistant and was assigned to tutor Kitna, the guy who had beaten him out as the Wildcats' starting quarterback two years earlier.
Kitna was a junior at the time, and Baldwin admits if was a strange situation because of what had happened during his junior year in college, when Kitna emerged as a redshirt freshman to win the starting job.
"That wasn't easy for me," Baldwin said, "because I had been voted the team captain going into my junior year and was expected to be the starting quarterback. Then Jon ended up beating me out.
"It was a real challenge, and it tested me mentally. But in the long run I think it helped, because it made me realize that football is the ultimate team game, and that you've got to grind and keep fighting to do whatever you can to help your team win, no matter what your role is."
EWU defensive coordinator John Graham was a junior safety at Central Washington the year Baldwin arrived with aspirations of becoming the Wildcats' quarterback of the future.
"I didn't really get to know him until that next year when I was a senior," Graham said. "And I remember being struck by just how competitive he was. Our senior quarterback got hurt that year and he took over for a couple of games as a sophomore and just competed his butt off.
"He threw a couple of bad balls early against Simon Fraser and we were behind most of the game, but he took us on a last-minute drive and we scored with 4 seconds left to win the game."
Baldwin ended up setting single-game school records for completions (32), passing yards (467) and total yards (550) and also threw a 6-yard touchdown pass that capped the scoring and completed the comeback in that win.
Graham remembers Baldwin's demeanor during that game and said it remains much the same today as he stalks the sidelines at Eastern.
"He has a kind of calm intensity about him," said Graham, a former standout at Reardan High School who spent 13 seasons as an assistant at Central before following Baldwin to EWU. "He's still a fierce competitor, but he's also a family man with a wife and two young daughters, and he has his priorities straight."
The right hire
EWU's athletic director Bill Chaves had been on the job only a couple of months before Washington State hired Wulff away, creating the head coaching vacancy in his school's most visible and successful program.
Facing his first important hire, Chaves turned to Baldwin – partly because of his past affiliation with Eastern, but mainly because of the impression Baldwin made in his interview.
"He seemed to be very measured, he had a plan and he understood the nuance of both the state of Washington and Eastern Washington University," Chaves said. "He's got a really good perspective on things and a very good balance, and I felt like he was the right guy to come in here and keep building on what Coach Wulff and Coach (Mike) Kramer and Coach (Dick) Zornes has put together."
Adding to Chaves' belief that he got the right man is the way Baldwin interacts with those outside the football program.
Following last Saturday's 37-17 second-round playoff win over Southeast Missouri State, for example, Baldwin took his wife, Nicole, and their two daughters, Mia and Macie, to Reese Court to cheer on the Eagles' basketball team against New Hope Christian.
And earlier in the season, on the morning of Eastern's important matchup against Big Sky Conference rival Montana – on the same day the school was dedicating the new red turf at Roos Field – Baldwin took the time to address the university's incoming freshmen and their families during a Welcome Week convocation.
"I mean, it wasn't like he didn't have some business to take care of out on the field that afternoon," Chaves said. "But it's just another example of the great perspective he has on college life, in general, and where football fits in."
Still, Chaves said there is a downside to having such a successful young football coach – the same one that became so apparent when Wulff left for WSU.
"If a Pac-10 school is interested in one of your coaches, they will out-resource you," Chaves said about the potential of some Football Bowl Subdivision school eventually coveting Baldwin's services. "And as much as we want to keep stability in all our programs, if an opportunity presents itself to one of our coaches to better the situation for themselves and their family, and put themselves in a better position to fulfill their professional dreams, that's something I would never stand in the way of.
"But at the same time, we would love to keep him around as long as we can."
Hunter, a former standout cornerback for Washington State, has known Baldwin since they played Little League baseball in Tacoma and was his football teammate throughout junior high and high school.
He claims he is not surprised in the least by how successful Baldwin had been as a head coach.
"I'm not going to be surprised, either, when we eventually put that ring on that says we're national champions because we won the playoffs," Hunter said.
"And I'm not going to be surprised when some bigger school comes calling and wants Beau Baldwin to head its program. He's that good."
Subscribe to the sports newsletter
Get the day's top sports headlines and breaking news delivered to your inbox by subscribing here.
---
Subscribe and login to the Spokesman-Review to read and comment on this story