Sports
Blanchette: EWU's Sherritt keeps 'em guessing
Eagles' standout linebacker goes by J.C., nothing else
Wed., Dec. 8, 2010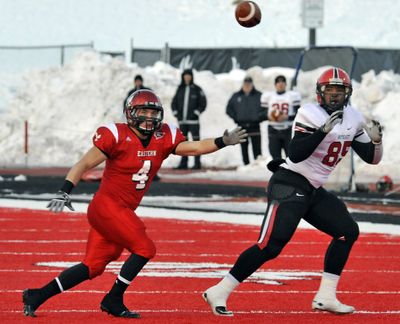 J.C. Sherritt will not tell you what the initials stand for, but he will tell you why he won't tell you.
"My two older sisters," he said. "When they got mad at me, they would call me by my first and middle names. So it stuck in my mind that I do not like being called that."
Julius Caeser? Joe Cool? Jimmy Crackcorn?
How bad could it be, really?
"From childhood on," Sherritt claimed, "I haven't told anyone."
Now that's what you call playing defense.
Record-threatening tackler, Buchanan Award front-runner, first team All-America linebacker – all those things make J.C. Sherritt more or less the poster boy for that particular skill at Eastern Washington University, though the poster is more of a Picasso print or even a Rorshach inkblot, something not easily or uniformly interpreted.
The Eagles continue their crusade in the NCAA's Football Championship Subdivision playoffs on Saturday, hosting North Dakota State in a quarterfinal game on the turf they borrowed from Santa's closet. You could say they're in this position thanks to their defense, which last weekend limited Southeast Missouri State to just 26 yards and a single first down after halftime, turning a shootout into a shout-out.
And yet…
Of the 117 FCS teams, Eastern's defense ranks just 96th in the common metric – yardage allowed. Against the pass, it's even worse: 114th. Both numbers are easily the least flattering among the eight playoff survivors, and you wonder if the 10-2 record belongs to a gunslinger with great aim and an uncanny ability to duck.
And yet…
Several of EWU's pivotal victories were defined by a defensive stop, or several. A goal-line stand against Montana forced the Grizzlies to settle for a field goal and left the Eagles in position to win the Roos Field inaugural and launch this run. Cornerback Jesse Hoffman had two fourth-quarter interceptions in a 31-24 escape against Southern Utah. Sherritt himself forced a fumble with a sack to set up the game-winner against Northern Colorado; then his interception preserved it.
"There are a lot of guys on this team who aren't afraid to make the big play," said Sherritt. "When you need a big, clutch play in the final minutes of the game, nobody's timid, nobody's panicked."
But no Eagle has more notches on his belt than Sherritt.
Nine more tackles will get him to 400 and make him Eastern's career leader. He had 170 last year when he was a concensus All-American and runner-up in the Buchanan Award voting – the FCS defensive Heisman – to James Madison's since-graduated Arthur Moats. Sherritt will not approach that total again unless the Eags make it to the title game, but that's mostly because Zach Johnson is back cleaning up everything on the other side after missing 2009 with an injury.
And if you're scoring at home, that's 400 tackles … and one college scholarship offer, despite playing on an undefeated state championship team at Pullman High School.
"I knew Washington State was a long shot because of my size," he said. "Idaho talked to me a little, but when the coaching staff changed I didn't hear anything more. It came down to Montana State and Eastern, but then MSU took a kid out of Idaho at linebacker. Luckily, (former coach) Paul Wulff offered me a full ride here."
Ah, yes. Size and the wise guys. Sherritt stands 5-foot-10 – and tape measures, we all know, are as infallible as politicians.
"I was kind of naïve to be honest," Sherritt confessed. "I didn't know I was that short until I went through the process. Nobody at Pullman was very tall."
There are any number of things that separate FCS football from the grandeur and entitlement of the big-time college game. One of them is that there's always a place for a J.C. Sherritt. The other is perspective.
"The one thing you get when you come to this level is that you're automatically humbled out of high school," he said. "There's just not a lot of egos here. Even someone like (running back) Taiwan Jones, who I think is the best player in the nation – he's probably the most selfless guy on our team. He's someone I look up to and he's younger than I am, but I look at how he fights every week and how he brings the younger running back along and I'm in awe."
Then maybe Jones could coax those two names out of him?
"No, but some of the guesses are pretty funny," Sherritt said. "Jackie Chan. Jiminy Cricket."
Johnny Cochran? June Cleaver? Jacques Cousteau?
"I'm not saying," he insisted.
Just 'cause.
Subscribe to the sports newsletter
Get the day's top sports headlines and breaking news delivered to your inbox by subscribing here.
---
Subscribe and login to the Spokesman-Review to read and comment on this story